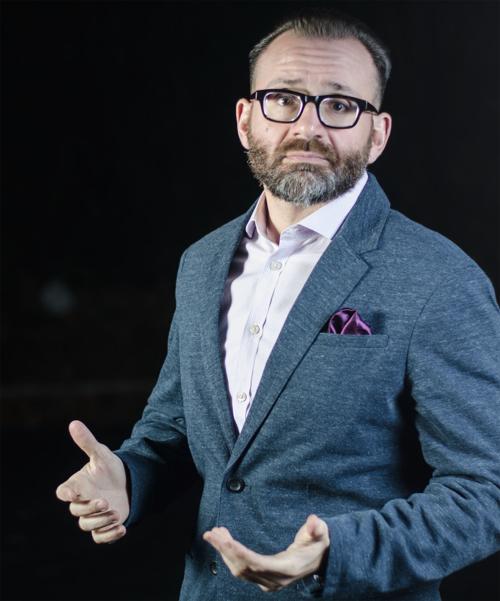 Joe DeVito turned 50 in December. And the perspective that comes with that milestone age can be found throughout both his comedy and his approach to it.
Performing at Auburn Public Theater Saturday, DeVito said that much of his material focuses on being single at his age. Most comedians in their 40s and 50s talk about being married and having children, he said, and the ones who talk about dating are commonly in their 20s or 30s. He also covers pop culture, growing up in an Italian-American family and spending time in New York City.
However, DeVito tends to stay away from political material. Not only is its shelf life short and the risk of offending audiences high, but political comedy tends not to chase laughs, he said.
"A lot of people think comedy is social activism and people laugh occasionally. That's not what comedy's about," he said. "If you're not getting laughs, you're not executing your function."
On the other side of the comedy world are performers, like DeVito, who believe audiences should give them some latitude to deliver those laughs, he said.
"Comedy's gotta push people a little bit," he said. "If you just go up and say what people had on their minds when they came in, then what's the point?"
That doesn't necessarily mean swearing or offending marginalized groups, DeVito said: Brian Regan, for instance, is "squeaky clean" and has his audiences chuckling every few seconds.
That's because the best comedians tell jokes that do two things, DeVito said: "They make you say 'I never thought about it that way, but I know exactly what you're talking about,'" he said.
DeVito sees the same philosophical divide as a teacher and coach at a comedy school in New York. Older comics, as well as older audiences, appreciate jokes and rhythm, he said. Younger comics and audiences embrace more confessional material. DeVito believes the answer is balance: Being honest and open with audiences, but making sure the punchlines are there.
It's a belief that comes from experience. DeVito, who lives in Long Island, started writing humor and performing stand-up while working a corporate writing job. Then he was laid off, giving him "the kick in the ass" he needed to start comedy full-time, he said. And DeVito has done so ever since getting his break on season five of "Last Comic Standing." He now has more than 150 TV appearances to his name, including "The Late Late Show" on CBS and "Red Eye" on Fox News. He also has two albums, "First Date with Joe DeVito" and "Three's Comedy," both on iTunes and Amazon.
Still, for all his credits, DeVito looks forward to small theater shows like Saturday's in Auburn, he said.
"I get to do a long set and really connect with the audience," he said. "It'll be a fun evening."
---
WATCH: Joe DeVito performs live
Stay up-to-date on what's happening
Receive the latest in local entertainment news in your inbox weekly!