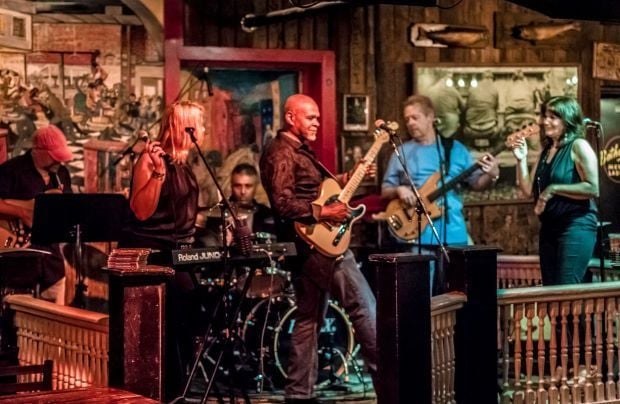 This year marks 35 that Diana Jacobs has been playing live music in Auburn, so few are more qualified to say the area's music scene is surging.
The Diana Jacobs Band, which performs at CC's Tavern Friday, will celebrate the occasion by adding a few covers to its live repertoire, such as Stevie Wonder's "Higher Ground" and Betty Wright's "Clean Up Woman."
"We like to take old classic tunes and give them a new twist," Jacobs said.
The band is also writing a new album of original songs for release next fall. It'll be the first record to feature the band's current lineup of Mike Burns on bass, Sue Ferlenda on vocals and keyboards, Dave Kuykendall on keyboards, Dave Chitambar on drums, Jacobs on vocals and keyboards, and her husband, Mettis Jacobs, on guitar and vocals.
Diana and Mettis, who've been playing together for 30 years, have played at CC's since the Columbus Street establishment was called Huckleberry's and Big Kahuna's. Prior to that it went under the name Perone's, and the duo was once a fixture there for 22 straight Fridays, she said.
The Jacobs have also gone through their share of names, such as Groove Theory and Midnite Mood, but The Diana Jacobs Band suits their style best, she said.
"It doesn't convey anything," she said. "It allows us to be what we are: A unique combination of R&B, soul and blues. We don't fit into any particular category."
The band has had to pick up its game over the past five years, Jacobs said, as Auburn's music scene underwent a growth spurt. Not only are there more places and times to catch bands, but the area's reputation is traveling — concert-goers in Syracuse and Geneva have commented to her about Auburn's trove of talent, she said.
She just hopes local listeners seize on the opportunity and come out for a show.
"Music is something special," she said. "When you get a bunch of people enjoying live music, it's a really positive energy."
Lake Life Editor David Wilcox can be reached at (315) 282-2245 or david.wilcox@lee.net. Follow him on Twitter @drwilcox.