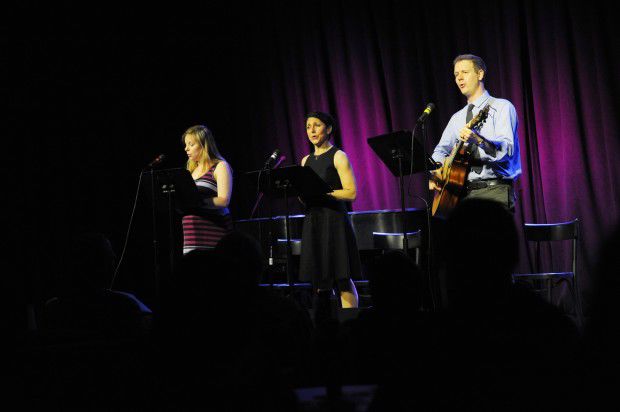 What was born as an experiment turns 5 this summer when the Finger Lakes Musical Theatre Festival presents its new musicals series The Pitch beginning June 16.
The fifth anniversary season of the series will include: 
• June 16-18: "Music City, USA" by Peter Zinn and JT Harding
• June 23-25: "Deathless" by Zack Zadek
• June 30-July 2: "Gumbo" by Christina Quintana and Brett Macias
• July 7-9: "Elysium" by Yianni Papadimos and Ben Chavez
• July 14-16: "Devotion" by Mark Sonnenblick
• July 21-23: "Divided" by Luanne Aronen Rosenfeld
• July 28-30: "The Battles" by Ned Massey
The series provides creative teams residency in the Auburn area while they present their musical in the cabaret-style environment of Theater Mack, behind the Cayuga Museum, 203 Genesee St., Auburn. The Pitch performances take place at 7:30 p.m. Thursdays and 8 p.m. Fridays and Saturdays. Tickets are $20.
AUBURN | The Finger Lakes Musical Theatre Festival comes full circle with The Pitch.
Past shows from The Pitch include Allan Rice, Greg Edwards and Ben Green's "Neurosis" in 2012, which which was fully produced by the festival at Auburn Public Theater in 2013, as well as Irene Sankoff and David Hein's "Mitzvah" in 2013. Sankoff and Hein's "Come From Away" will open on Broadway next year following productions in Washington, D.C. and Toronto.
"To date, we have given visibility to 47 new musicals and are very excited about this year's lineup. Auburn is becoming a meaningful and powerful theater destination," said Brett Smock, producing artistic director for the Finger Lakes Musical Theatre Festival, in a news release.
For more information about The Pitch, or to purchase tickets, call (315) 255-1785 or visit fingerlakesmtf.com.