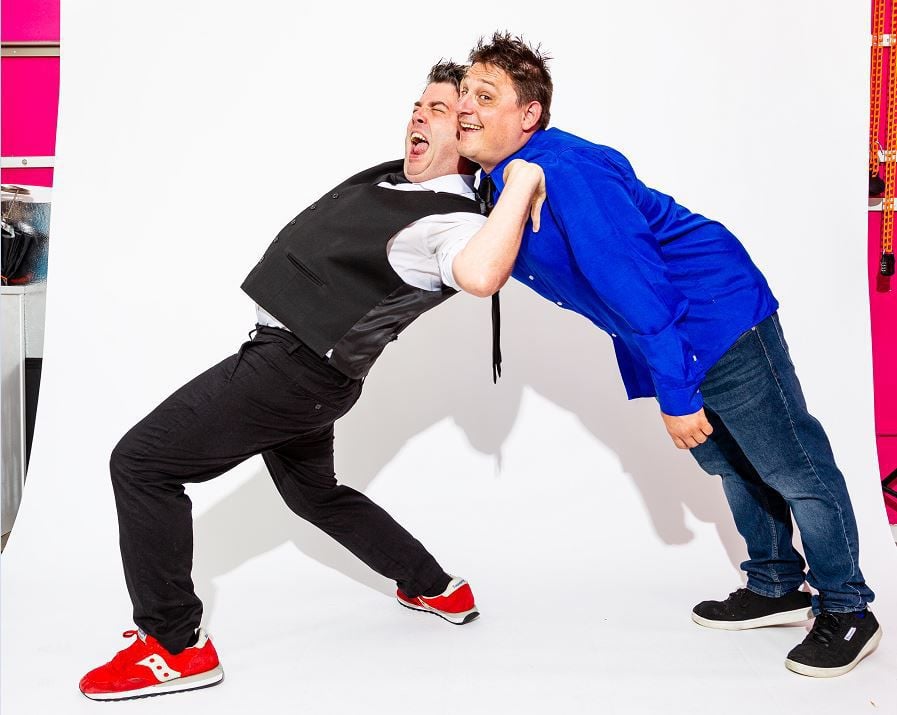 Chris O'Neill and Paul Valenti liken their comedy show to a playground. And not only is everyone welcome to come inside, but when they do, the outside ceases to exist.
The duo, based in Stamford, Connecticut, will bring "The Chris & Paul Show" to Auburn Public Theater on Saturday.
In an interview with The Citizen, O'Neill and Valenti said they take inspiration from classic performers like Buster Keaton, and Laurel and Hardy. Throughout the interview, the duo at different times described their act as "a live cartoon," "a visual story" and "a big kids show for adults." That classic style gives the comedy of O'Neill and Valenti a timeless quality, they believe.
And at a time when many comedians bring current events and politics on stage, they think that quality makes them appealing to people worn out by the real world.
"When you look back at Buster Keaton, he translates across political views, across any topical situations. Funny is funny," O'Neill said.
"We don't want to remind people about politics, about climate change. We just want them to have fun," Valenti added. "It's like when you want to veg out and watch a movie or TV, but it's live."
You have free articles remaining.
O'Neill and Valenti met in 1999 at a community theater, they said. They began writing together, and eventually called a New York City comedy club for a booking. Valenti pretended he was the duo's manager, he said with a laugh, and they had to bring five people to fill out the audience in order to get stage time. He and O'Neill lived in New York City for 15 years before moving back to Stamford.
Over those years, the whimsical premises and committed physicality of "The Chris & Paul Show" earned it many honors, including a nod for Best Newcomer at the Edinburgh Fringe Festival and Best Actor in a Comedy at the New York Television Festival. But the duo's biggest credit might be their July appearance on NBC comedy competition "Bring the Funny" in July, where they were finalists.
Judge Kenan Thompson, of "Saturday Night Live," told the duo, "You guys are so imaginative, the way you pick premises it seems like two kids playing. So joyous and infectious."
O'Neill and Valenti said they've also been told that their show is easy to understand by audience members who don't speak English. They attribute that to not only their classic, physical style of comedy, but also their use of music. The duo's show includes some voluntary audience participation, too, but their intention isn't to embarrass or discomfort anyone, they said.
"We want to play with them and make them look good," O'Neill said. "It's like being on the playground as a kid."
---
WATCH: "The Chris & Paul Show" on NBC's "Bring the Funny"