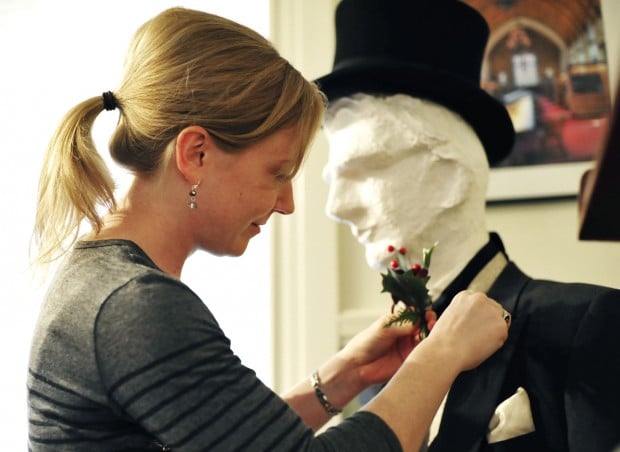 AUBURN | A longstanding local tradition will once again open the doors of time to residents and tourists alike.
Auburn's 2012 Holiday Traditions will feature free open houses at several of the local churches, museums and other sites commonly associated with Auburn. Musical performances, tours, refreshments and other activities will be available at the sites Sunday as part of the event.
At Westminster Presbyterian Church, Lori Rhodes Pettit will play Christmas music on the church's Skinner Organ at 1:30 p.m., and then, after playing for about 30 minutes, offer visitors a special look at and inside the organ — a rare treat, said Jill Fandrich, a member of the church and a volunteer.
"It's an historic organ," she said. "It was installed in the church in the 1920s."
Fandrich said there are 2,069 pipes on the organ, which "span the back of the entire church."
Visitors will be able to learn how the organ is played and will get to look at the pipes up-close.
"We thought people would be interested in actually seeing how the organ works," Fandrich said. "Pipe organs are sort of becoming a lost art."
At St. Mary's Church, a Syracuse-based choir, the Voices of Faith Choir, will perform outside the Syracuse area for the first time, said the Rev. Frank Lioi.
The choir was founded in 1997 and is 37 members strong. They will sing Christmas carols at the Clark Street church at 3 p.m.
You have free articles remaining.
The 45-minute show will be extra special because of the excellent acoustics in the cathedral, Lioi said.
"The high ceilings and the hard surfaces (create) a good reverberation," he said.
At the Ward W. O'Hara Agricultural Museum, activities will revolve around children during the Holiday Traditions open house, said Jackie O'Hara Komanecki, secretary of the board of commissioners of the museum.
"It's all family-oriented, especially for children," she said.
Santa will arrive by horse and wagon at 12:30 p.m. and children will be able to take horse and wagon rides from noon to 4 p.m., Komanecki said.
"The way to get families there is to offer children's activities," she said.
Also available to children will be Christmas cookie decorating.
"The cookies are baked, but not decorated," Komanecki said.
Children can frost cookies and add sprinkles and, of course, eat their creations.
Komanecki said visitors should dress warmly, as the museum can be chilly.
Staff writer Kelly Voll can be reached at 282-2239 or kelly.voll@lee.net. Follow her on Twitter at CitizenVoll.