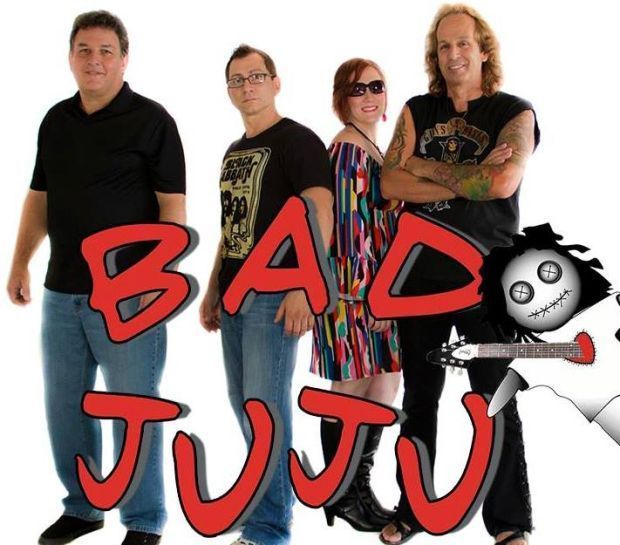 For Bad JuJu bassist Jim Dagnesi, the mystique is just as important as the music.
That's why the former Savoy Brown member branded his new Finger Lakes group Bad JuJu, and that's why he put as much thought into its logo, a guitar-impaled voodoo doll, as the arrangements of its songs.
"We're old-school rockers," he said. "A lot of those bands had logos you saw, so we went along with that."
Dagnesi chalks the name choice up to the aura "JuJu" carries and the association with Bad Company, one of his favorite bands.
You have free articles remaining.
With Shannon Rae on vocals, Marty Lee Flynn on guitar and Carl Sangiacomo on drums, Dagnesi is building Bad JuJu into something of a brand. At its first shows last year the band passed out buttons that said "I (Heart) JuJu." Its fans are called the JuJu Nation. And when it puts its distinctive spin on a song by the Beatles, Adele or anyone else it covers, the song has been "JuJufied."
"We pick songs that other bands aren't doing," he said, citing Deep Purple, Tom Petty and Grace Potter and the Nocturnals as other common covers.
Dagnesi looks forward to raising the band's profile in Auburn, his native city and a perennial destination for live music.
"Every time I've played in Auburn it's always been a great crowd, a rocking crowd. Auburn's always appreciative of live music," he said. "Hopefully we'll be around Auburn quite a bit this summer."
Still less than a year old, Bad JuJu won't be heading to the studio anytime soon, Dagnesi said. He and the other members have the talent and the experience to craft the tracks, but for now, making a name for themselves is the mission.
"It's more than standing on stage and playing," he said. "It's having an audience and giving them a reason to come see you."
Lake Life Editor David Wilcox can be reached at (315) 282-2245 or david.wilcox@lee.net. Follow him on Twitter @drwilcox.