Living in Auburn for a year inspired one artist's contributions to a new show at the Schweinfurth Art Center about the ways industry impacts our lives.
Landon Perkins is one of three artists featured in "Made and Remade: Re-Imagining Industrial Systems," which opens Friday at the Auburn gallery. His work in the show comes from his "Structure" series of screenprints. They depict mechanical systems Perkins imagines, meticulously renders with computer software and then draws. So the process goes from digital to analog, he said Wednesday.
The reason Perkins follows this process is because he designs his systems to deliver messages about modern life. Growing up in the Tallahassee suburbs in the '90s, he remembers big-box stores popping up everywhere. Later, when he moved to Auburn after completing his Master of Fine Arts at Syracuse University, Perkins took note of the Rust Belt slump the area appeared to be in, he said.
Perkins believes both scenes are symptoms of late capitalism, a term that encompasses the homogenizing, dislocating and other negative effects of western economic growth. 
"Things are promised, and sound good, but the reality of what people live through, or live with, doesn't quite match up," said Perkins, who recently moved to Bentonville, Arkansas, and now works as a preparator at the Crystal Bridges Museum of American Art there. "(Capitalism) works on a sense of unlimited growth. But the world we live in is finite. So I ponder that question through art."
"Structure No. 36" (2019), for instance, addresses that contradiction by showing water being pumped into a barrel that also leaks. So growth and loss not only coincide, Perkins said, they're cyclical.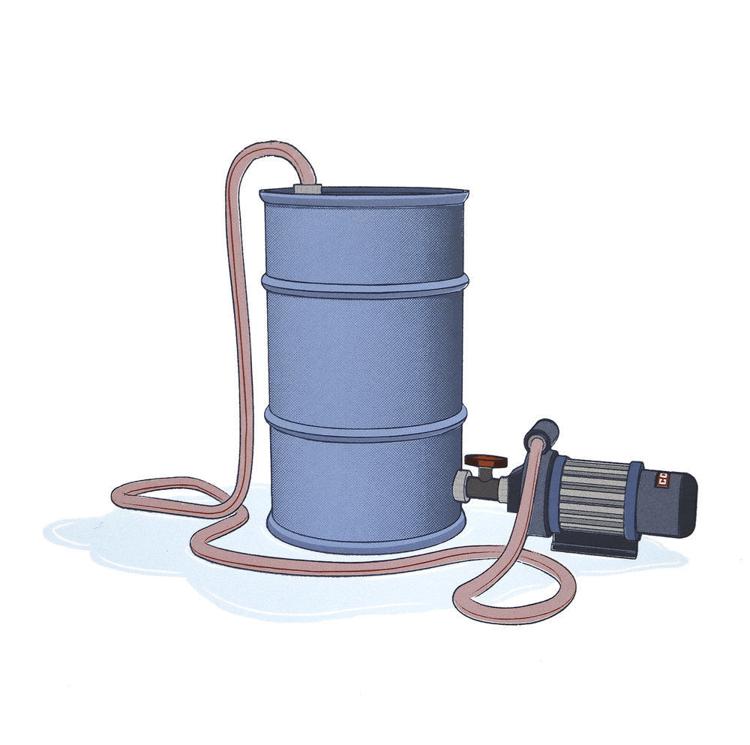 Feeling unfulfilled with his own 9-to-5 jobs also inspired Perkins' art, he said. He completed many of his pieces in "Made and Remade" in his free time outside work in Auburn. 
Although the messages in his work may not be apparent to viewers on first glance, Perkins hopes their aesthetic quality attracts people to look closer and ponder their meaning.
You have free articles remaining.
"What I can hope for is that something seems a little bit off in the image," he said. "It's eye-catching or colorful from far away, but the internal message is that it's dirty."
Similarly colorful is "Directions," an installation by Abraham Ferraro, of Albany.
Filling the Schweinfurth's main space as part of "Made and Remade," the installation consists of shipping tubes and boxes that have been covered in bright postal labels and connected to form a sprawling cardboard network. In a news release, Ferraro said he began making "Directions" eight years ago, as the U.S. Postal Service considered closing post offices due to the rise of email. 
"I really wanted to thank the U.S. Postal (Service) for working so hard for centuries to deliver our mail," he said. 
Every time Ferraro installs the piece, he said, he adds five to 10 new components that he mails to the gallery. So viewers can trace the journey of the installation by reading its labels. Some of them already bear the Schweinfurth's name, as Ferraro installed them there for the 2012 "Made in New York" showcase. He won Best in Show at the annual exhibit.
The third artist in "Made and Remade" is Sherri Lynn Wood, of Cincinnatti, who makes quilts using discarded materials. Her "Afterlife" series was created during a four-month residency at Recology San Francisco, a resource recovery company. Wood scavenged at the public disposal and recycling area for the fabrics she used during the residency, she said.
Believing the process has creative benefits, Wood encouraged other artists, quilters and non, to incorporate discarded materials into their work.
"This body of work emerged from a commitment, or framework, to 'make do' as a way to free myself from the spell of limitless choice," she said. "The experience at the dump has changed my relationship to materials and my consumption habits. Practicing 'making do' as a model for living has opened me up to being more receptive and collaborative in my art-making process and my life."