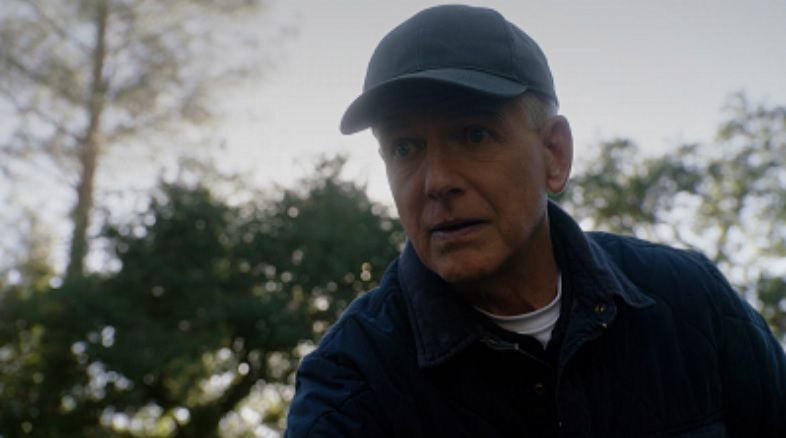 Maybe you have seen the rumors. If you saw the latest "NCIS" episode, "Watchdog," you likely have more questions than answers. 
(Note to readers: Some spoilers below.) 
First, the rumors. There have been reports that Mark Harmon, who has played Leroy Jethro Gibbs on "NCIS" since the series debuted in 2003, could either leave the show or shift to a part-time role next season. Harmon's contract is expiring after the current season, the 18th for "NCIS," and so that's why there is speculation about his future. 
If that wasn't enough, "Watchdog" adds more fuel to the fire about what's going on with Harmon and his Gibbs character. 
Episode summary
What appeared to be the main storyline was the pursuit of a dogfighting ringleader, Luke Stana (played by Max Adler). As the episode progresses, the evidence mounts against Stana — there are steroids found in his trailer, which suggests that he's been giving the drugs to the dogs to boost their performance. There are dead dogs found in a pond near his trailer. Near the end of the episode, the NCIS team finds Stana in a barn full of dogs. The team gets their man (again). 
But it wasn't that easy, and the episode featured a more complicated storyline: Gibbs' fate. Early in the episode, Gibbs finds dead dogs in a pond and becomes enraged. This was after taking a wounded dog to the veterinarian and learning that two other dogs that had been shot and killed were brought to the same vet.
At around the same time, Stana emerges from his trailer. Based on the limited information gathered to that point, Gibbs goes after Stana. Instead of detaining him, he attacks Stana and takes him to the ground. He punches him several times and then chokes him. The rest of the team — Ellie Bishop (played by Emily Wickersham), Nick Torres (played by Wilmer Valderrama) and Timothy McGee (played by Sean Murray) have to pull Gibbs off Stana. 
Because of Gibbs' actions, he is arrested by NCIS Inspector General Eugene Coyle (played by Hugo Armstrong). There are questions about Gibbs' future — and the team's. Despite being told by Gibbs to "tell the truth," Bishop, McGee and Torres do the opposite. They tell a made-up story about Stana tripping and falling. The problem? McGee was beta-testing a body cam, so the whole incident was caught on video. 
Knowing his team is facing serious consequences for lying, Gibbs wants to make a deal with Coyle. At first, Coyle resists. But he eventually gives in. Gibbs will tell his story (the true account) in exchange for his team not facing punishment. It also helps the team's case that Coyle has two rescue dogs, as NCIS Director Leon Vance (played by Rocky Carroll) reveals in the final scene. The team won't face punishment. 
But it's up to Vance to decide Gibbs' fate. Vance goes to Gibbs' house and asks him about what happened. Gibbs doesn't express remorse for what he did for Stana. Instead, he says, he wishes he killed him. 
At that point, Vance heard enough. His decision: Gibbs will be suspended indefinitely. "Watchdog" ends with Gibbs sitting on his couch with the dog he found earlier in the episode. 
What does this mean? 
It's quite a mini-cliffhanger for "NCIS," which won't resume until early April. (This is the usual pause due to March Madness.) There are a lot of questions about how the 18th season will end and whether the series will have its 19th season. 
My thought: "NCIS" can't go out like this. This is one of the longest-running primetime series in TV history. If it's going to end, then they should go with a bang. Maybe that's why there are rumors of a 19th season and Harmon appearing in a limited number of episodes. 
"NCIS" has entertained fans around the world for nearly 20 years. I became a fan because of my late father, who died in 2008. If there is going to be a send-off, whether it's this season, next season or in a future season, then it should be a big one. I'm sure fans have a wish list of what they would like to see in a series finale. Hopefully, we have at least one more season before that happens. 
Politics reporter Robert Harding can be reached at (315) 282-2220 or robert.harding@lee.net. Follow him on Twitter @robertharding.