If Blake Chamberlain's painting of Harriet Tubman makes you see her in a new way, his art worked.
The abolitionist and Civil War spy is one of several historical figures from the central New York area who can be found in Chamberlain's "Social Visionaries Re-imagined." The series takes Tubman, Susan B. Anthony, Matilda Joslyn Gage and more and abstracts their images as swirls of colorful tile. A revised version of the series, "The Women of Social Visionaries Re-imagined," will feature its original women and some new ones at the Women's Rights National Historical Park in Seneca Falls through the month of March.
Chamberlain's style can be seen beyond the walls of the Seneca Falls park, though: It's literally all around Auburn. Through collaboration with Jesse Kline's Art for Auburn, Chamberlain has designed or helped design several murals downtown. The Big Store mosaic on the Edward T. Boyle Center, the Angelo's Pizza mosaic on the Genesee Street restaurant's west wall and the crows on the concrete abutments in Exchange Street Plaza all bear Chamberlain's artistic signature, making his artwork some of the city's most recognizable.
Chamberlain, 38, grew up in Auburn and worked at MacKenzie-Childs before moving to Seattle in 2015, he said Wednesday. The change of scenery enlivened his partner's career in comedy and his own in art: Between commissions, design work and painting sales, art is a "pretty much full-time" job for him.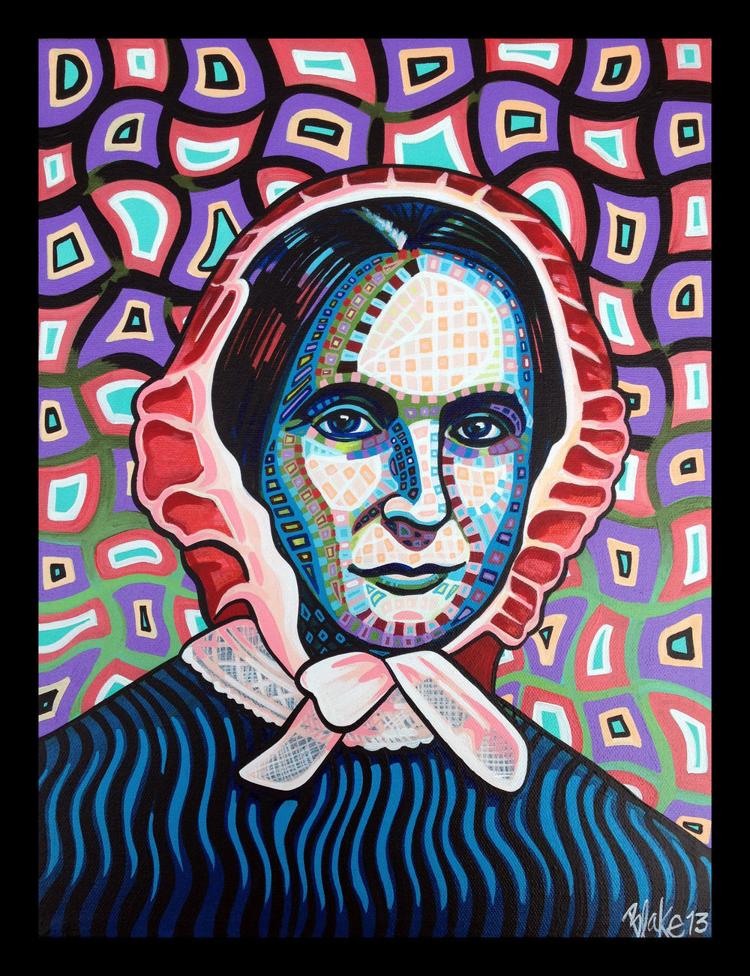 The move also reinforced the mindset behind Chamberlain's "Social Visionaries" series. While working at MacKenzie-Childs, he said, he'd often hear names like Tubman, Anthony and Gage come up in podcasts originating from well outside the central New York area. That recurrence led him to believe that people in the area take their historical bounty for granted, he said.
"The more I'd learn about any one of them, it's absolutely amazing the amount of bravery they had," he said. "So I wanted to reintroduce them, in a way."
The abstract style through which Chamberlain would do that, however, came from a more practical place. Because his painting spaces have traditionally been small — he can't take several steps back to size up his canvases from a distance — he has to work in a more fragmented way, he said. With a few cats, too, oil was out as a medium, so he uses acrylics.
Chamberlain's first face in this style, which he called a "light bulb moment," was legendary experimental musician Frank Zappa. The piece quickly sold on his Etsy site, he said.
Before long, Chamberlain applied the style to the Auburn scenes he's helped recreate on downtown murals. Knowing Kline since his late teens has led to many design opportunities, he said.
Because of his move to Seattle, Chamberlain didn't find out about the opportunity at the Women's Rights National Historical Park firsthand: His aunt helped set it up, he said. He also won't be able to attend the show due to the distance, but said he's honored to have his work featured somewhere that shares his work's edifying goal.
"I'm very pleased and speechless," he said of the exhibit. "I think it's awesome."