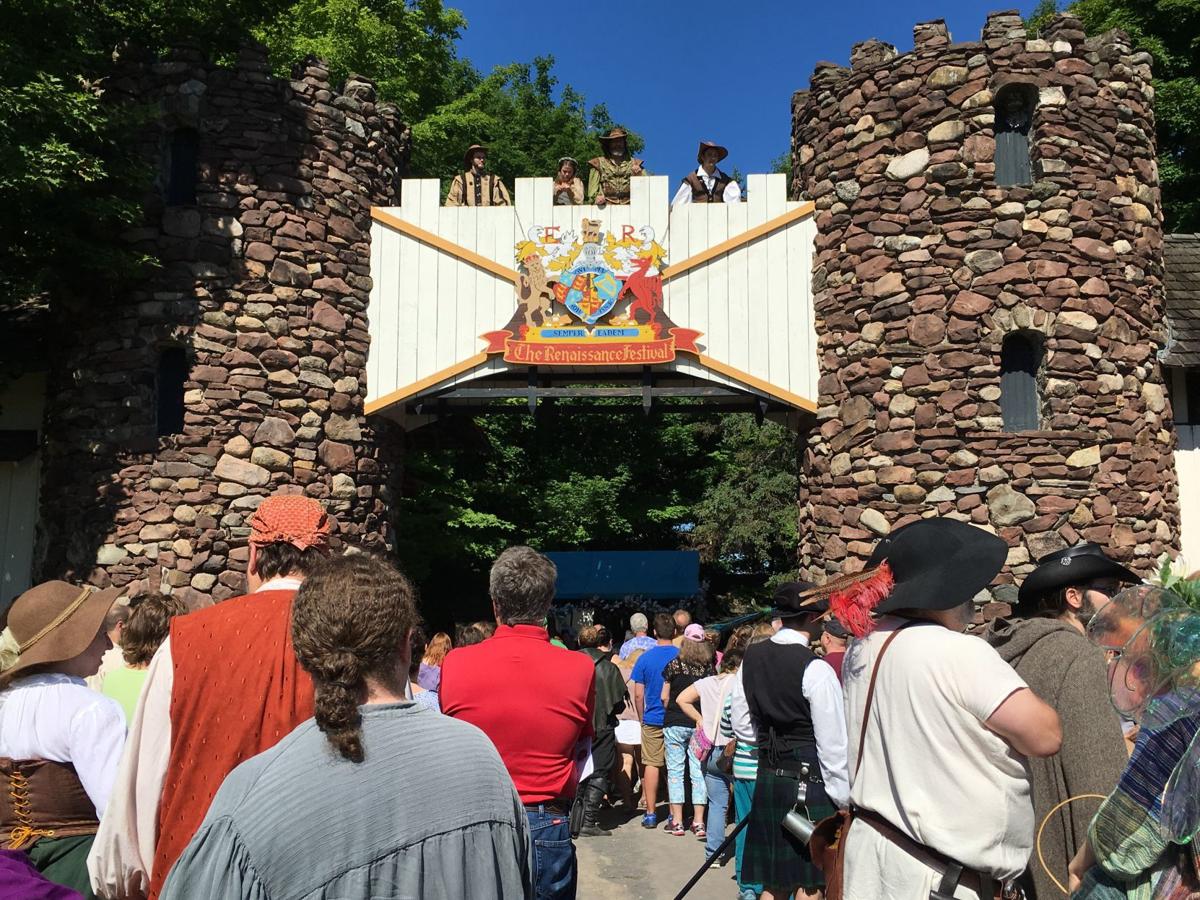 Most summer events in Cayuga County have been canceled due to the COVID-19 pandemic, but the Sterling Renaissance Festival may not be one of them.
The owners of the outdoor attraction are planning to open it for its 44th season this summer, they announced on Facebook Monday.
"We feel it is important for the longevity of our event and for our many loyal patrons to open, even during this time of pain, fear, and division, or perhaps because of it," said owners Doug and Carol Waterbury, of Empire Attractions. "The Sterling Faire is a place of peace, celebration, and fellowship that we can all use right now."
Speaking to The Citizen, Doug Waterbury said the festival would begin Saturday, July 11, a week later than usual, and continue for six weekends through Sunday, Aug. 16.
But first, Waterbury added, the festival has to be allowed, and able, to open.
That means the central New York region has to reach phase four — arts, entertainment, recreation and education — of the state's reopening schedule by then. Deanna Ryan, a senior public health educator with the Cayuga County Health Department, said phase four does not yet have a date attached. It could begin as soon as June 26, since phase one began May 15 and Gov. Andrew Cuomo said each phase will last about two weeks. But that's only if, at a minimum, the region meets the necessary hospitalization, testing and other criteria to move through the phases as fast as possible.
The festival could face another obstacle: Cuomo has said that "attractive nuisances" will probably have to remain closed until the entire state has reopened. That's because such events, like the New York State Fair, draw heavily from outside their regions. And many of the 100,000 people the festival draws to the village of Fair Haven every summer are indeed from outside central New York.
The Sterling Renaissance Festival is facing legal action from the town of Sterling due to its owner's refusal to obtain event permits and a fi…
Those crowds were the basis of yet another obstacle before the pandemic. In January, Sterling Town Supervisor June Smith said the town was preparing litigation against the Waterburys due to their refusal to obtain mass gathering permits and a fire inspection for the festival in 2019. Waterbury said Tuesday the town has reversed course; Smith did not respond to a request for comment.
But in the event the festival is cleared by state and local authorities to open, it also has to secure commitments from enough of its artisans, performers and vendors to do so, Waterbury said. He's a little more confident about that, though. Some older personnel would sit out this year's festival, Waterbury continued, but most would likely return. 
Still, COVID-19 would force some other changes at the festival. Waterbury said he's prepared to adopt any protective measures he has to, from making hand sanitizer available and more frequently cleaning surfaces to making both visitors and staff wear face masks. The festival would also sell masks, Waterbury added, including more decorative options to keep with the attraction's 1585 setting.
The festival is also prepared to reduce its capacity significantly, Waterbury said. And it might have to, because he believes demand will be high due to the cancellation of other summer attractions.
"I think we'll have a lot of folks who are regular customers coming back, as well as a lot of new customers," he said.
Some visitors on the festival's Facebook page voiced their reluctance to return, though. Skeptical that proper social distancing is even possible on the festival's grounds, they accused the owners of risking the safety of customers and staff. Ryan said the county health department has received complaints about the festival's plans, too.
In response, the festival posted that it is following all state and federal guidelines, and not penalizing any staff who choose not to return this summer.
Whether the festival is able to open for the season or not, Waterbury said, it will be back next year for that staff. Tickets for this summer will be honored next summer as well.
Concerned about COVID-19?
Sign up now to get the most recent coronavirus headlines and other important local and national news sent to your email inbox daily.