AUBURN — "From Here to Eternity" mostly takes place before Pearl Harbor, before millions of U.S. soldiers landed in Europe and the Pacific to fight in World War II.
But the North American premiere of the musical version of James Jones' novel, taking place June 29 at the Merry-Go-Round Playhouse, is itself a beachhead.
The musical — which draws directly from Jones' novel and not the Academy Award-winning 1953 film that adapted it — opened in September 2013 with a London run that would last six months. It tells the same story of G Company in the months prior to Japan's surprise attack: the love and desperation that entwine the lives of Pvt. Prewitt (Corey Mach), 1st Sgt. Warden (Kevin Aichele), Pvt. Maggio (Michael Tacconi), Capt. Holmes (W. Joseph Matheson), Karen Holmes (Aleka Emerson) and Lorene (Paige Fauré). But the musical also folds in more adult material censored from both the film and the novel's first version, such as homosexuality and the less flattering sides of military life. 
In the Shaftesbury Theatre audience at one of "From Here to Eternity's" first performances was Finger Lakes Musical Theatre Festival Producing Artistic Director Brett Smock. And his dialogue with the musical's lyricist, the legendary Tim Rice ("The Lion King," "Jesus Christ Superstar"), would lead to the musical making Cayuga County its North American landing zone. Smock himself will direct and choreograph a production that includes two new songs by Rice and composer Stuart Brayson, as well as some changes to Bill Oakes' book by Rice's son, Donald.
I spoke with Tim and Donald Tuesday at the festival's Auburn offices about "From Here to Eternity" and its U.S. premiere:
The Citizen: Tell me about how your experience in Auburn has been so far, and particularly about how this festival, and this venue, has been for you as a staging ground for this show's North American debut.
Donald: Well, we've had a great time so far. We've been here — what's it been?
Donald: Ten days, yeah. We worked a lot with Brett over the course of the last year and a half in London. So we're very familiar with his vision for the piece and his working style, and he's been absolutely fantastic. We cast the show in New York in March, so we knew which cast we were going with. So a lot of things were already in place when we got up here. But it's been fantastic. We've reacquainted ourselves with all the actors, who are all fantastic. And obviously it's an incredibly tight schedule, so Brett's been working flat-out. It's been really, really fun, and it's been great getting to know this part of the world. I've never been anywhere else in New York state apart from New York. We drove up from the city and we drove back for the weekend, so you see from the window of the car quite a lot of the state.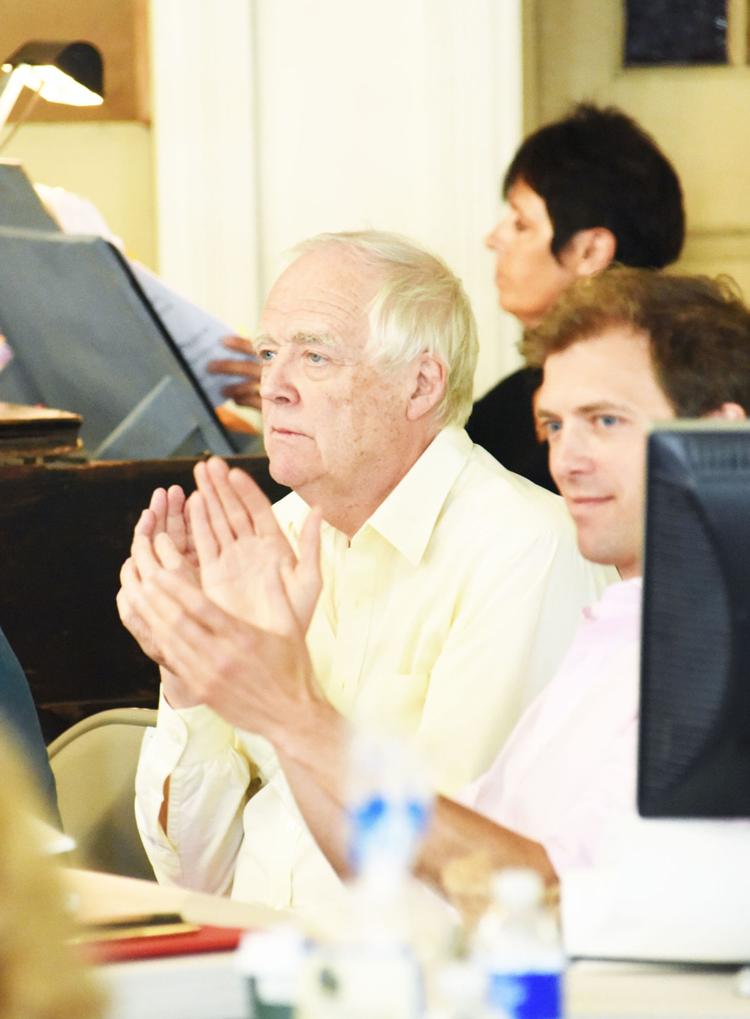 The Citizen: So the festival is at that professional level that you're looking for to get this show off to a really strong start in America?
Tim: Well, we were very flattered and encouraged that when Brett saw the show in London — which didn't do incredibly well. It got quite good reviews, but never really took off in a big way. It did six months, which is OK — respectable, but no more. But Brett loved it. He said he wanted to give it a go and he wanted to make a few changes, and were we interested in working with him? And we said yes. We took a bit of a gamble: We didn't know much about Brett and his organization. But once we did a bit of research and got to know him, we realized that he knew exactly what he was doing. And so far, halfway through the rehearsal period, everything seems to be going pretty well. The auditions were good, the team he's got behind him is excellent. The assistants, the stage managers, the choreographers, the set, all these people, the people who just do the business end of things — they all seem to know what they're doing. So we're very encouraged. And it's a lovely part of the world to be.
You have free articles remaining.
The Citizen: You mentioned that Brett had some suggestions for changes to the show. What's that process been like, as far as adapting it based on how it did in London, and the feedback Brett brought to the table? I assume from seeing it performed on that first run, you also had your own thoughts on what direction to take it in?
Donald: First, Brett was very, very enthusiastic, which is a great place to start. He didn't want to go in with a wrecking ball. We did get a lot right with the London production. As my dad said, it got some very good reviews, so we had to be careful not to throw the baby out with the bathwater. But there were some tweaks to the score, a couple of songs went out and a couple of new songs came in where we needed to strengthen some of the individual characters' moments. I think the biggest change in terms of the script and the pacing is around structure: Trying to in some ways simplify the structure. There was quite a cinematic flavor to the London production, and that had some wonderful visual moments but there were some structural changes needed. There's two love stories in this, and we need to care a great deal about the love stories and their trajectory. It's a balancing act. You don't want one couple to be getting all the great songs, all the attention, all the action. You want both of these love stories to be just as exciting and engaging, and the backdrop is that we know Pearl Harbor is coming.
The Citizen: Tell me a little about your history with the source material here — the book, and the movie, of course. Where there any points before the wheels started turning on this project that you thought it would make an ideal musical?
Tim: Well, the composer, Stuart Brayson — who's a very fine composer, but he's not known here, yet — it was his idea. He came to me a long time ago and said, "I've written some songs inspired by 'From Here to Eternity' and I think it could be a great show." And I knew the film — I hadn't read the book at that point. I knew it was a good story, and I knew that Stuart's songs, his tunes, were very strong. And I said, "Well, I think this one could work." And the first thing we had to do — I said to him, "Have you got the rights?" And he said, "Rights?" I said, "We've gotta get the rights." I spent a bit of time chasing down who owned them, and it was the James Jones estate, run in part by his daughter Kaylie, who's been a great support. And she heard what Stuart had written, and what I'd written with Stuart because I was obviously now on board as the lyricist. And we gradually put the team together and Kaylie was 100-percent behind it all the time. The book, of course, is a great book — but it's also a very big book. You could do eight hours of show and still not cover all of it. And the film, which was a wonderful film — it won the Best Picture Oscar, Oscars for (Frank) Sinatra and Donna Reed, and others, about five or six — that film dealt with certain aspects of the story, but there were a lot of aspects it didn't deal with. And we, in our 2.5 hours, have chosen to tell the story as the film did, but emphasize different aspects of it. We've tried to bring the characters to life. It's a great, great source material.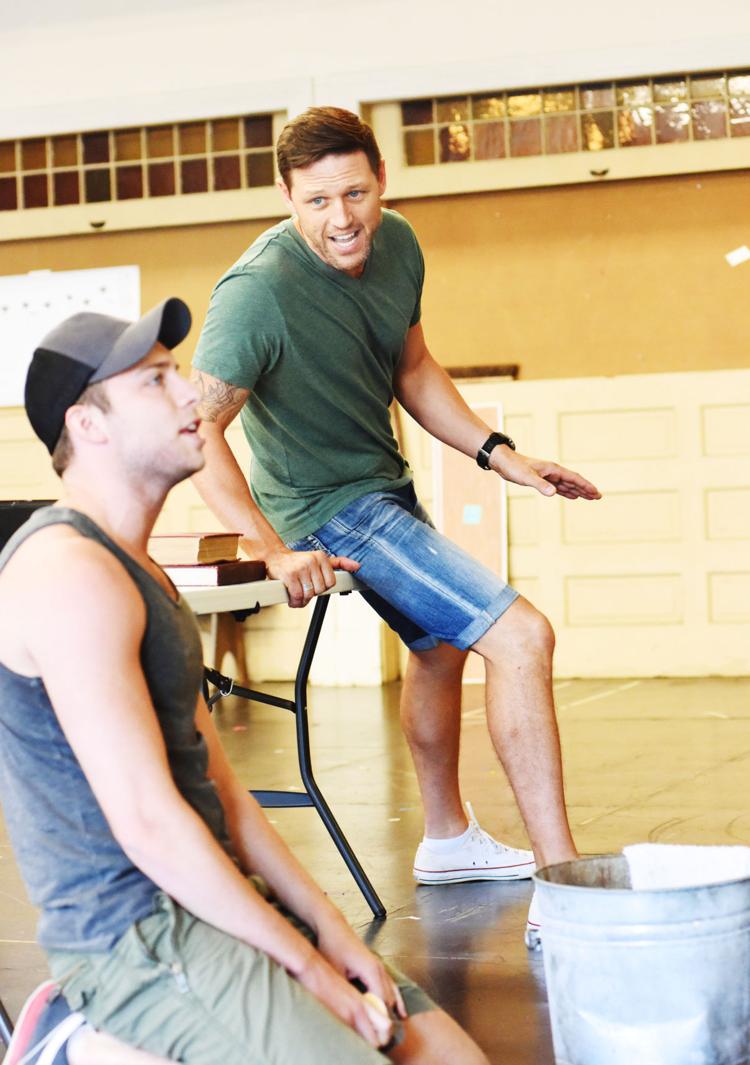 The Citizen: The musical is based on the book, which had a lot more adult themes that the film didn't really deal with, and it incorporates those themes — so what are the keys to presenting them in the musical format in a way that does them justice?
Tim: I think you basically have to present the themes in a serious way. And the fact that there are songs involved doesn't trivialize that. There are plenty of musicals that have dealt with serious subjects. And that's as it should be, as there are plenty of operas that have done that. There have been plenty of musicals that have done pretty trivial subjects. And I've been involved in both light-hearted musicals and more serious ones. Ultimately, it has to be something that captures the audience's attention, entertains, makes them feel the characters are interesting and relevant to their own lives at times — I hope we achieve that.
Donald: I think that's the key: relevance. It's not a period piece. When you read the book today, it feels very vivid and fresh. It's a huge, epic book, but it actually deals with the daily lives, the minutiae of daily living before Pearl Harbor. The majority of the book is very much about the daily grind, and that's why it still feels completely real, convincing and of the moment. It's not about grand battles and so forth, it's very much about the everyday events in the lives of these men. From the scriptwriting point of view, I think if you get the characters right, everything else will fall into place. You got to care about the characters. If you rely upon cliché, you will lose your audience. Certainly, the book is fantastic at that. The lead of Pvt. Prewitt is infuriating and frustrating and at times you want to give him a good slap — and also, deep down, you understand him and you care about him. And that's brilliantly, brilliantly done in the book. And it was very well-done in the film as well: you can complain it was a little bit sanitized, but it's also, for its time, a bold film. There's the famous scene of Burt Lancaster and Deborah Kerr on the beach, but it's a very, very short scene, and it's not a romantic scene, afterwards. It turns into a slightly heartbreaking scene. But it was a properly sexy moment — nothing was sanitized about it. Yeah, they left out some stuff, but they left a lot of great stuff in. I think it stands up very well, particularly the performances: Burt Lancaster's very good in it, Montgomery Clift is very good in it, Donna Reed is outstanding in it. It's been a little bit of an elephant in the room to some extent, because this has been about the novel. It's very much the novel. But it's almost too good to ignore: You don't want to push it away.
Tim: Paramount Pictures, like us, got the rights to do the book. That's what we've done. We didn't get the rights to do the film, we wanted to go back to the source material.
Donald: Bill Oakes, who wrote the original book for the London production. The thing I think we got outstandingly well in that original production was the dirt under the fingernails. He got the grit. It feels completely authentic. And that's a really hard thing to get right, especially if you're British and this is not a British story.
The Citizen: Obviously, Tim, your career has been very prolific, with numerous important musicals to your credit. What is it about this show that, for lack of a better phrase, keeps the fire burning for the art form?
Tim: Well I don't know (laughs). Except that when Stuart, whose writing I've admired for a long time, came to me with a great story and great tunes — those are two vital elements, particularly the story, not that his tunes weren't brilliant. The key thing to a musical working is the story. You'll do better with a musical that has a great story and an average score than a great score and an average story. But I think in this case, we've got both. It's just a question of whether all the other elements we've got can do justice to the story and the music.
Donald: One thing we've talked a lot about, and got excited about, is "Hamilton," which we both loved. It's proved you can do something that is serious, ambitious, has real scale, pushes some boundaries and still finds an audience. It doesn't have to be a jukebox musical or an adaptation of a film or a play we all know. It doesn't have to have bombproof source material. You can still create something really exciting that is serious and original. So it's a nice thing to have going on at the same time.