After teaching a one-week children's camp at the Schweinfurth Art Center last summer, Victoria Fitzgerald asked her students to name their favorite artists. All of the girls said Frida Kahlo.
Because, they said, she was a girl, too.
Their responses made Fitzgerald think, she told The Citizen on Tuesday. Kahlo was the only woman artist she taught her students about, the others being men like Henri Matisse, Vincent van Gogh and Pablo Picasso. But why didn't she feature more women, she wondered? Come to think of it, how many women artists, and women artists of color, did she herself know about?
Those thoughts ultimately led Fitzgerald, of Auburn, to open a show this week at the Cayuga Museum of History & Art. Supported by grants from the Skaneateles Area Arts Council and Finger Lakes Community Arts Grants, "Separation of Art With a Capital 'A'" consists of 20 portraits of renowned women artists, many women of color, painted by Fitzgerald. 
But the show is about more than introducing patrons to the names and faces of those artists. Fitzgerald has also been working with the museum's executive director, Kirsten Wise, to make the show educational. So it will feature information on how underrepresented women are in art — like the fact that only two made Artsy's list of the 100 most expensive artists of all time, or the survey of 18 museums that found their collections were 87% male and 85% white. And as a contrast to Fitzgerald's portraits, the Cayuga Museum will show some work from its all-male collection.
"Separation" will also reach beyond the museum's walls with an online version of the show and a virtual scavenger hunt. Fitzgerald and the museum have contacted local art teachers and women's studies scholars to promote the show to them, she said. And students will be encouraged to write about and paint their favorite artists for inclusion on the museum's website.
"We want them to read and learn about the artists so they're not just coming and looking at pretty pictures," Fitzgerald said.
The show comes during a cultural moment when women and people of color are finding increased traction in their long struggle for representation, both at large and in the art world.
In September, the Everson Museum of History & Art in Syracuse made national headlines when it announced that its board unanimously voted to auction a 1946 Jackson Pollock painting for what's expected to be $12 to $16 million. With that money, however, the museum will expand its collection of women artists and artists of color, it said.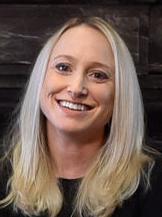 Fitzgerald said she learned a lot about women artists while creating the show. A common theme is that many were or are married to male artists, such as Elaine de Kooning. She promoted her husband, abstract expressionist Willem de Kooning, to the detriment of her own promising career, art historians have said. Many also faced societal opposition to their pursuit of art, like 17th century Italian painter Artemisia Gentileschi. But she was supported by her father, and centuries later, her works of dramatic realism will be showcased at the National Gallery in London later this year.
Other women in "Separation" include British painter Celia Paul, known for her otherworldly portraits, as well as Amy Sherald, who was selected by former first lady Michelle Obama to paint a portrait of her for the National Portrait Gallery in Washington, D.C. Fitzgerald painted some of her portraits in a more realistic style, she said, and some in a style inspired by the artist.
"They have their head superimposed on top of my rendition of their art. So it gives people an idea of what style they painted in," she said. "I'm just trying to pay homage to these people."
Stay up-to-date on what's happening
Receive the latest in local entertainment news in your inbox weekly!