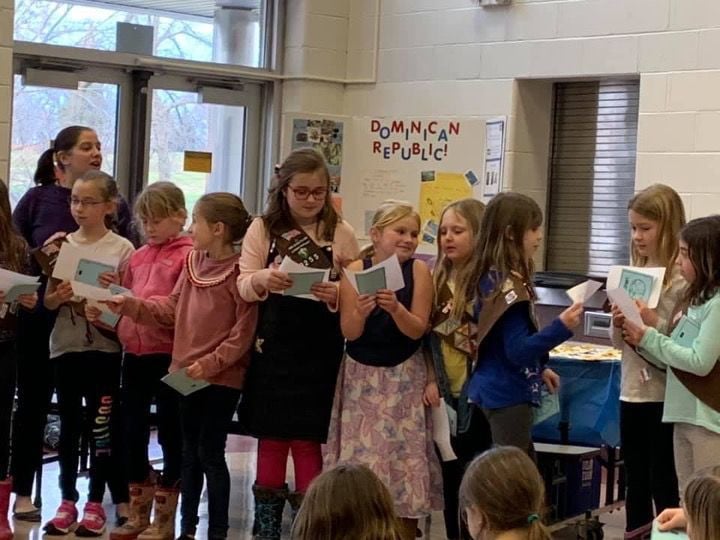 On Feb. 22, Girl Scouts and Girl Guides across 150 countries celebrated World Thinking Day. Promoted by Girl Scouts of the USA and the World Association of Girl Guides and Girl Scouts (WAGGGS), World Thinking Day originated in 1926 when delegates from around the globe met at Camp Edith Macy (now called Edith Macy Center) in Briarcliff Manor. They agreed the date would forever be known as a special day for Girl Scouts and Girl Guides worldwide. World Thinking Day 2020 celebrated the diversity, equity and inclusion reflected in this diverse global sisterhood. Girl Scouts of NYPENN Pathways Troop 10029, from Skaneateles, presented on Greece and learned about Russia, the Dominican Republic, Italy and Brazil from their Girl Scout sisters in other Skaneateles area troops. The girls enjoyed games, food, crafts, culture and camaraderie.
March 20 intro to Girl Scouts program for homeschoolers
There is one more free, drop-in program for homeschoolers and their girls to meet with council staff to learn how Girl Scouts can support and enhance homeschool learning. Girl Scouts offers age-appropriate programs for girls in grades K-12 and ages 5-18. For more information, contact Community Recruitment Manager Donna Clark at dclark@gsnypenn.org or (315) 698-9400 ext. 2312.
Daisy discovery
You have free articles remaining.
The council will be hosting a series of free programs in the local area this April and May to introduce girls in universal pre-K and kindergarten who are not yet Girl Scouts to the program. (Editor's note: This column was submitted before new state guidance on social gatherings due to the coronavirus pandemic.) Girls and their caregivers are invited to attend a current troop meeting to see what being a Girl Scout Daisy (grades K-1) is all about. Meet new friends, learn a new song, play a game and make a craft. Programs are not drop-off; council staff will be on-site to answer caregiver questions and share information about getting involved as adult volunteers. Those interested should contact Donna at dclark@gsnypenn.org or (315) 698-9400 ext. 2312 for further information, as sessions are now being planned.
Gift cookie purchases to Meals on Wheels, season ends March 29
GSNYPENN has designated Meals on Wheels programs across its service area as the 2020 Sweet Support community partner for the cookie program. Through this service project, customers can choose to gift cookie purchases to assist a local organization. Meals on Wheels supports more than 5,000 community-based programs across the country dedicated to addressing senior isolation and hunger. The network serves virtually every community — including Cayuga and Onondaga counties — to deliver nutritious meals, friendly visits and safety checks that enable seniors to live nourished lives with independence and dignity, strengthening communities one senior at a time. This month is March for Meals, a celebration of these vital community programs.
To gift cookies to support Meals on Wheels, place an order with a GSNYPENN Girl Scout or visit a booth now through the end of the cookie program on March 29. To locate a booth, visit gsnypenn.org and enter your zip code or use the free Girl Scout Cookie Finder app on iOS and Android. Last season, Sweet Support recipient the Rescue Mission Alliance was gifted 15,324 boxes of cookies for use by its network of regional service sites and programs.
The Girl Scout Cookie Program teaches girls entrepreneurship as they have fun learning essential skills like money management, public speaking, and decision-making, setting them up for a lifetime of success. Purchases stay local to power experiences and leadership opportunities for girls across the NYPENN Pathways council. Cookies are $5 per box. Varieties include brand-new Lemon-Ups, Trefoils, Do-si-dos, Tagalongs, gluten-free Toffee-Tastic, Thin Mints, Samoas and Girl Scout S'mores. Girl Scout Cookies can only be purchased from a registered Girl Scout. Contact GSNYPENN Customer Care at 1-855-213-8555 or email info@gsnypenn.org to get in touch with local troops selling cookies.
Girl Scouts serves girls in grade K-12. Annual membership is $25. Financial assistance is available. To register a girl online, visit gsnypenn.org/join. To become an adult volunteer, learn more at gsnypenn.org/volunteer.
Jaime Alvarez is senior director of marketing and communications for Girl Scouts of NYPENN Pathways. For more information, visit gsnypenn.org.
Be the first to know
Get local news delivered to your inbox!