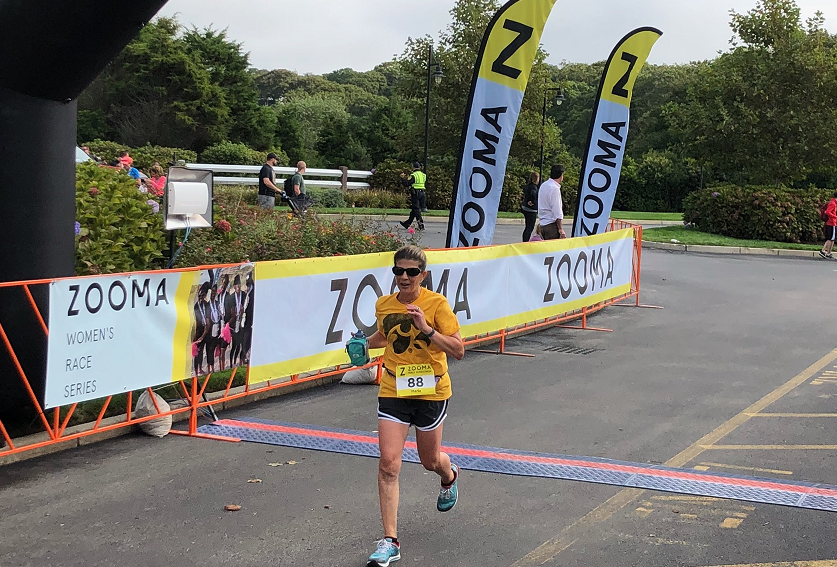 Auburn native Maria Papalia-Meier was running with her neighbors in Plainville, Massachusetts, on a Monday in June 2014 when she first started to feel like she had the flu.
By Wednesday, she was being transported to the intensive care unit at Brigham and Women's Hospital in Boston for sepsis. The condition, which affects the bloodstream and could cause organ failure, was triggered by an untreated streptococcal infection.
"I laid in bed for three days thinking I had the flu, and actually if I laid there for another hour, I would've been dead because we had no idea how sick I was," she said.
Papalia-Meier tells the story of her recovery from sepsis and the mindset of perseverance that pushed her to run again in the book "I am a Runner: The Memoirs of a Sepsis Survivor," which she recently published with co-writer Pamela Ackerson.
Papalia-Meier graduated from Auburn High School in 1992 and attended Cayuga Community College for two years before transferring to Georgia Southern University. She currently lives near Boston, but will be back in Auburn for a book signing event July 24 at Historic Grounds Coffee on Genesee Street downtown.
"I never wanted to be the person that looked in the mirror and said, 'I remember when I used to.' I wanted to be the person that did. And I think all those things come across in the book," Papalia-Meier said.
Her doctors told her that she was the sickest person in the hospital for a while, and she spent seven weeks there altogether. The medication she was on to keep her organs working cut off the flow of blood to her extremities, turning her feet black from the ankles to the tips of her toes.
By October, Papalia-Meier knew she had to have all of her toes amputated.
Her doctors suggested she try to find another sport.
"Once you're a runner — and runners know — you're always a runner. There is no other sport," she said.
She saw a second chance in the form of a running clinic at the Spaulding Hospital in Cambridge, which she noticed while she was still in the hospital and had to be taken outside in a wheelchair.
"I would look at the sign and I would say, 'I don't know when it's going to be, but when I'm ready to run again, these are the people who are going to help me,'" she said.
When she got out of the hospital in August, Papalia-Meier said she weighed 92 pounds and couldn't walk 5 feet without getting tired. She worked with a personal trainer for a year to get her strength back. A couple years later, she got into the running clinic, where she learned how to return to the sport that she loves without the use of her toes.
"It definitely took me a while to learn how to run with my new feet," she said. "I don't risk anything now because running is so important to me that I run the proper way now even if I have to run a little bit slower."
Papalia-Meier is now back to running races, and completed her first half-marathon last September in Cape Cod. She's planning to do another one in October.
"It was something difficult that I was able to do because I was passionate about it. I had a goal set and I lived every day toward that goal," she said.
Papalia-Meier believes her book, which is available for preorder now, gives a tough love approach to "defeating predetermined opinions and self-imposed limitations." She also wanted to spread awareness about the signs of sepsis.
"I want people to know that no matter what somebody tells you — like the doctors told me I'd never run again — if you know in your heart that you can do something, then you need to find a way to do it," she said.
Be the first to know
Get local news delivered to your inbox!