Scores of whiskey bottles shelved at A.T. Walley & Co. decorate the Auburn cocktail bar like trophies.
Each bottle of the George Dickel whiskey is denoted by a black placard with a name in decorative white lettering. And while some of the names are pseudonyms, all represent their owners' membership in an exclusive club.
A.T. Walley's whiskey club now has 363 members, easily exceeding the expectations of the bar's ownership, said co-owner Jeff Campagnola. When A.T. Walley first partnered with George Dickel Tennessee Whisky three years ago, Campagnola said owners had installed enough shelves for about 15 or so bottles.
The tavern still needs to make room to shelve about 30. Overall, A.T. Walley has sold more than 1,500 bottles of Dickel, Simmons said.
A customer only needs to purchase a bottle of the whiskey to join the club. For those who have purchased multiple, medals are hung from their bottles along the wall to symbolize how many. Each bottle sold is numbered and labelled with information about the barrel it came from.
George Dickel — a small Tullahoma-based operation that makes its whiskey by hand, Simmons said — has garnered several accolades with its product, including an award for Best Tennessee Whiskey at the 2015 San Francisco World Spirits Competition.
"(Dickel) is very old-school, kind of like we are," Simmons said about the distillery's operation.
Members of A.T. Walley's club, Campagnola said, also include a number of celebrities, such as actor George Wendt and John Walsh, TV personality and victims' rights advocate. 
The resulting popularity has elevated A.T. Walley as one of Dickel's best-selling accounts in the country, Campagnola said. A representative at Dickel could not be reached for comment.
"In a small little market in upstate New York, it's crazy," said co-owner Bernie Simmons.
Simmons said A.T. Walley kicked off the whiskey club with a bit of fanfare.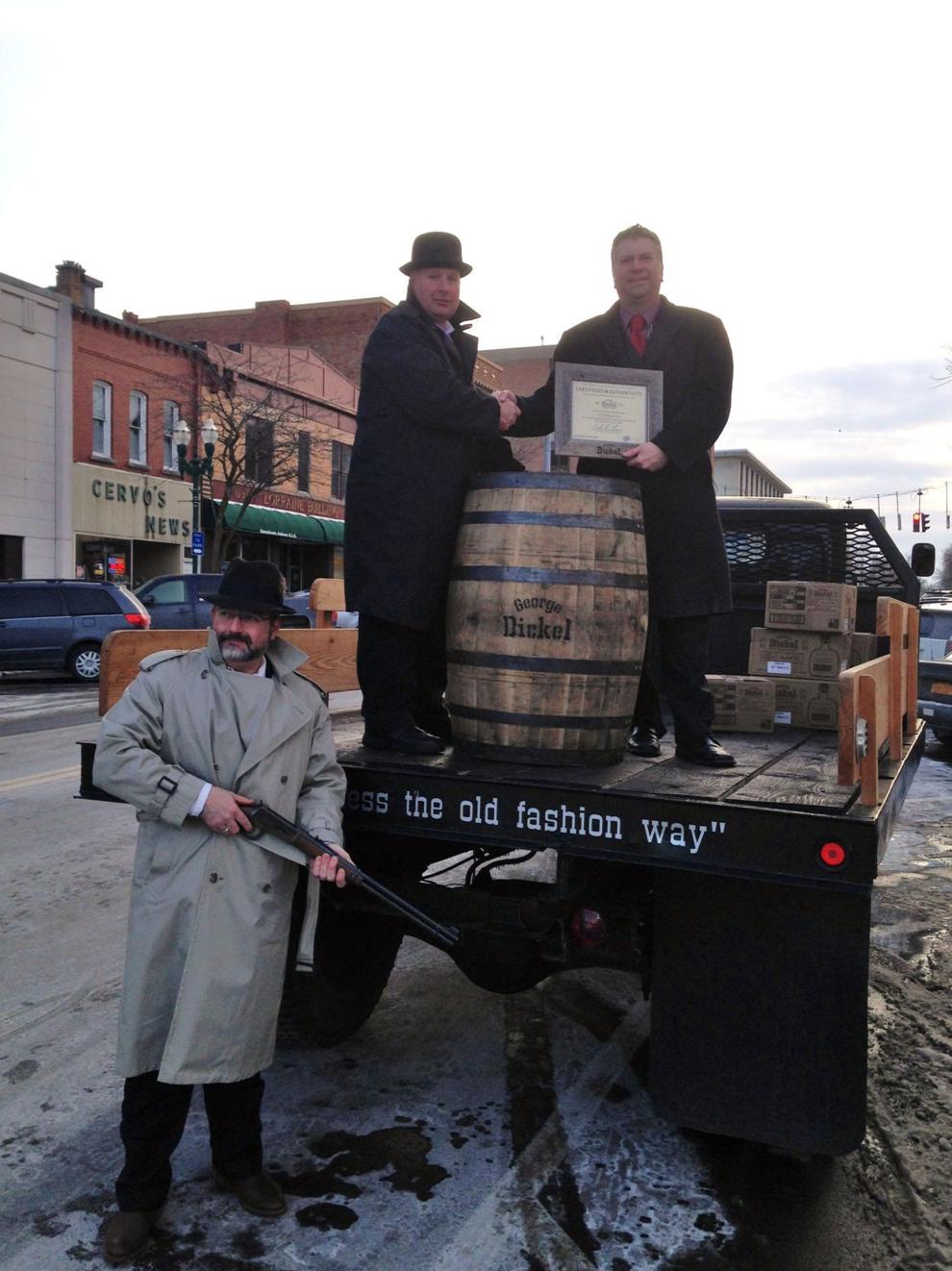 After signing on with Dickel, A.T. Walley transported the first 53-gallon barrel in January 2014 on the back of a classic flatbed truck loaned by Builder's Choice in Auburn. The delivery was done a bit Prohibition-style for show, Simmons said.
The first barrel cost A.T. Walley around $7,000. When A.T. Walley runs low on a stock of bottles, Campagnola said customers — and club members alike — are invited to taste-test samplings of the whiskey to help the bar choose which particular barrel to order. Whiskeys age with different tastes based on certain conditions, such as temperature and the environment.
"A company, store or restaurant might buy one barrel in a year, but to buy four in one year, that was something unheard of," Campagnola said.
The tavern is now on its eighth barrel. A.T. Walley owners gave one of the barrels to their State Street neighbors, Prison City Pub & Brewery, to age its craft beers inside it.
Looking ahead, owners said they have been told that George Dickel is aging 10-year-old whiskey barrels exclusively for A.T. Walley. That would make the tavern the only account in the country with that age of Dickel whiskey, Campagnola said. He said he expects the barrels to be ready for their taste-testing by the spring.
"This is just unique," Campagnola said. "We like to say here that if you're not doing something different, you're not doing anything at all. We just like to have things you can't get anywhere else."
Staff writer Greg Mason can be reached at (315) 282-2239 or greg.mason@lee.net. Follow him on Twitter @CitizenMason.