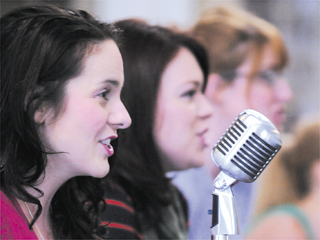 The Merry-Go-Round Playhouse is dedicating one to the ladies Sept. 16 with a Girls' Night Out event that includes hors d'oeuvres, drinks and a showing of "The Marvelous Wonderettes."
Girlfriends, and guys too, are invited to the Emerson Park theater from 6 to 8 p.m. to start the night off with a wine reception available to those who purchase tickets for the show.
The main attraction, "The Marvelous Wonderettes," is a show perfect for groups of close-knit friends.
It follows four lifelong friends who also happen to be an all-girl singing group, from the night of their senior prom to their 10th high school anniversary.
The show will bring back the major hits of yesteryear, including "Lollipop" and "Leader of the Pack," with choreographed dance steps that hail from a simpler time.
For the show, the Merry-Go-Round brought in "Wonderettes" veterans who have been working with various productions of the show for years.
Choreographer Janet Miller wrote the dance steps for the first show in Los Angeles in 2001, she spent much of last week putting the cast through "'Wonderette' boot camp" to get the moves just right.
"We'll be using most of the choreography from the original show, but because we've got a whole new cast here I was able to tweak a few things that I've been wanting to experiment with," Miller said Wednesday during a break from the rigorous rehearsal schedule. "It's great to have a fresh, new way to look at things and the freedom to change a few things around."
Miller said she got most of the inspiration for the moves for the show's 33 musical numbers from the variety shows she watched as a girl.
"They are all very iconic steps that anybody from that era would recognize," she said. "They do the pony, the hand jive and the bat watousie. Believe it or not, one step came from 'Let's Make a Deal,' using the moves Carol Merrill used to do when she was showing the boxes."
In the 10 years between the acts, Miller said the Wonderettes grow and mature from naive school girls to experienced women.
"In the first act they don't know they have hips; it's a lot of arms and swaying," she said. "By the second act they've discovered what their bodies can do, and they have a whole different center, there's definitely a noticeable change."
Miller and Tricia Tanguy, who worked together on an off-Broadway production of 'Wonderettes,' have been reunited for the Playhouse show.
Tanguy was brought on by Merry-Go-Round executive director Ed Sayles to direct because of her former experience on the show.
"I worked with the theater in 2004, so I already knew Ed then," Tanguy said. "About two years ago Ed came to see the show in New York City. After the show, we went out to get drinks and talk and he said he thought he would be able to get the right to the show and said if I want it they would love to have me. Of course, I said yes."
This show will be Tanguy's directoral debut, something she says takes a while to adapt to.
"It gives me the chance to watch and see how the whole show fits together instead of just focusing on one or two parts," she said. "I'm glad my first time directing is with this amazing cast of ladies."
Meredith Beck plays Suzy, a plucky girl with a heart of gold.
"She's really a sweet girl, but she's a little ditzy," Beck said. "She may be a little naive, but she's one of the warmest people you could ever meet."
Beck said that like the Wonderettes, the cast have grown to be fast friends.
"Most of us knew each other from other shows, so we were already pretty comfortable around each other," she said. "We were able to learn the steps quickly and bond quickly, helping each other out along the way. We really are friends and don't have to fake in on stage; that's not always the case with all casts."
Staff writer Nathan Baker can be reached at 282-2238 or nathan.baker@lee.net. Follow him on Twitter at CitizenBaker.
What: "The Marvelous Wonderettes"
When: Opens at 7:30 p.m. Wednesday, Sept. 14; continues through Oct. 1
Where: Merry-Go-Round Playhouse, Emerson Park, Owasco