AUBURN — The skies were dark and cloudy Wednesday, and around lunch time, fat intermittent raindrops began to fall. Bracing against the wind, Bruce Damalt walked briskly down Genesee Street in Auburn.
And then someone tried to hand him two bouquets of flowers. 
"No thank you!" he called over his shoulder, walking faster.
But he ran into another orange-clad woman on the street, her arms overflowing with bouquets of daisies, carnations, lilies and more. Getting his attention long enough for him to learn the flowers were free, he finally took the two bouquets. He smiled.
"One of them's going to go to my wife," he said, continuing his walk in the rain.
The pieces of sunshine were spread across downtown by Cosentino's Florist in Auburn, which was participating in a national movement by the Society of American Florists called "Petal It Forward." It sees florists across the country give strangers two bouquets — one for the recipient, and one for them to give to whomever they choose.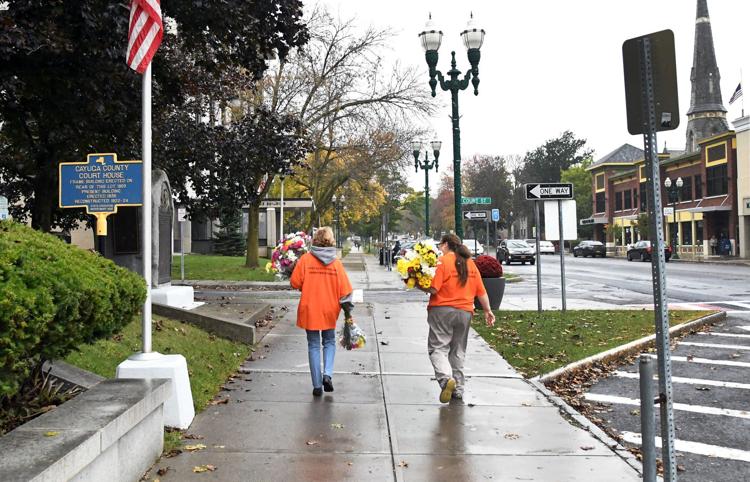 This is the second year Cosentino's has participated, said Jessica Cosentino, daughter of owner Carmen Cosentino and the business's heir. With 300 bouquets of pinks, yellows and greens, the Auburn business dotted colors and smiles across a gray afternoon. 
You have free articles remaining.
Register for more free articles
Stay logged in to skip the surveys
"The first reaction is they think a donation is required, not realizing that people do give things for free," Cosentino said. "A kind gesture is not given often, so until people see it's done — that kind of boggles me. It's kind of sad. That's why I enjoy doing this."
Members of the Auburn Z-Club, an Auburn High School section of the women's organization Zonta International, as well as members of Auburn's Zonta Club handed out flowers to staff at the Cayuga County Office Building, construction workers, a parking attendant and many more. They stopped people in the crosswalk. They ducked into restaurants and cafes. They staked out overhangs armed with petals for the passersby. 
Paula Capocefalo, first deputy Cayuga County clerk, gladly took two bouquets. She visits her 96-year-old mother, Gertrude Capocefalo, for lunch every day, and was going to bring her one. Ann Robson, a nutritionist at the Cayuga County Health Department, said she would bring her flowers to her co-workers.
"I love flowers," she said, smiling down at the bouquet. "They improve my day. This is such a nice thing."
Laura Simmons, of Auburn, and Jack Hall, of Cato, had broad smiles on their faces as they walked down Genesee Street. They'd been hit by "Petal It Forward," too. Simmons was going to give her extra bouquet to her mother, and Hall was going to give the second bouquet to his fiancée. 
"The reactions are great," Cosentino said. "They know exactly who they're giving it to. It wasn't a question, they know where and who."
She looked out into the rain.
"It's a beautiful day to get flowers," she said.