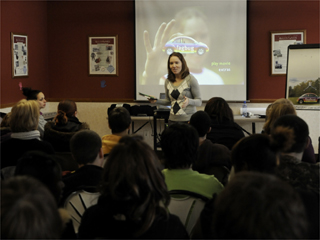 AUBURN — Imagine that you just bought your first new car. You have car payments to make, but it's worth it because the shiny machine glinting in the sunlight is all yours. You get to drive it around, show it off and even decorate it with bumper stickers.
Then a complete stranger spray-paints hateful words all over your new car in permanent red. Most people would feel shocked, angry, scared, helpless and heartbroken.
Motivational speaker Erin Davies, of Troy, knows the feeling.
In 2007, her new Volkswagen Beetle was vandalized with the words "fag" and "u r gay" in bright red spray paint. The hate crime happened after Davies put a rainbow sticker on her car.
Davies visited about 80 students attending Cayuga-Onondaga BOCES Summit School Wednesday to share her story with them.
She said she wanted to show the students how to deal with bullying, and how to take the power back once you have been targeted.
"Right away, you feel embarrassed and hurt when these things happen," she said. "You don't know at that age (the students' ages) that you're not at fault, and you don't need to change something about yourself."
Looking out the window of the Auburn YMCA, where the Summit School program is housed, students could see Davies' Beetle, which used to be silvery gray, but is now decked out in rainbow stripes from top to bottom. The car's name, and the name of Davies' program, "Fagbug," is stylishly painted on the side of the car.
Davies told students that putting rainbow bumper stickers on her car was never really her style. But when she put one on her car a few years ago and came back to find her car vandalized, her eyes were opened to the ugliness of intolerance.
"Seriously, I thought the world was more advanced than this," she told students.
Most people would get the spray paint removed as soon as humanly possible, but Davies didn't. She told students she decided to embrace the situation and drive around the country for a year while making a documentary of hundreds of interviews. She asked people from coast to coast what they thought about what had happened to her car. She spoke to supporters and opponents of homosexuality, as well as to individuals who had lost loved ones to hate crimes, she said. Along her journey, Davies attended many gay pride parades and was given awards. Volkswagen of America even decided to sponsor her, reimbursing her for gas, oil changes and providing free work on her car. Students giggled when Davies said Volkswagen even threw in a killer sound system for free.
But Davies had tough times on her adventure, as well. She was asked to move her car by motel management when she stopped at a Super 8, she said. She also endured many protests against her and some Facebook harassment — even from the gay community.
After a year of driving around with barely enough money to make it to the next town down the road, Davies found out HD Radio was going to pay for the completion of her documentary. HD Radio also helped her send the documentary to film festivals, she said.
With her documentary now available on DVD, Davies has continued touring in the Fagbug. She speaks to students and others about her experience in the hopes that she can teach audiences a different way to deal with life's bullies.
She also wanted students to take away confidence that they can accomplish anything they want to, even if they are lacking resources like money and support from others. Davies herself spent much of her cross-country journey not knowing if she would be able to complete her documentary or afford enough gas to get to the next stop on the adventure.
"You will experience obstacles," she said. "But you can accomplish goals if you are committed and if you work hard."
So far, Davies has travelled to 46 states to teach her message. She only has North and South Dakota, Alaska and Hawaii to visit with the Fagbug in her effort to teach tolerance.
"By being tolerant, you don't have to agree," she said. "But you can have a dialogue with people of opposing viewpoints."
Staff writer Kelly Voll can be reached at 282-2239 or kelly.voll@lee.net. Follow her on Twitter at CitizenVoll.
Be the first to know
Get local news delivered to your inbox!