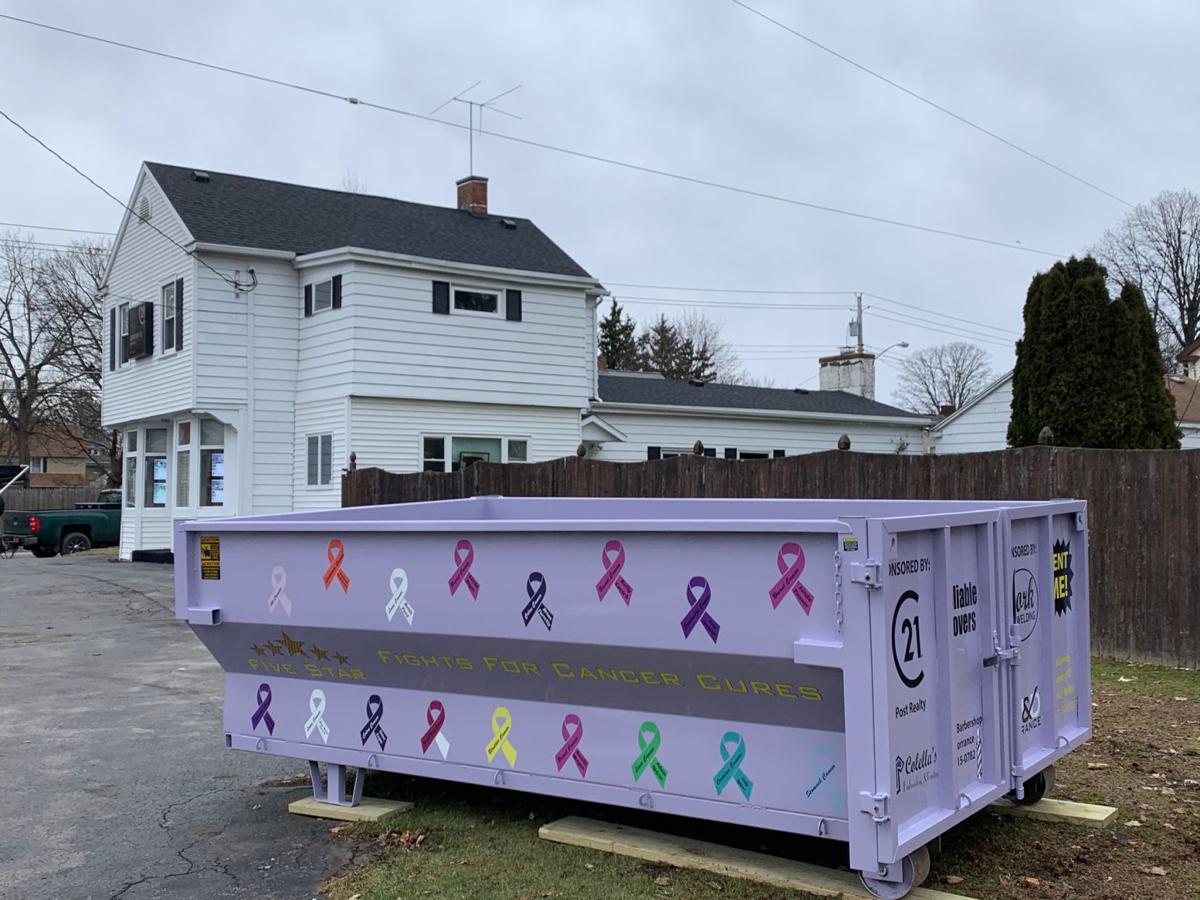 Five Star Clutter & Dumpster Rentals in Auburn has announced the creation of a special dumpster that will support the American Cancer Society.
The dumpster features about 30 colored ribbons, each signifying a type of cancer and someone local who was diagnosed with it. Stephen Crisafulli, CEO of the Auburn company, said the names represent friends and family from the community. They include: Lisa Elardo (leukemia), Terry Doyle (breast cancer), Dick Hill (lung cancer), Tim Prosser (pancreatic cancer), Susan Bertonica (breast cancer), Debbie VanDyke (breast cancer), Keith Ford (lung cancer), Stephanie Hermanward (leukemia), Linda Tanner (breast cancer), Paul Tanner Jr. (bile duct cancer), Carrie Lewis (breast cancer), Julia Adams (brain stem cancer), Linda Beyor (breast cancer), Brian Farrelly (colon and liver cancer), George Martinez (head and neck cancer), Dorothea Ciampaglia (cervical cancer), Chico Martinez (prostate cancer), Allen L. Reilley (lung cancer), Kelly A. Dare (uterine cancer), David Freeman (lung cancer), Carrie Church (bladder cancer), Kelly Covich (breast cancer), Rosalie Morgan (breast cancer), Dave Lupo (rectal cancer), Rose Marie Janack (lung cancer), Albert Janack (pancreatic cancer), Judy Spicer (ovarian cancer) and Adam Spicer (liver cancer).
You have free articles remaining.
The project is a tribute to his father-in-law, Allen L. Reilley, who passed away from lung and liver cancer recently, Crisafulli said.
A portion of proceeds from the dumpster's rental will be donated to the American Cancer Society for a period of about a year, Crisafulli said. It will be available to the public to rent.
The dumpster is sponsored by Nate's Barber Shop, Century 21 Post Realty, Colella's Embroidery and Printing, York Welding and MM&D Insurance.