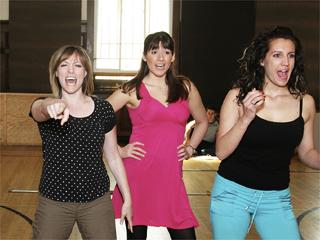 A group of out-of-work Buffalo steelworkers will soon be baring it all in Emerson Park - but don't call the police just yet.
The cast and crew of the Merry-Go-Round Playhouse kicks off their 2009 season on May 27 with a production of "The Full Monty," a musical comedy based on the 1997 movie of the same name. While certain aspects of the story were modified for its conversion to Broadway, such as the setting of Buffalo replacing Sheffield, England, the plot remains the same. Six unemployed men turn to creating a striptease act to make extra money.
"The musical is reflective of the times we are living in, and shows people making the best of a bad situation," said Merry-Go-Round marketing associate Hilary Ford.
The musical chronicles the efforts of men who are ridiculed, looked down upon and feel worthless and ashamed.
"Everything really illustrates levels of humiliation," said Brad Nacht, who plays the character Dave in the show. Nacht has performed in productions of "The Full Monty" in the past and toured in the show for nearly two years.
As far as taking his clothes off in front of an audience of strangers, he says, "It's a lot easier with five other guys up there with you. I'm not sure if I could do it alone." However, the spectacle of everyday guys stripping is not a gimmick.
"It's really great in the context of the show," Nacht stated. "It shows what happens when you've reached the bottom. It can't get any worse than this, so now that I've had the worst, there's nothing else to lose."
While serious and adult themes may exist in the show, that doesn't mean people aren't there to have fun.
"The show is about friends and family and what you are willing to do for them. There are adult themes, but it is a comedy," Ford said.
Geno Carr, who plays the character Harold in the show, feels the show remains fun despite dealing with tough times for its characters - and him having to get naked on stage.
"Strangely, I'm OK with it," Carr said. "I'm fine right now, but we'll see when it gets closer."
Ford spoke about the choice of the show and its nearby setting of Buffalo: "It makes it more fitting, and people can identify with it. We even have actors studying diction CDs to get the Buffalo accent down perfectly."
The location isn't the only thing people can relate to, she insisted: "These are regular guys, with tummy and all. The people in this musical are people you know, they are your neighbor, maybe they are you."
Ed Sayles, producing director of Merry-Go-Round, "(loves) giving my audience a story they can enjoy," and added that the subject matter, though mature, shouldn't scare anyone away. "This show is all in good fun, there's nothing anyone has to worry about."
Ford did state, however, that "Parents probably shouldn't bring their children to this show. We obviously don't recommend anyone (younger than) 17 come." She then chuckled and added, "Just in case the lighting doesn't work out right."
"The Full Monty" was originally intended to be performed at Merry-Go-Round last season, but at the last minute the Playhouse received the rights to "Les Miserables," and a show had to be bumped to a later season.
After "The Full Monty" completes its run on June 17, the season continues with "High School Musical," "No No Nanette," "A Chorus Line," "Buddy: The Buddy Holly Story" and concludes in October with "I Left My Heart" - a show dedicated to the music of Tony Bennett.
"We have something for everyone this season," Sayles commented. "We've never had such a diverse season. Every show is hugely varied in style, subject and musicality."
The Merry-Go-Round Playhouse offers "Broadway talent at Finger Lakes prices," Ford stated. "You can bring a picnic to the park and catch a show later, or ("The Full Monty") would make a great girls' night out."
Men, however, shouldn't feel left out just because of the subject matter. Geno Carr says, "I dare anyone to come and not have a good time!"
When: Opens at 7:30 p.m. Wednesday, May 27; continues through June 17
Where: Merry-Go-Round Playhouse, Emerson Park, Route 38A, Owasco