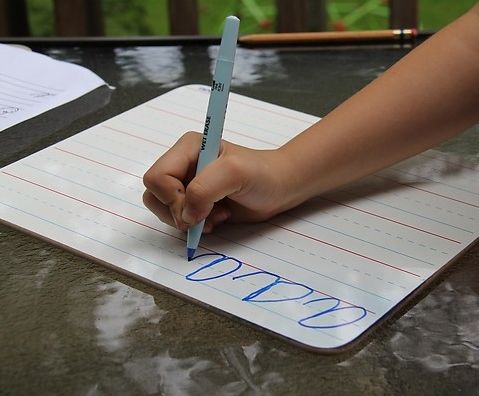 "The hands are the instruments of man's intelligence. ... The human hand allows the mind to reveal itself." — Dr. Maria Montessori
Since when do kindergartners learn to write in cursive? Most public schools don't even start teaching cursive writing until at least third or fourth grade, if they teach it at all. While us Montessorians have deliberated for years whether children should learn to write first in cursive or manuscript, we've all agreed cursive was an essential skill. Now there is a spirited debate in the field of education about whether, in this age of technology, handwriting is necessary at all.
Cursive is not required by the National Educational Common Core Standards. Many states across the country are removing or reducing cursive instruction from their curriculum. I personally feel this movement is not based on best-practices research, but on the current trend toward digital technology. Fortunately, research in the field of learning differences such as dyslexia and reading remediation, provides evidence that handwriting is a beneficial tool that supports the learning process. Surely, there is room for handwriting and keyboarding skills.
At Creative Minds Montessori, learning cursive is an essential skill that is introduced to our youngest children. During Maria Montessori's observations of the child, she realized the importance of learning through movement and the senses. Current research corroborates her findings, stating the importance of the hand/brain connection and proving that new pathways in the brain develop as children use their hands to explore and interact with the world.
Fascinating new research points out the benefits of cursive writing for cognitive development. One study concluded that the typical elementary student needs at least 15 minutes of handwriting daily for cognitive, writing and motor skills and reading comprehension improvement. Another study showed that cursive writing helps train the brain to integrate visual and tactile information, and fine motor dexterity.
Simply put, cursive writing was developed by the human hand for the human hand. If you will: Take a minute to watch your child draw. Look at the way they hold their pencil and form their lines. It's fluid. The uninterrupted movements of the hand are easier for children to form; without even knowing it, they are preparing themselves for cursive writing.
Diving further into this controversial battle between cursive writing, manuscript printing and keyboarding led me to some compelling reasons for encouraging students to learn cursive writing:
1. Cursive writing is actually easier to make, as printing requires more fine motor skills. All cursive lower-case letters begin on the baseline. Lowercase manuscript letters randomly begin in several different places.
2. The hardest movements for the hand to make are a perfect circle and a perfectly vertically line. These are the components that make up manuscript.
3. The cursive writer only needs to pick their pencil off the page between words, as compared to lifting the pencil up between each letter when printing.
4. Cursive writing reinforces the development of letter definition and formation. The natural flow of cursive writing prevents common letter reversals (b and d, p and q) often found in manuscript printing.
5. When writing in cursive the act of connecting the letters that form a word help the child's mind to see those letters as a word. The letters of each separate word are connected, and then there is a space distinguishing it from the word that follows. Studies have shown that kids who learn cursive rather than simply manuscript writing score better on reading and spelling tests, perhaps because the linked-up cursive forces writers to think of words as wholes instead of parts.
6. Children who learn to read cursive words first make a very quick transition to reading print. The reverse is more difficult. A child who only learns print cannot read cursive.
7. The regions of the brain that are activated during reading were also activated during handwriting, but not during keyboarding.
Whether we begin by teaching print or cursive, it's clear that it's a very different process to touch a key and see a letter appear on a screen, than it is to develop the skills and brain/hand connections necessary to be able to write that letter yourself.
At Creative Minds Montessori, we believe handwriting is an extension of who we are as individuals. Our script tells about our personality. As teachers, we know a student's unnamed, handwritten work by their unique handwriting.
Diane M. Bauso is head of school for Creative Minds Montessori, 169 Genesee St., Auburn. She can be reached at (315) 406-9495 or auburncmms.com.
Be the first to know
Get local news delivered to your inbox!