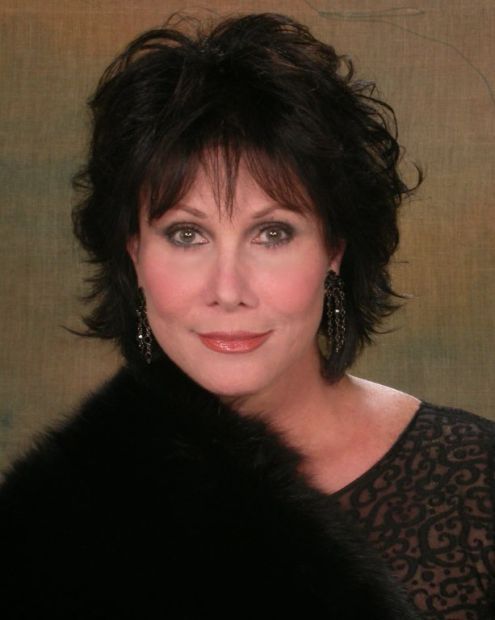 Continuing a series of Thommie Walsh tributes is Broadway star Michele Lee, of the prime-time CBS drama "Knots Landing," who comes to Auburn May 2 and 3 to perform at Cayuga Community College.
Lee's performance, organized by Auburn Public Theater and Walsh's sister, Barbara, will support the scholarship fund set up in memory of the late Auburnian and Tony-winning choreographer.
Walsh's cousin John, of "America's Most Wanted," will host the shows, and Loren Barrigar and Mark Mazengarb will open them.
I had a chance to speak to Lee about the Walshes, her Auburn shows and "Knots Landing":
On what she'll perform in Auburn: "The character — the zany, wonderful character — I played in 'Seesaw' (on Broadway in 1973) is kind of reintroduced to our audience and there's kind of a thread of what happens, including the showstopping song that was put in the night before we opened. It was like a soliloquy that I actually had the tape of (composer) Cy Coleman teaching it to me, which I'm going to play into the song. It's almost the play itself. The show needed some help and Neil Simon wrote some scenes for the show, right before we opened, and he's the one who said to Cy, that this last number really, because it's the finale, he thought it didn't have enough emotional content in how far my character would have grown. It needed an embellishment, and that's what went into the show one night before. And then what I do is, a lot of Broadway songs with unknown stories and also, because I've been so fortunate to meet some icons in the business, and in the world — presidents and things like that — I do tell off-the-cuff stories that actually happened that people would not know, and I do a lot of comedy. I like to be a kid. I am a kid on stage. I love an audience and I love to have fun."
You have free articles remaining.
On her Auburn shows' nods to "Knots Landing" and "How to Succeed in Business Without Really Trying": "I do a hats-off in, I think, a wonderful, unique way to 'Knots Landing.' And I think it's brilliant, if I must say so myself (laughs). The people who've seen me do it, in New York, the people just loved it. Another something I do is how women's attitudes have changed in music through the course of time, so I do three different ladies singing three different songs to show the psychological change in women. I did 'How to Succeed in Business Without Really Trying,' and I also did the movie, and the one song that was really a hit — well, there were a few — but one is "I Believe in You," which I sing as a ballad. And in the movie I sang it as a ballad, and this time, in this show, I do it in a very, very different way, which people find very poignant. It's tied to something that happened in the nation. That's what I try to do — touch things that happen in the nation and find a song that goes with it. I'm going to have a hell of a good time."
On meeting Thommie Walsh when they did "Seesaw" together in 1973: "I will tell you, Thommie was like a light. He was young — I was young, but he was younger than me. He was a dancer who you knew immediately would be some sort of a star. Everything that he did — it's like when you watch a chorus dance, you always kind of see someone and follow that figure. That was him."
On Thommie's personality: "He had the most incredible sense of humor. He was always my favorite. As long as I've been in the adult world, there's a gypsy in me, and I'm a kid. And Thommie was always a kid. Not that we weren't young — I was only 29 when we did 'Seesaw,' and Tommie was probably 22 — but if Thommie were here right now, he'd be a kid. He became very successful in everything he did after that."
On Barbara and John Walsh: "The way I got involved with this is that Barbara Walsh got involved because I knew her brother, and I think it makes her feel real close to Thommie by celebrating the evening. And it's all for a good cause, and having people who knew her brother just adds another dimension to it. And (John) — that's the positive of forward-thinking. When you imagine things, they happen. You can make good things from things that aren't so good. And that's what he did, after the horrific thing that happened to his son. He was able to do something that helped so many people, getting back in the name of his son. It's gotta be something — not that one can replace a son — but it's the next closest thing."
On whether "Knots Landing" will return: "Certainly, the fans — that's the one question: 'Are you coming back? They're doing "Dallas."' I think everyone quite honestly would do the show if there was a venue. We didn't just like each other, we loved each other. We were such a family and we see each other know to this very day. So we would do it."
On why her "Knots Landing" character, Karen Fairgate Mackenzie, and her husband, Mack (played by Kevin Dobson) were so popular: "We were much more interested (than 'Dallas') in family and keeping family together. My character and Mack being the one couple who were never going to fool around. There was a time we tickled the audience with the concept my husband would stray because one person he worked with had a crush on him. Michelle Philips' character was after my husband, then another girl had a crush on him. I will tell you, the audience went mad. We were getting all kinds of communications — letters to the network, saying if Mack cheats on Karen, 'We will never watch that show again.' We represented the hope of the survival of marriage. Everyone else had separations, divorces, jumped from bed to bed. I saw her as an everywoman — they called her the rock of Gibraltar. She was someone everyone could come to and share problems with."
Lake Life Editor David Wilcox can be reached at (315) 282-2245 or david.wilcox@lee.net. Follow him on Twitter @drwilcox.