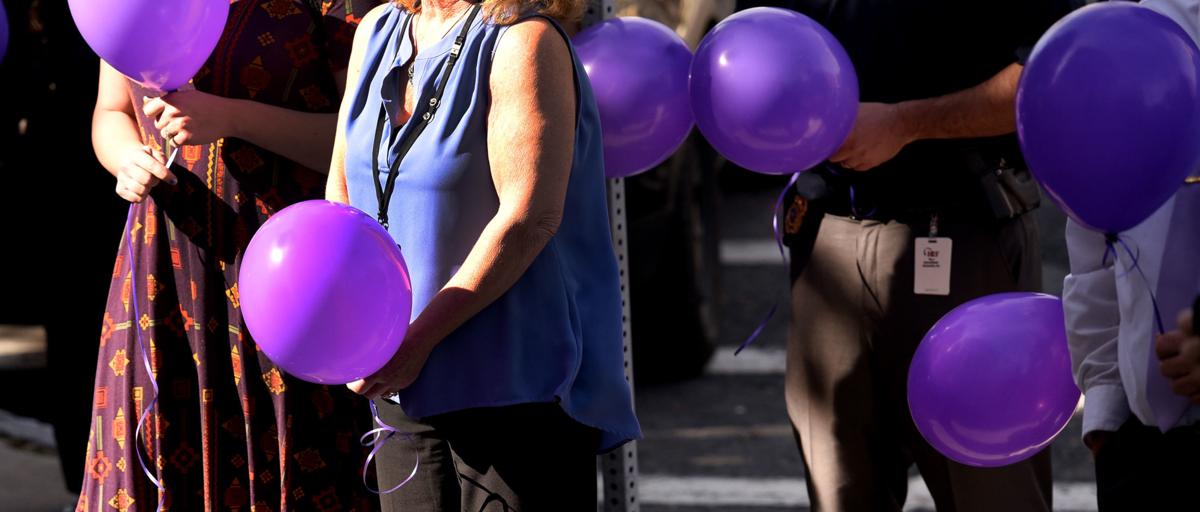 "The more that we choose not to talk about domestic violence, the more we shy away from the issue, the more we lose." — Russell Wilson
October is National Domestic Violence Awareness Month, and hopefully you have noticed all the purple that has popped up in our community recently. For survivors of domestic violence, purple is a symbol of peace, courage, survival, honor and dedication to ending violence.
It is very likely that someone you know is or has been a victim of domestic violence. Domestic violence is an epidemic that affects individuals in every community regardless of age, race, religion, gender identity, sexual orientation or economic background. Domestic violence can result in physical injury, emotional trauma and, in severe cases, death. According to the state Office for the Prevention of Domestic Violence, one in every three women and one in every four men will experience physical abuse by their partners. The devastating consequences of domestic violence can cross generations and last lifetime.
Community Action Programs (CAP) Cayuga/Seneca's Domestic Violence Intervention Program provides a variety of emergency and supportive services to assist victims of domestic violence through the complex process of leaving abusive relationships and building safe, self-sufficient futures. So far in 2019, DVIP provided in excess of 1,300 bed nights of emergency shelter to 103 adults and 57 children. In addition, we provided non-residential services, including crisis intervention, advocacy, supportive counseling and safety planning, to 2,644 individuals, and we responded to 461 hotline calls. This problem will not go away quickly or quietly.
You have free articles remaining.
This month, CAP will embrace the opportunity to demonstrate its commitment in ending domestic violence and to support the numerous survivors who are among us. We will work to open dialogue, start conversations and raise awareness about the impact in our communities and on our families.
CAP's domestic violence services staff will deliver presentations to junior high and high school students and teachers designed to change community culture; promote healthy, respectful relationships, consent and equality; and raise awareness of domestic violence. Staff will also provide packets to health care providers throughout Cayuga County with information and services available to help individuals and families impacted by the issue. CAP will host a two-day training provided by a nationally recognized expert on domestic violence for area law enforcement personnel to bolster prevention strategies and response to victims.
By shining a light on domestic violence, we can illuminate the path to safety and support for those who are living in danger and fear. Join us on Oct. 24 for our annual National Wear Purple Day Rally on the steps of the Cayuga County Courthouse at noon. Attendees are asked to wear purple and gather to hear brief remarks about the impact of domestic violence in our community. This event is free and open to the public. If you are unable to attend, we encourage you to wear purple and tell people why. Share with your friends, family and co-workers and post on social media to help raise awareness.
The Cayuga/Seneca Community Action Agency is coordinating several activities during October,…
It takes one to prevent it and everyone to end it. Here are a few simple ways you can help every day. Be nonviolent and non-judgmental in your interactions with others, challenge attitudes and beliefs that promote a culture of violence or victim-shaming, learn how to support a friend or loved one if they tell you they are being abused and know the resources available if they are ready to get help. If you are concerned about your safety, or are worried about a friend or family member, CAP offers a confidential, 24-hour hotline you can call to receive information, emotional support and emergency help. Our hotline number is (315) 255-6221. Don't let fear of saying the wrong thing prevent you from reaching out, and don't think you have to sit on the sideline. Many victims live in isolation filled with fear. Knowing that there are people out there willing to help can provide tremendous relief.
If you are interested in getting involved in Domestic Violence Awareness Month activities or learning more on how you can make a difference, please contact me at (315) 255-1703 ext. 143 or fbarwinczak@caphelps.org. To find out more about our Domestic Violence Intervention Program, please visit our website at caphelps.org.
Frank Barwinczak is the family and victim services director at Community Action Programs Cayuga/Seneca. He can be reached at (315) 255-1703 ext. 143 or fbarwinczak@caphelps.org