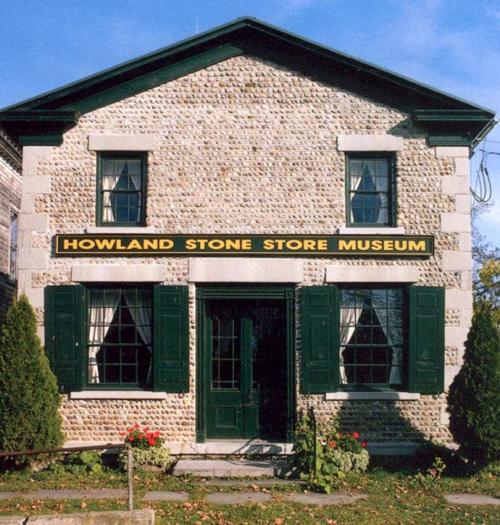 (This is part two of a two-part series highlighting the museums and history of Cayuga County on behalf of the Cayuga County Museum Coalition [H3C]. This part highlights the southern part of the county; the first, which highlighted the northern-central part of the county, was published July 8.)
Five of the museums you will find in the southern end of Cayuga County include The Frontenac Museum in Union Springs, The History House in Moravia, The Howland Stone Store Museum in Sherwood, The Rural Life Museum (one-room schoolhouse and 1810 threshing barn) in King Ferry, and Smith's General Store Museum in Genoa.
The Frontenac is open every weekend (with the exception of the last weekend of July due to the Route 90 garage sale) from 1 to 4 p.m., or by appointment at 889-7273). It will also be open from 6:30 to 8 p.m. Tuesday, July 17, and Friday, July 20. Genealogy resources and assistance are available by appointment.
Planned for Cayuga County Museum Week is "A Brilliant Idea For a While: The American Invention and Short-Lived Use of Zinc Markers" at 2 p.m. Sunday, July 22. Decorative arts historian Don Hall will present a lively and fun look at this lost art. Weather permitting, there will be a walking tour of Chestnut Hill Cemetery to investigate the interesting markers of past local citizens. Hall is an engaging and fascinating speaker. You won't want to miss this fun and free event. Also, for museum week, Civil War re-enactor and museum board member Linda Zach will be staging a Civil War field hospital at the museum. 
Of special interest this summer is the display of 11 wedding gowns that span from 1880 to 1965. Two families have provided dresses that span three and four generations of brides.
The Cayuga-Owasco Lakes Historical Society has the History House in Moravia open from 9 a.m. to noon Mondays and 10 a.m. to 2 p.m. Saturdays through Aug. 25. The society will feature spiritualist and author Dr. Joyce H. Smith-Moore performing 15-minute "readings" weekdays during this week in return for a $25 donation to the society. Please call in advance at 496-1411 before 7 p.m. to make an appointment. "Moravia: The Mecca of Spiritualism," thanks to Mary Todd Lincoln's visit in 1872, is based on the research Smith-Moore has done on the history of spiritualism.
Also at the History House, one can find rooms and rooms of displays on the history of Moravia and surrounding areas, along with primary recognition of the 13th president of the United States, Millard Fillmore.
The Howland Stone Store Museum is open from 1 to 4 p.m. Thursdays and Saturdays through Sept. 30. Collections there focus on the activities and contributions of the Howland family, including abolitionism, education and women's rights. On display is the original Underground Railroad pass brought to Slocum Howland in 1840. Other special displays this summer are women's suffrage posters and a picture/narrative showing the development of education in the Sherwood area.
At 7 p.m. Sunday, July 15, Greg Wellott, a local expert on barns, will give a talk on English threshing barns in southern Cayuga County. The museum will be open from 6 to 6:45 p.m. before his talk.
In addition to regular Sunday programs, which are free, Bridgewater will give a fundraiser concert, "Singing for Justice," at 3 p.m. Sunday, Sept. 16. Look for more information later.
Much of the Howland Stone Store Museum's focus this year is on the Opendore Project, the restoration/revitalization of part of the Isabel Howland House for the museum. They are hard at work planning, fundraising and implementing the $400,000 matching Environmental Protection Fund grant to support this project.
At the Rural Life Museum in King Ferry, visitors will be welcomed to the one-room schoolhouse and 1810 threshing barn. Set up as a schoolhouse might have looked at the turn of the century, the museum encourages gentle hands-on activity for the younger set through the school room, including writing on slates with pen and ink, pumping water, trying out the dunce cap, playing with old-fashioned toys and more. For the more senior group, memories of their school days often come into play.
The barn is filled with farm implements and tools of yesteryear. If you would like to peruse Smith's General Store Museum, just two miles east on Route 90 in the hamlet of Genoa, set up an appointment with Peter Signor. Smith's store has been a fixture in the community since 1890, and now the Signor family proudly displays a vast collection of antiques and store items. For more information, call 224-5923.
Interested in a two-hour informative cruise on Cayuga Lake? The floating classroom will be departing from Don's Marina on Powers Road in King Ferry at 10 a.m. Thursday, July 19. The cost is $10 for Genoa Historical Association members and $15 for nonmembers. Check their website at www.genoahistorical.org for details. Visit the museum for an exhibit on the Busy Bee Ferry Boat, too! Hours are 10 a.m. to 4 p.m. Mondays, Wednesdays and Fridays, or by appointment.
Check out the summer local art display at the Rural Life Museum through September, along with a display on the Gem Theater and original posters featuring the minstrel shows held there.
If you enjoy local history, Cayuga County Museum Week has many small museums open with special hours, as well as regular hours throughout summer, to keep the whole family busy. Stop at any of the museums mentioned in this article to pick up a brochure that includes a map, special events, hours, websites, phone numbers and contact information for each. Celebrate history in your own backyard!