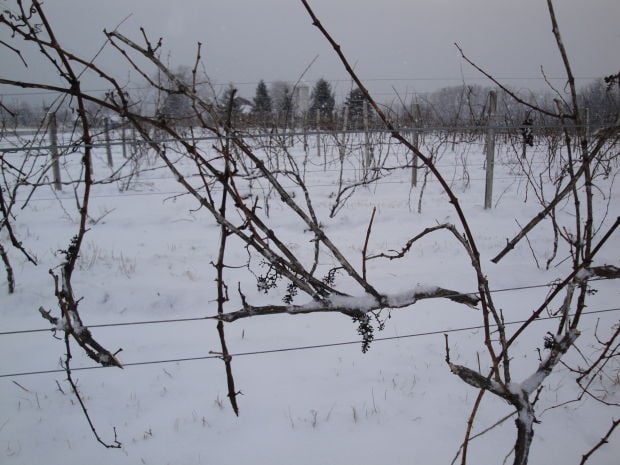 I don't consider myself a wine connoisseur by any means. I'll be the first to say that I have been in the industry for more than a decade, and still have a lot to learn. So when I am posed with questions regarding the wine-making process or farming techniques, I prefer to get the answers from those who know best. Many have asked me how the vineyards have fared this winter, considering the extreme cold temperatures, so I decided to ask an expert. I spoke with Dave Peterson, owner of both Swedish Hill and Goose Watch wineries in Romulus.
Many have heard of the devastation that the winter of 2014 brought local farmers and the effects that it had on the wine industry. Some vineyards in the northern Finger Lakes saw anywhere from 50-100 percent crop loss in 2014 due to the severe fluctuations in temperatures. Minimum readings were between minus 10 and minus 18 degrees Fahrenheit in most area vineyards last winter. Minimum temperatures were extreme; however, the average temperatures were higher, meaning the significant cold spells were more impactful.
As it turns out, it is exactly the fluctuation in temperatures that has a negative effect on the grapevines. Grapes fare better under uniformity. Therefore, if temperatures drop really low, but remain low until spring, the crop is barely affected.
Word has it that February 2015 was the coldest on record, but an average cold winter does not have as detrimental an effect on buds as extreme variations in temperatures. Considering how brutal this winter has been, with averages reading minus 6 to minus 10 degrees, I was very surprised to hear that local vineyards are not experiencing the hardship that they endured last year. Just a month ago, daily highs were barely reaching zero and schools were closing due to severe cold and dangerous wind chills. Since the cold remained even-keeled, vineyards were not damaged as much as in 2014, when spring made an early yet short-lived appearance and then temperatures dropped below freezing again. Also, much to my surprise, the grapevines are not affected by wind chill, only the air temperature.
In addition to the cold temperatures, and even though you've likely tried to block it from memory, the Finger Lakes had some record snowfall this winter. As it turns out, snow is a great insulator for grape vines, protecting the vines and buds that it covers. So while the kids were cheerful of a snow day, vineyard managers and winery owners alike were happy to see the snow pile up.
Also, Finger Lakes growers set their focus on viniferous varietals such as chardonnay, Riesling, pinot noir and cabernet Franc. These varietals are less hardy than others and, therefore, are the last to be pruned or trimmed. Pruning promotes new and healthy growth among trimmed vines in the next growing season. This year, heavy snowfall began before pruning and most teams were unable to navigate their vineyards through the accumulation. Since many of the vines were not trimmed back, there is more room for growth and more buds remain, leaving more room for potential grapes and cutting back on loss.
According to Peterson, the area average coming out of this winter seems to be about 20 to 30 percent bud injury, which is relatively common for a New York winter. Some areas west of the Finger Lakes and north into Ontario, Canada, have seen anywhere from 90 to 100 percent loss, with extreme temperature swings dipping to minus 20 degrees for a short period of time. Coldest temperatures recorded this winter in the Finger Lakes were not as extreme.
Looking back, 2013 yielded a bountiful crop thatlessened the blow of the significantly reduced 2014 turnout. We're on track to have a promising growing season in 2015, but anything is possible; it is still too early to tell. Farmers are forever at the mercy of Mother Nature.
Cassandra Harrington is the executive director of the Cayuga Lake Wine Trail. For more information, visit cayugawinetrail.com.