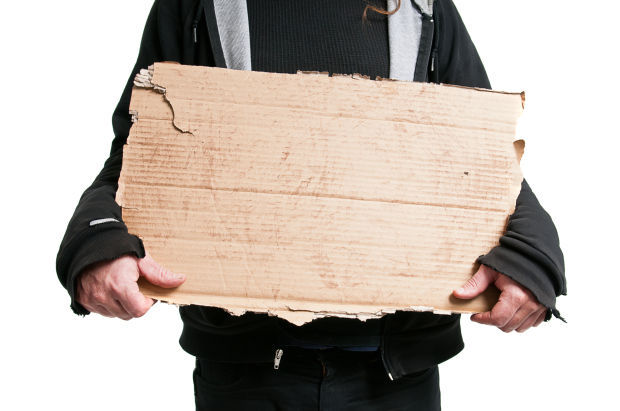 "If you don't have opportunity, then you won't have change." — Jemmy George "Chico" Martinez
I recently met Chico Martinez at an Auburn/Cayuga County Homeless Taskforce meeting, where I listened to him press multiple agencies on issues he had encountered trying to help people he was serving. Chico is a multi-disabled, twice-convicted felon with a history of homelessness. And he is a passionate advocate for the poor.
Chico was born and raised in Auburn in a dysfunctional environment. "Most of the people I grew up with are dead or in prison," he said matter-of-factly. He ran the streets, started drinking, and was a convicted felon by 19. He moved to Florida, where things went from bad to worse. He suffered a workplace traumatic brain injury, causing lifelong seizures. He was still making poor choices, received another felony conviction and served three hard years. Discharged to the streets in 2010, Chico soon returned to Auburn.
He was drinking, homeless and hating the world; his life was out of control. Chico bounced between a shed and the outdoors for months and then, in June 2011, another homeless man in Auburn, Steve Shields, was found dead under a bridge. It was a turning point for Chico.
"I didn't want to die outside and I didn't want to go back to prison. I wanted to change but didn't know how," he said.
As fate would have it, Dr. Mary McLaughlin, a rehabilitation psychologist and homeless advocate, found Chico living under the bridge. He credits her with getting him on the right track.
"If it wasn't for her, I would not be here," he said.
Dr. McLaughlin brought Chico to an Auburn/Cayuga County Homeless Taskforce meeting, and slowly things started to change. Still homeless, he connected with James Breslin from the Rescue Mission. Breslin recalls, "He had no pathway to housing; we knew we had to do something out of the box to help."
That something turned out to be Shelter Plus Care, a HUD-funded program providing housing subsidy and supportive services for chronically homeless persons with disability. There are only five Shelter Plus Care subsidies in Cayuga County; one was given to Chico. Breslin became his case manager, helping him work through various issues. He says it's a night-and-day difference from when he first met Chico three years ago.
You have free articles remaining.
"If you showed him one right step forward, he would take three," Breslin said.
As soon as he started getting opportunities, Chico decided to give back. He launched Chico Giving Back (facebook.com/chicogivingback), a homeless advocacy initiative, and has helped hundreds living on the margins, including single moms with school supplies, homeless men with personal care needs, and for many, advocacy with the county. Chico demands accountability and personal responsibility from those he helps. Breslin has watched him in action.
"He's extremely frugal. He tells people, 'If I'm going to make an investment in you, this is what you need to do," Breslin said.
Chico Giving Back raises funds through bottle and can returns at the Frosted Nickel on Clark Street.
Chico now regularly attends the Homeless Taskforce meetings. He knows many homeless are placed in hotels due to lack of emergency shelter beds — an extremely expensive solution that he hopes to help alleviate someday. He knows that unless there is a domestic violence situation, there is no emergency shelter for women in the county. Chico sees these gaps in service firsthand, and is proud to be part of the solution.
Christina Thornton, Chapel House executive director, had watched Chico in action for more than a year and was impressed. She offered him his first official volunteer opportunity in August 2013. Within months and with no regret, Thornton hired Chico as part-time relief staff.
"He's a huge asset to our agency and our mission, helping homeless men to navigate the system. He doesn't give up on people, because he can relate," she said.
Chico credits people like Thornton, Breslin and McLaughlin with providing the opportunity for him to choose the right path.
"Nobody wants to go to prison, nobody wants to be poor, nobody wants to sleep outside. But how do you change, when you from where I came from? It's a vicious cycle, I see it all the time," he said.
Chico recognizes the importance of putting a roof over someone's head, but quickly points out that case management is critical, especially when someone's been homeless for so long. He plans to continue working at the Chapel House and hopes to grow Chico Giving Back.
"If you don't have opportunity then you won't have change. I'm not going back to prison," he said. "This is my life now."
Trish Ottley chairs the Community Awareness Committee of the city of Auburn and Cayuga County Homeless Taskforce. She can be reached at (315) 730-9543.