What's the most important step you take during a journey? Many people would say it's the first step; for others, it's the final step.
For Auburn native Jay Roberts, a former nuclear submariner in the Navy and a competitor at the Invictus Games, it's the next step — whatever step it takes to keep moving forward in life.
That philosophy helped Roberts overcome a life-changing medical diagnosis, which ended his dream of becoming a submarine officer, in order to eventually take that next step: Owning his own business, Sapere Coffee, which donates 100% of its profits to charities for veterans like himself.
In 2015, Roberts, a lieutenant, was pushing himself to become submarine-qualified as fast as possible on the USS Oklahoma City, a nuclear submarine based out of Guam. After five days without sleep, he said, he was knocked in the head while working in the engine room. Thinking nothing of it, Roberts went to take a quick nap ahead of another meeting and then getting some more sleep.
Instead, he woke up on a table surrounded by the submarine's officers, who asked him if he knew where he was and what was happening. They told Roberts he'd been found in the midst of a seizure.
That started a long wait to get from the submarine's secret deployed location back to Guam, before seeing a neurologist in San Diego.
Roberts would learn that he had a brain tumor. It could be treated with medicine, which would disqualify him from commanding a submarine — or surgery, which came with a 20% chance of death.
Unafraid of surgery because it meant keeping his dream alive, Roberts went under the knife. While the surgery was successful, he still needed to take the medicine.
Worse, the surgery, combined with seizures, resulted in major memory loss. Roberts said that loss included nearly everything he learned pursuing a master's degree in physics, his research and more basic areas like movement and emotion. Following the surgery, Roberts fell into a malaise, depressed about what he'd forgotten and the struggle to essentially relearn everything about life.
"I've got to change," Roberts realized.
He'd already started to turn things around, training rigorously and eating healthier, when he was invited to compete in the Department of Defense's Warrior Games in 2017. The multi-sport competition features wounded, injured or ill service members and veterans.
You have free articles remaining.
Register for more free articles
Stay logged in to skip the surveys
Roberts thought he was going to excel at the competition. Instead, he got "crushed." Still, it was a positive experience, he said, as working and being with his teammates who had been through similar experiences helped him open up again.
"It helped me take that next step, and keeping up and getting where I needed to be to fit back into society," Roberts said.
The next year, things took a downturn again. Roberts didn't make the team for the Warrior Games that year, and he was forced into an early medical retirement from the Navy.
When things were getting bad, however, he got the call to compete for the U.S. in the Invictus Games, an international version of the Warrior Games started by England's Prince Harry after witnessing the American version.
It was at the Invictus Games that Roberts got the idea that would become Sapere Coffee. There, he encountered an Australian man selling coffee who donated all his profits to veterans causes.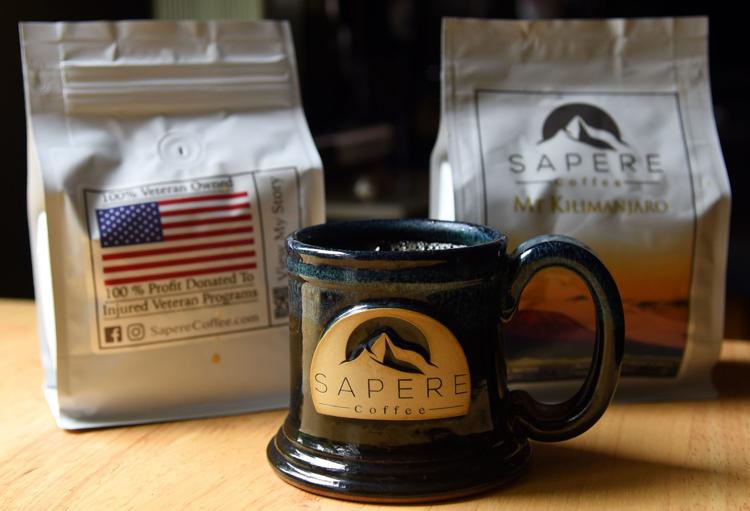 It was a serendipitous moment, Roberts said. While not initially much of a coffee drinker, Roberts fell in love with the beverage during his recovery. In addition to working to recover physically, Roberts also had to overcome memory loss, difficulty spelling and other cognitive problems as a result of the surgery and seizures. Much of that recovery work was done while reading and enjoying a cup of coffee in a Pearl Harbor cafe. With the inspiration for the business he found at the Invictus Games, Roberts had his next step.
Once the games ended, Roberts took several weeks traveling the world, both as a vacation now that he was finished with military life, and as a way to find the best coffee beans for his new venture.
He settled on a variety from Tanzania, farmed at the foot of Mount Kilimanjaro, and a roasting recipe he developed personally and has done at scale by a Syracuse roaster, he said. Using bourbon Arabica peaberry beans, the coffee is available in two styles, Full City and Darkr, along with mugs emblazoned with the brand's logo of Mount Kilimanjaro.
Now, with the profits from Sapere, Roberts wants to sponsor his fellow veterans for competitions like the Warrior or Invictus games in hopes the experience will help them as much as it helped him. While he plans to move to Washington, D.C., where opportunities for wounded veterans within the government are abundant, Roberts is keeping Sapere small for now.
"If I was able to fund one person to go to these events, it might change their life," he said. "I had to become a new man, and I learned how to be a mentor to these young guys going through hell."