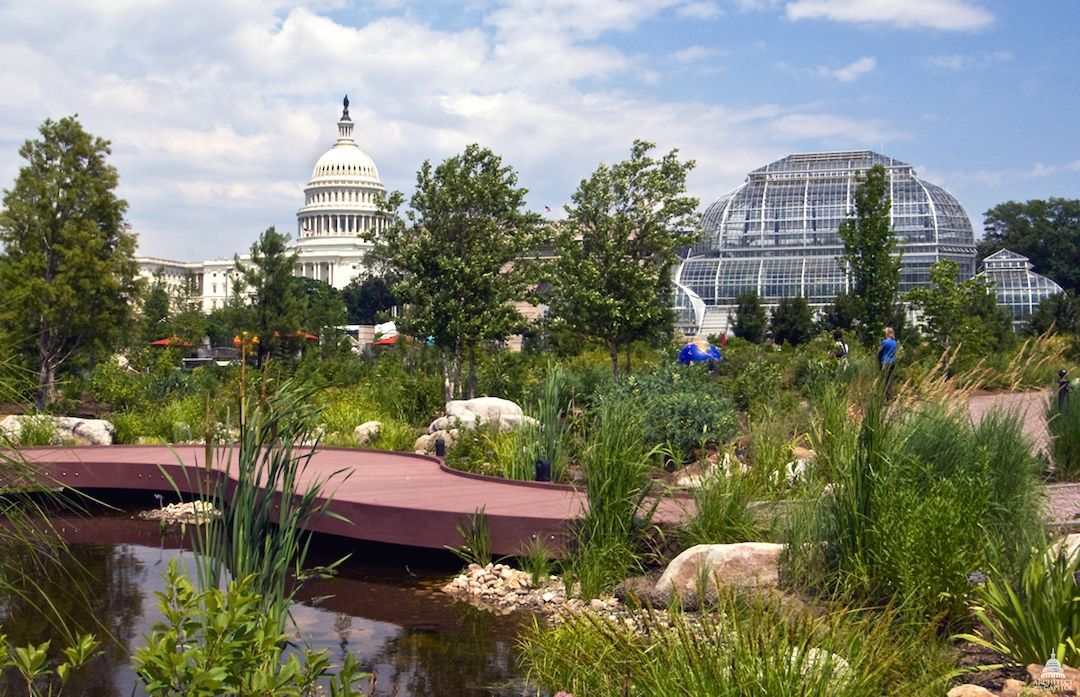 For more than 40 years, while I was very active in our national trade organization, The Society of American Florists, I always looked forward to this time of year, to our Congressional Action Days. It was a time when some 400 or 500 industry leaders gathered for meetings to discuss our industry priorities on the national level, and to visit each of our congressional representatives. On the morning of the third day, we were bussed to Capitol Hill, furnished with arms full of bouquets to hand out to the Capitol police and anyone who seemed to work in those offices, and to have meetings with our own representatives. The event was topped off on that evening with a reception in the Cannon House Office Building. Our guests were members of Congress and their staff people. Everyone went home with flowers.
But it was not all work. On the Monday afternoon, there always was a visit to Mount Vernon, the National Arboretum, the Botanic Garden or the White House for tea with the current first lady. The Botanic Garden was my favorite. I could spend the whole day there and frequently got to D.C, an afternoon early or stayed a day after the meetings to spend time there.
This all came to mind last night, when I saw on C-SPAN, a history of the U.S. Botanic Garden. That is what brought all those good memories to mind. The gardens, which consist of nine greenhouses surrounding a three-story conservatory named the Jungle, covers about three acres. There are beautiful gardens surrounding the building. The gardens originally developed in the 1820s, thrived for a few years and were left in disrepair by 1837. In 1838 a scientist, Charles Wilkes, was commissioned by Congress to explore the lands of the South Pacific. He returned in 1842 with a very large boatload of tropical plants and seeds, many of which had never been seen in this country. So there was again a need for a botanic garden in Washington, and it was recommissioned by Congress in 1842.
By the mid-1990s it had fallen into disrepair. In 1996, in an effort led by our own congressman, James Walsh, some $30 million was allocated for a complete renovation, one that would take more than four years to complete. Today, it is one of the most beautiful botanical gardens I have ever visited. I have been to many across this country and Canada and Europe.
The conservatory, the three-story Jungle, covers about two-thirds of an acre and has a catwalk around the entire second floor perimeter so plants can be seen from above as well as below. It is filled with nearly every tropical shrub and tree that you might imagine. There are 30-foot palms, rubber trees, dates, coconuts and more, climbing to the ceiling. There are vines everywhere. And at all levels, unimaginable greenery. There is a stream, with a small waterfall, running through it. But this is just the beginning of the adventure.
As you enter the lobby, there is a reception area where you get information, maps and guidance. From here you enter the Garden Court, which is about 20 feet wide and goes 75 feet to the left and another 75 feet to the right. There are 3-foot-wide water pools running down the center of each, and an ever-changing display of plants and flowers. The orchid is always being featured during my spring visits. You can enter the Jungle through the center door.
I always start my greenhouse visits by going right. There are nine houses situated around the conservatory, each featuring plants from different parts and environments of the world. First is a house full of rare and endangered species of plants. This is followed by one my favorites, the Orchid House. It is always full of color, and I assure you that you will be surprised at the magnificent and exotic varieties. There is a hot and dry desert house, a warm and moist Hawaiian house, and even a greenhouse full of medicinal plants.
I like Washington, and the Botanic Garden is not only the best show in town, but it is free to visit. Unfortunately, it has been closed in recent months because of the COVID-19 pandemic. I will really be ready for a trip to D.C. when it reopens.
Carmen Cosentino operates Cosentino's Florist with his daughter, Jessica. He was elected to the National Floriculture Hall of Fame in 1998, and in 2008, received the Tommy Bright award for lifetime achievements in floral education. In 2016, Carmen and Jessica were presented Teleflora's Tom Butler Award, naming Cosentino's the florist of the year at the company's annual meeting in Hawaii. Carmen can be reached at cosenti@aol.com or (315) 253-5316.