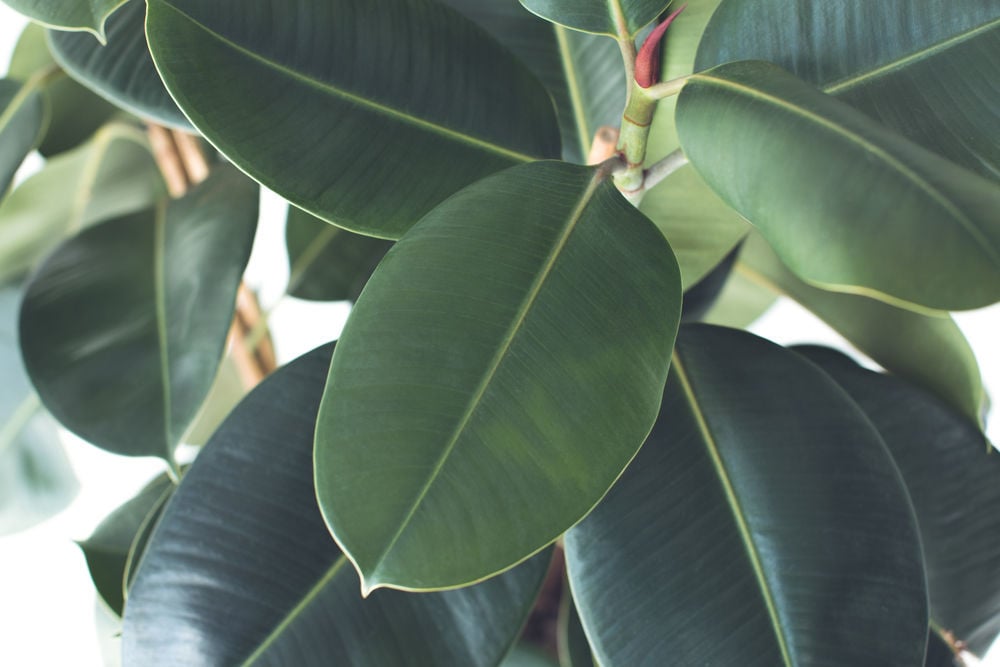 As I was looking through some records about this column, I realized that in the nearly 11 years I have been writing it, I never did a whole column on two of the mainstays of houseplants over many generations. I am thinking of the ficus, the ornamental fig group.
The first that comes to mind, as an older generation Auburnian, is Ficus elastica, the rubber plant. It adorned many homes and was popular in hotel lobbies. This was the plant that got quite tall, if not controlled. It had very large leaves, usually about 6 by 10 inches, with glossy tops and fuzzy undersides. Many who grew up in this city in the 1940s though the mid-'60s spent many Saturday evenings at Club Dickman. Remember it? It was a huge greenhouse with a wonderful band stand, booths and a wonderful dance floor. The thing I remember most is the enormous rubber tree; it reached 25 or so feet, nearly touching the roof of the building, and was probably 15 feet across. It was a popular place for one activity. I cannot imagine how many young ladies were presented with an engagement ring while sitting on the bench under that tree.
As we enter the cold, dark winter season, this is a wonderful plant to bring green into the house. During the winter season, give this plant as much light as possible, and during the summer keep it out of bright, direct sunlight. While it needs frequent water during the summer, give it a lot less during the coming months. But when you water, water thoroughly, so that the water reaches the saucer you have it in. Then drain the saucer. None of the figs do well if they are sitting in water. We often are asked how to make this plant branch out, rather than going straight to the ceiling. That is easy. With a sharp knife, nick the bark, about a quarter of an inch in, and about an inch above two or three of the lower leaves. In a month or so, you will most probably see new growth beginning.
In our home, Anne Marie and I always faced the prospect of moving the furniture back after getting rid of the Christmas tree. More often than not, it was easier to bring in a large houseplant; it seems that it was always a ficus or a large palm.
A second very popular fig is the Ficus benjamina, the weeping fig. This is totally different from the rubber plant. Temperature-wise, both of these plants do well in our homes. They thrive at 65 to 80 degrees. While we never take the rubber plant out of doors during the summer, the weeping fig likes to be moved into a shady spot. Just be sure that during a dry summer you frequently check to be sure that it is getting enough water.
This plant does have an irritating issue. Allowing it to seriously dry out for longer periods of time or rapid changes in temperature for a few days will cause it to drop a lot of leaves, often about 20% of them. Don't panic, with proper handling, in just a few weeks they will begin reappearing and before long your plant will be lush and beautiful again.
Both of these plants, and indeed most Ficus plants are relatively pest-free. I believe that the only two that may cause a problem are spider mites and mealy bug. It is wise to check the undersides of the leaves, at least once a month. If you catch an infestation, go to one of our home improvement stores or a garden center and purchase the proper spray designed specifically to get rid of them.
These are only two of the nearly 800 species of this tree. Though not all are suitable for use as houseplants, those that are, and there are many, are popular because they can keep their tree-like shape no matter their size and because their leaves can be dark green or variegated, large or small, and the plant can be upright and tall, bushy and nearly trouble-free.
Carmen Cosentino operates Cosentino's Florist with his daughter, Jessica. He was elected to the National Floriculture Hall of Fame in 1998, and in 2008, received the Tommy Bright award for lifetime achievements in floral education. In 2016, Carmen and Jessica were presented Teleflora's Tom Butler Award, naming Cosentino's the florist of the year at the company's annual meeting in Hawaii. Carmen can be reached at cosenti@aol.com or (315) 253-5316.
Be the first to know
Get local news delivered to your inbox!