SKANEATELES — Baking isn't just baking for Stacey Lorraine. It's a three-tiered tower of artistry, engineering and toil.
Lorraine, 31, is the owner of The Cake Shop, a new custom cake studio located in the former Creekside Books & Coffee in Skaneateles. But it's not the kind of place you walk in with a sweet tooth and walk out with sweets: Lorraine's cakes are made to order only. By phone, email or appointment, customers ask for a specialty cake and Lorraine finds a way to create it. It could be a birthday cake with edible figurines of the cast of "Frozen," a foot-tall replica of the Iron Throne from "Game of Thrones" or a semi-naked wedding cake with vibrant rose bouquets and textured buttercream. 
One look at Lorraine's cakes explains her business model. They're intricately sculpted and decorated, taking several hours to realize. She makes those figurines and other ornaments by hand, often with Rice Krispies Treats because they're malleable and lightweight. She makes those bouquets by hand, too, using veiners and cutters to produce sugar flowers as realistic as possible. The only part she doesn't make are the yellow stamens — "I would lose my mind if I had to make a million of those," she said — and the only parts you can't eat are the odd wire or stick for structural support.
"As much as I love making things that are beautiful, I also want them to taste great," Lorraine said in her studio Oct. 25.
So Lorraine only has time to bake a few cakes a week, depending on how complicated they are. And for now, she balances that time in the kitchen with time setting it up. She moved into her Fennell Street studio a few months ago, so she's still awaiting municipal approval to install plumbing for its sink, which lies disconnected on the hardwood floor. She plans to install a bathroom as well.
Though it's not a retail bakery, Lorraine also has plans to bring people into her studio. After wedding season concludes, she'd like to teach holiday cooking classes on gingerbread houses, yule logs and sugar cookies. Eventually, she hopes to hire at least one assistant to help in the kitchen and maybe the office. At the very least, Lorraine would appreciate having another mouth in the studio.
"The hardest part of my job, working alone, is that I have to taste everything," she said. "Sometimes when you're mixing buttercream at 9 a.m. you're like, 'I don't want to taste any more frosting.'"
Lorraine moved to Skaneateles a few years ago because her husband, Alex Langley, has family there. Her journey to The Cake Shop began while she was growing up in the Washington, D.C., area. After years of baking with her mother and building gingerbread houses, Lorraine decided to enroll in the Culinary Institute of America in Hyde Park. Since the school requires six months of experience, Lorraine first worked at Stella's Bakery in Maryland. After graduating, her passion for specialty cakes took her to New York City and then Seattle, where she worked under Kristina Serfass at Baked.
It was during her three years at Baked that Lorraine and the shop won a Lego-themed episode of the Food Network's "Cake Wars" in 2017 with a s'mores cake featuring four tiers of outdoor scenery encircling a park ranger character in the toy's distinct yellow style. Lorraine was no stranger to taking her cake talents to TV, having also competed on "Food Network Challenge" in 2011.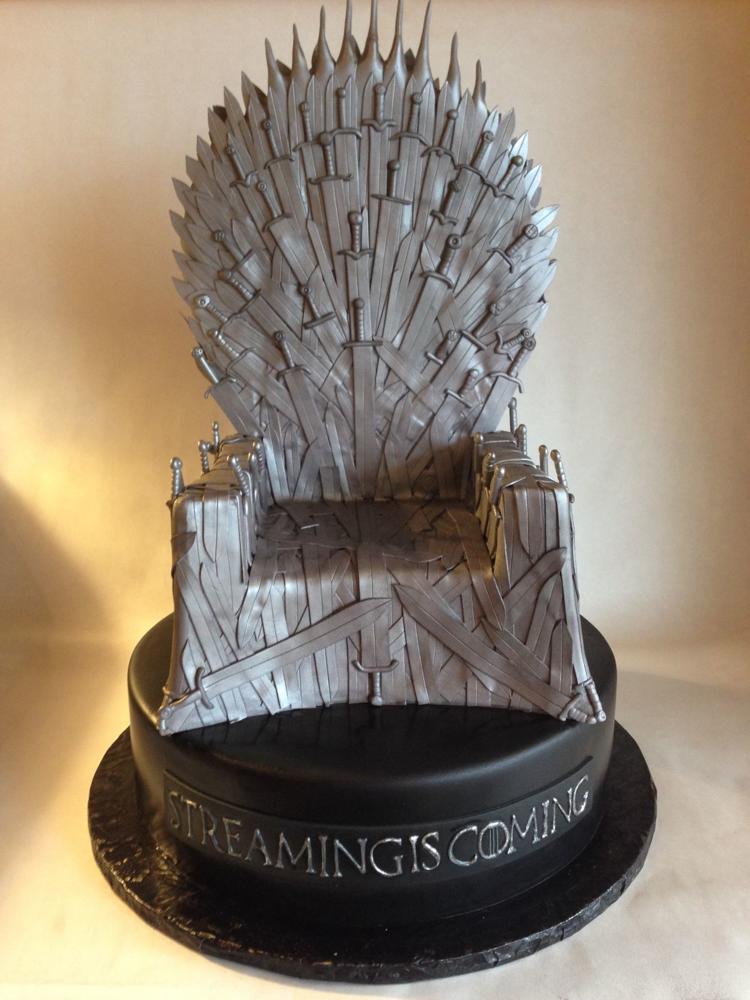 It was also at Baked that Lorraine made the Iron Throne cake, which she called one of her most difficult creations. Commissioned by "Game of Thrones" network HBO, the cake required 12 hours of cutting, embossing and layering the silver swords that comprise the throne. Such challenges are a rewarding break from the repetition of "Frozen" and "Star Wars" cakes, Lorraine said.
"It's a very fun process of figuring it out and seeing it come together," she said. "There's always a point in the middle where you're like, 'Oh god, is this going to come out like it's supposed to?'"
Because the field of specialty cakes is always evolving, Lorraine makes a point of taking a class every year to stay on top of the latest techniques. She'll go to Denver in a week to learn about sculpting and using armatures to build gravity-defying cakes. Such education is important because the popularity of cooking on social media platforms like Instagram and Pinterest can inflate people's expectations, Lorraine said. Unrealistic as they may be, she continued, she can mostly meet them. She also maintains her own accounts on those platforms to market her business.
Another way Lorraine keeps The Cake Shop fresh is her flavor list. Though her cakes and frostings always come in standards like chocolate and vanilla, she likes to regularly introduce unusual new ones like apple pie a la mode (spice cake with fresh apples and vanilla bean buttercream) and the Elvis (peanut butter cake with chocolate ganache and banana buttercream with candied bacon).
As an alternative to cake, Lorraine offers a dessert bar with cupcakes, cookies and cake bites, which are 1-by-1-inch squares of cake with stakes through them for tidy eating at events like weddings. She also works with the Skaneateles Bakery to stock the bar with doughnuts. For Lorraine, the bar is yet another ingredient in a business that's only just beginning to take shape.
"It's a really fun way to be artistic and work in the culinary world," she said. "Every week is different."