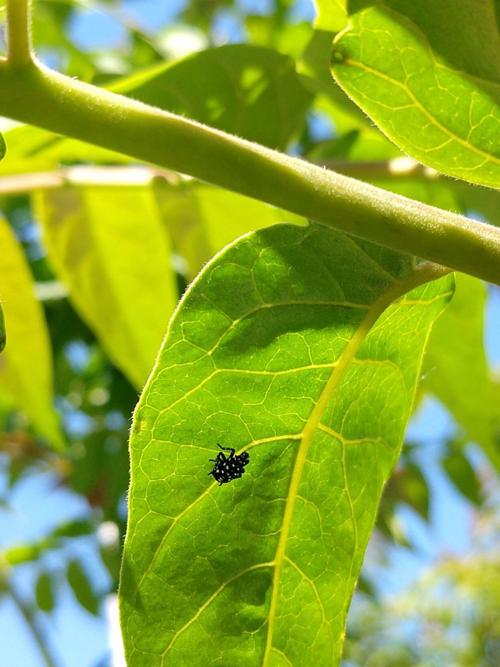 The spotted lanternfly is an invasive insect pest that has been in the news since its discovery in Pennsylvania in 2014. Unfortunately, a population of SLF was confirmed in the Ithaca area last fall. Now is the time to begin looking for SLF nymphs as the eggs laid last fall by females have hatched.
The nymphs are quite small and are easily missed; however, once you know what you are looking for, they can be identified. When hatching from the overwintering eggs the nymphs are black with white dots and do not fly. They will mature through the summer and when ready to become adults they become red with white dots and are much larger. By the time the SLF reaches the adult stage they are easily identified.
Adult SLF have wings but are not good fliers. They are, however, very cleaver at hitchhiking. This ability has prompted the state of Pennsylvania to look at transportation corridors. Studies have shown how different SLF populations have developed along and near railways and interstates. To aid in the control of SLF, the Pennsylvania Department of Agriculture has added the use of an insecticide to their control toolbox with the intent of controlling this pest.
With pollinators are hard at work, the Pennsylvania spray program will use federal Environmental Protection Agency-authorized products. The insecticides will be applied by licensed applicators, using truck mounted and backpack sprayers, and are trained to avoid flowering plants and water. Additionally, research teams and applicators will conduct regular environmental sampling. Since 2015 the state of Pennsylvania has spent $20 million in federal funds and $14 million in state funds to combat SLF.
Now that SLF has made its way to the Finger Lakes we need to prepare for the implications of its establishment. While a lot is known about SLF in its native range of China, India, and Vietnam, there is much to learn about it in the northeastern United States.
There is little doubt that SLF is a problem and one that is expanding in spite of everyone's efforts and vigilance. While SLF is a threat here, especially to the thriving Finger Lakes wine industry, we can learn from the experiences of our neighbors to the south.
The first step is to keep an eye out for the pest. If you think you have discovered SLF, take pictures and email the pictures with location and other pertinent information to spottedlanternfly@agriculture.ny.gov or you can report it Cornell Cooperative Extension or Soil and Water Conservation District for assistance reporting.
Next, if you have summer travel plans look at maps identifying where SLF is located. If you are going through those areas take some time to understand how this pest can hitch a ride on or in your vehicle. Pennsylvania has a "Spotted Lanternfly Checklist for Residents" that helps you prevent spread. I travel through the SLF quarantine area to visit family and always pull the checklist out to make sure I am not bringing a hitchhiker back with me.
They can be very sneaky and love to fly into slightly open car windows. I was aware of this when I witnessed an adult last fall do just that! I could not believe what I saw and was quick to swat the pest and immediately shut the windows.
Hopefully by now everyone can identify the various life stages of the SLF. Color photos of the spotted lanternfly, at various life stages, are on the USDA Pest Alert website and each Cornell Cooperative Extension office can help identify the pest as well.
Additionally, Penn State Extension have some excellent resources posted on their website including a new style trap for trees to capture SLF nymphs. These are being recommended over encircling tree trucks in sticky bans. The sticky bands are effective in capturing SLF nymphs, but they are messy to work with and will capture other creatures, including birds.
Spotted lanternfly nymphs are attracted to tree of heaven, an invasive tree native to the SLF's habitat. Tree of heaven was imported from China in the 1700s as an ornamental tree but can now be found along roadsides, forest edges and on limestone outcroppings plus will thrive on land abandoned in urban areas. Research has proven that SLF prefers tree of heaven, however, it is not required for SLF to reproduce. SLF nymphs also are attracted to walnut and willow trees.
Keeping vigilant by looking for SLF nymphs now and adults later, plus avoiding them as hitchhikers, may help prevent this pest's further spread.
Judy Wright is the senior agriculture specialist with Cornell Cooperative Extension of Seneca County. For more information, visit senecacountycce.org or call (315) 539-9251 ext. 109.