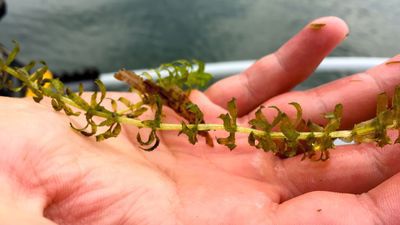 Hydrilla is an invasive aquatic plant that threatens all of New York state's lakes and rivers. It grows rapidly to form choking green mats in water up to 30 feet deep, making boating, swimming or fishing in those areas practically impossible. In Florida and other states where large areas of hydrilla have been established, millions of dollars are spent annually in an attempt to mechanically remove the weeds on an ongoing basis. However, if action is taken quickly when hydrilla is first found in a water body, before it creates an infestation, there are treatment options that are available that can eradicate this plant before it becomes a permanent menace.
Hydrilla was first discovered in the inlet to Cayuga Lake in 2011 near the Ithaca Farmers Market. The Cayuga Lake Inlet has been successfully treated; however, hydrilla has since been found in the shallow waters of Cayuga Lake offshore of Stewart Park in Ithaca in 2014, and offshore of the village of Aurora in 2016. Both of these areas have had ongoing treatments that have reduced but not yet eradicated the hydrilla plants.
In the Aurora location, the U.S. Army Corps of Engineers has taken the lead in chemically treating the hydrilla with fluridone and copper substances since 2017. Treatment started again this July.
You have free articles remaining.
Unfortunately, in 2018, Hydrilla was found in another Cayuga County location. During a Finger Lakes Partnership for Regional Invasive Species Management kayak-based survey of Cayuga Lake's entire shoreline, hydrilla was spotted offshore of Don's Marina in King Ferry. The marina was dredged during the winter months to try to remove all the hydrilla. Weekly monitoring has been carried out by staff of the Finger Lakes PRISM and they have found a small patch of Hydrilla plants in that area this spring. The Army Corps is planning to treat this patch this August.
Information regarding hydrilla treatments that are occurring offshore of Cayuga County can be found on the Cayuga County Health Department website at cayugacounty.us/467/hydrilla.
It seems highly likely that hydrilla will be found in the future at additional sites around Cayuga Lake, carried and dropped by boats and birds, and taking root quietly in shallow backwaters, ready to proliferate uncontrollably. If we can find it early, we can take steps to prevent this from happening. We also want to prevent its movement to other area lakes and rivers.
This is where the public can play a tremendously important role. To help us find any new patches of hydrilla, you can become a hydrilla hunter. Information on how to identify and report hydrilla can be found at stophydrilla.org. There are also hydrilla information boxes managed by the Cayuga Lake Watershed Network at approximately 65 launches, marinas and parks around Cayuga Lake that have information on how to identify hydrilla. Once you are equipped with information, you can keep your eye out when you use our lakes and rivers to find any new areas of hydrilla and then report them.
If you really want to get involved, the Cayuga Lake Watershed Network has lake rakes for you to use off your dock or boat to check the lake water for the presence of hydrilla. This is especially important from July into late autumn, when hydrilla plants are at their full extent. Please contact Jenn at programs@cayugalake.org to receive information and arm yourself with a lake rake.
Hilary Lambert is executive director of the Cayuga Lake Watershed Network, Eileen O'Connor is director of the environmental health division of the Cayuga County Health Department, and Michele Wunderlich is senior planner for the Cayuga County Department of Planning and Economic Development.