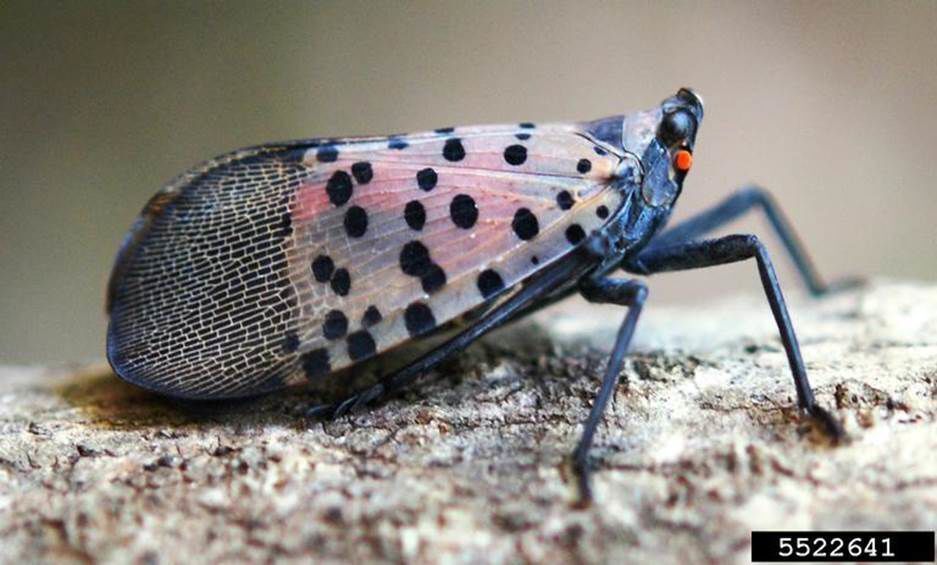 The spotted lanternfly is an invasive insect that has made its way to the Finger Lakes. On Nov. 10, the New York State Department of Agriculture and Markets confirmed that several SLF adults and SLF egg masses were found in the Ithaca area. While many are disappointed that we were not able to fend this insect off longer, the reality is that we now need to prepare for the implications of its establishment in our area.
Earlier this week I attended a webinar conducted by Penn State Cooperative Extension. The Berks County extension educator giving the webinar lives with this pest. Berks County is where the SLF was first discovered in 2014. He shared that there are lots of incomplete observations and unproven facts about the pest. While a lot is known about SLF in its native range of China, India and Vietnam, much is still being learned about SLF here in the northeastern U.S.
Hopefully by now, everyone knows what the SLF adult looks like. It is a visually interesting insect and, as an adult, it's easily seen because of its size and coloration. Color photos of the spotted lanternfly, at various life stages, are on the USDA Pest Alert website. Thanks to the recent below freezing temperatures, SLF adults most likely have died, but their survival will be through laid egg masses, which can be difficult to locate.
In the fall, adult female SLF lay 1-inch-long egg masses on almost anything including tree trunks, rocks, vehicles, lawn furniture and firewood. The egg masses are smooth and brownish gray, with a shiny, waxy coating when first laid that easily blends into tree bark. Initially it was thought that removing the egg masses by scraping them off would help control SLF populations. While this might be helpful and give us some satisfaction, egg masses can be laid high up in trees, where they are out of reach and easily missed. In Pennsylvania, the preferred tree hosts for egg-laying are maple trees.
Much has been written about how SLF prefer tree of heaven. Penn State conducted an experiment where different trees species were isolated in various groups. Some of the groups included tree of heaven and others did not. There has been discussion about removing tree of heaven, as it too is an invasive plant; however, the Penn State research indicates tree of heaven removal will not eliminate SLF. Their research found that more SLF eggs were laid in the groupings that contained tree of heaven than without, but concluded that SLF will survive without having tree of heaven present.
When not hitchhiking, the SLF moves by walking and jumping, and it can fly short distances. It turns out the SLF adults are better fliers than first thought. They are very crafty, as they utilize wind current updrafts and have been tracked up to half a mile away in good weather. They climb telephone poles and other tall objects, allowing them to launch into the wind!
Any long-distance spread or movement is from people moving materials infested with egg masses. The SLF prefers to lay its eggs on the smooth surfaces of tree trunks; however, any smooth surface such as brick, stone, wood pallets, firewood, Christmas trees and even dead plants will do. The adults can reportedly hold on to cars up to 35 mph, which makes them a true hitchhiker.
As a reminder, please use caution if you are purchasing a freshly cut or live Christmas tree this year. Be sure to ask where the tree came from. Plant materials, including Christmas trees, from areas in Pennsylvania with known SLF populations are not able to ship out of the area, but this pest is spreading and may go undetected. There was nursery stock shipped to Maine from Pennsylvania and sure enough, SLF hitched a ride to Maine. Buying from a local Christmas tree grower is your best option.
Now that SLF is closer than ever, we will need to remain vigilant. Check for egg masses this winter and in the spring, as nymphs hatch in May. The nymphs may gravitate to rose bushes as they do in Pennsylvania. The newly hatched nymphs are smaller than the adults, are wingless and are black with white spots.
These insects use their mouth parts to suck nutrient- and energy-rich sap from plants they are feeding on. Over time, this can cause stress to the plant and may create other plant health concerns. More information about SLF can be found at senecacountycce.org.
Judy Wright is the senior agriculture specialist with Cornell Cooperative Extension of Seneca County. For more information, visit senecacountycce.org or call (315) 539-9251 ext. 109.