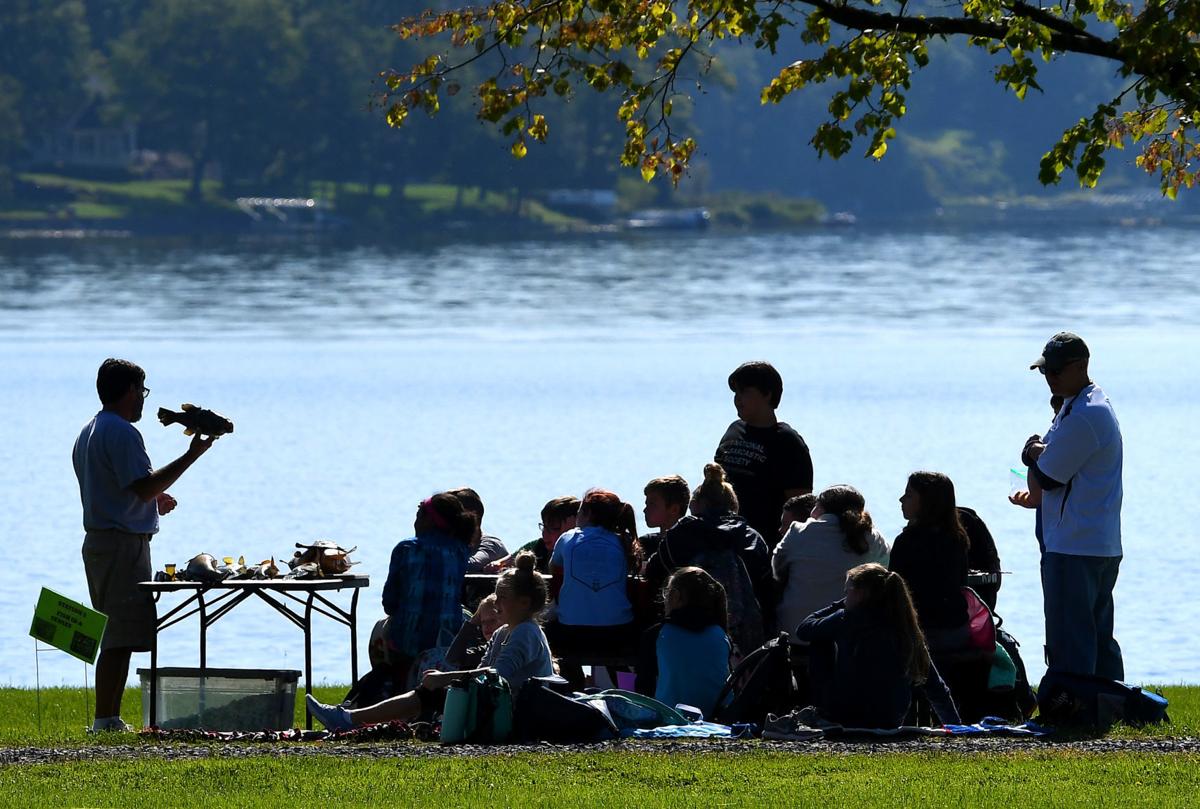 This past September, many local sixth grade classes attended Conservation Field Days, organized by the Cayuga County Soil and Water Conservation District. Held at Emerson Park, this event offers a hands-on experience designed to complement the student's classroom instruction.
Each class moves from station to station on one of three trails. Each station is staffed by conservation-minded volunteers who provide a 30-minute presentation on a conservation-related topic. When the students return to school, they are asked to write and submit an essay based on their favorite presentation to the Cayuga County Soil and Water Conservation District.
After considerable discussion and review by the district staff, the 2019 Conservation Field Days essay contest winners were announced on Dec. 20. Topics for the essays included algae, cows, ducks, the Owasco Fire Department, insects, invasive species, water quality and watersheds. Winners are receiving a certificate of achievement, a certificate for 10 Canaan fir seedlings to plant this spring and a bluebird box, all designed to improve the environment.
In addition, the winning essays are being reprinted in this column! Congratulations to first-place winner Anna McKay, of Mrs. Coppola's class from Union Springs Middle School, featuring the "Importance of Insects" station. The second-place winner is Lindsay Kennedy, of Mrs. Campbell's class from Emily Howland Elementary School, featuring the waterfowl station. The third-place winner is Sophia Townsend, of William H. Seward Elementary School, featuring the water quality station. And an honorable mention goes to Alex Smith, of Mrs. Coppola's class from Union Springs Middle School, featuring the watershed station.
(Editor's note: The first place essay below has been printed as submitted.)
You have free articles remaining.
Vincent Van Gough once said, "If you truly love nature, you will find beauty everywhere". He meant that everything is beautiful in many different ways. Insects are so important to nature and us. If insects were to all go away, we would have a hard time surviving because they are food makers. So, if insects went away, we would have no pollination because the bees would be gone, and resources would be very low. This is the most important thing I learned at the Conservation Field Days.
First, insects are incredibly important to our environment and society. One way insects are so cool is that if they were gone we would have a horrible time surviving because there would be no bees. No bees equal no pollination. Without pollination, crops would not grow, jobs to be loss, and factories to shut down, losing millions of dollars. All because of one little bumblebee. Did you know that there are over a quintillion individual insects on Earth? So that is 18 zeros! This makes me think that is a lot of insects! Also, there are three different parts of an insect's body. Similar to a human, insects have a head, their thorax is the middle of the body, and an abdomen. This shows me that insects are very much like humans, but we are very different in size.
Also, insects have families. These families are sorted out by scientists on things they have in common. For example, one family would be all insects that can fly. Another would be all insects that can jump very high. This shows me that we look at humans by their physical characteristics to tell if they are related, and insects we tell by their features.
In conclusion, you never know how much one tiny little bug could make an impact on so many people. The most important thing I learned at the Conservation Field Days is that the next time you see a bug, maybe think twice about squashing it.
Congratulations to Anna McKay for highlighting insects and their importance to nature and food production. While all insects are important in nature and have a role to play; there are some insects when out of their natural habitat, can cause significant damage and need to be controlled so they do not upset the ecosystem they have been introduced to.
An example of such and insect is the spotted lanternfly that has been in the news since it was first discovered in Pennsylvania. I have had the opportunity to see these insects in action and was not at all hesitant to squash them. Should they become introduced into the Finger Lakes area several of our important crops can be decimated. For more information on spotted lanternfly contact Cornell Cooperative Extension.
Next week's Eco Talk will feature more essays and topics from Conservation Field Days.
Judy Wright is the senior agriculture specialist with Cornell Cooperative Extension of Seneca County. For more information, visit senecacountycce.org or call (315) 539-9251 ext. 109.