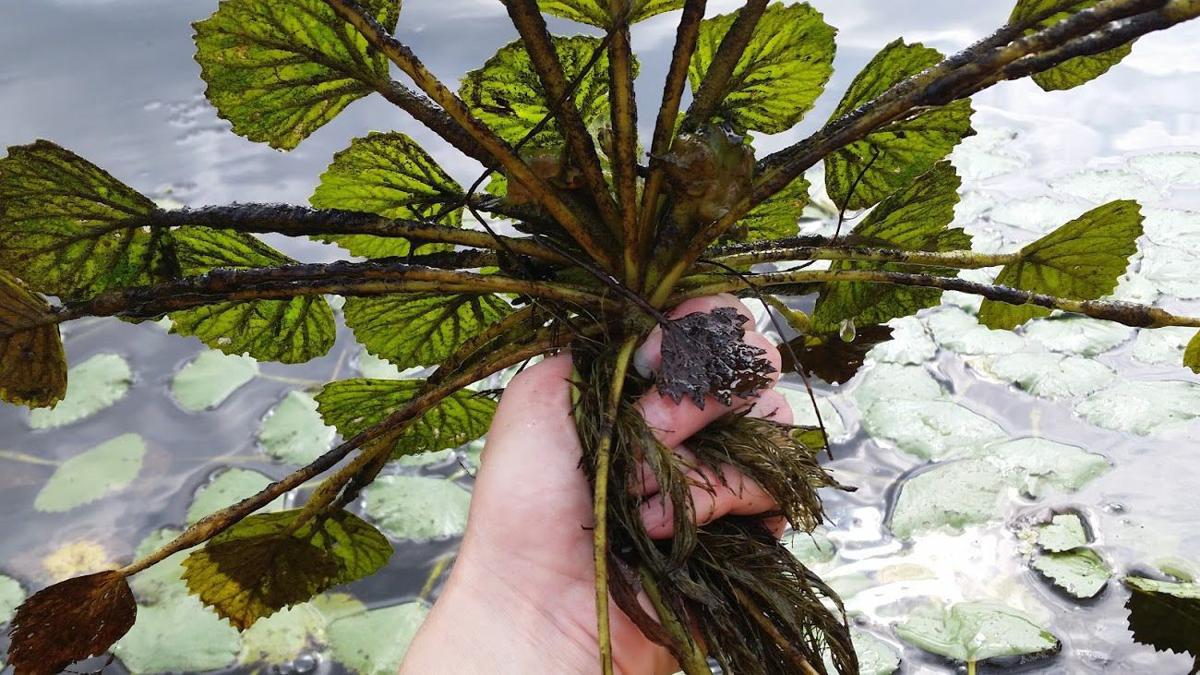 It can be confusing when two different plants have the same common name. I am thinking about water chestnut. Those who enjoy Chinese food may be familiar with this aquatic vegetable (Eleocharis dulcis), which is cultivated in the marshes of Southeast Asia. It gets its common American name because it resembles an American chestnut.
There is also a second water chestnut (Trapa natans), also from Asia, that has been causing significant concern for central New York lakes since the early 2000s. This invasive aquatic plant was first reported in Massachusetts over 150 years ago when it escaped from a botanical garden. By the late 1950s, the water chestnut was discovered in Keuka Lake and is now found throughout New York.
Each water chestnut plant consists of up to 20 rosettes that are connected together, forming dense mats clogging waterways and creating problems for boating, swimming and fishing. The plant prefers shallow areas, but has been reported to grow up to 16 feet to reach the surface. When unchecked, these dense mats of vegetation cause negative impacts for the aquatic ecosystem by completely shading the water surface. This shading decreases native aquatic growth in the area. Water chestnut also has poor nutritional value, and no habitat value for fish or wildlife.
The invasive water chestnut produces white flowers with four petals during the summer, starting in late June and continuing into September. These flowers then produce up to 20 large seeds per rosette. The seeds have four spines and are painful when stepped on. The Maryland Department of Natural Resources reports one acre of water chestnuts can produce enough seeds to cover 100 acres the following year!
You have free articles remaining.
The seeds, or "nuts," when mature, drop to the bottom of the lake, slow-moving river or water body and can germinate up to 12 years later. The nut is the only part of the plant that successfully overwinters. The water chestnut moves to new areas when the plants are dislodged and then float to a new area, or the nuts are moved by waves, wind, animals or human activity.
Early detection of new infestations and a fast control response are necessary to prevent infestations from becoming established and unmanageable. Hand pulling of small populations is accomplished from kayaks and canoes, while larger infestations need to be mechanically harvested or sprayed with aquatic herbicides. It can take up to 12 years of diligent effort to eradicate an infestation.
Public awareness and local efforts are necessary to remove water chestnut from waterways and prevent its spread to new areas. Both mechanical harvesting and hand pulling, before the seeds mature, have proven effective in managing smaller or newly established populations. Eradicating established populations can be expensive. Starting in 1982 through 2011, New York and Vermont combined their efforts and funding resources to manage an infestation in Lake Champlain at a cost of $9.6 million.
In 2015, water chestnut was discovered floating on the northwest shoreline of Cayuga Lake, just south of Canoga Marsh. Seneca County's Soil and Water Conservation District mechanically harvested and removed the water chestnut plants from the lake soon after the discovery. Fortunately, the timing was such that the nuts had not matured and were removed from the lake along with the plant material.
Initial reports were hopeful that this population was eliminated; however, there are still plants in the area, which is still small enough for hand pulling. The Seneca County SWCD has organized a water chestnut hand pull for 9 a.m. to noon Friday, July 26, and the district is looking for volunteers to help. Volunteers need to register by July 24 by calling Seneca County SWCD at (315) 568-4366 ext. 4, and they must have either a canoe or kayak available. The pull will be on the northwest shoreline of Cayuga Lake between Lower Lake Road and Canoga Creek. The launch site is Cayuga Lake State Park's South Lower Lake Road at the intersection of Lower Lake Road and Route 89. This is a car top launch only.
Everyone interested in keeping our waters free of this aquatic invasive plant needs to know what it looks like and be prepared to report it to their lake association or to Finger Lakes PRISM (Hilary Mosher at mosher@hws.edu). More information can be found on the Finger Lake PRISM's website at fingerlakesinvasives.org/water-chestnut-control. If we all remain vigilant, perhaps we can prevent its spread as many communities continue to spend significant resources in both time and money toward removal and control of this invasive aquatic plant pest.
Judy Wright is the senior agriculture specialist with Cornell Cooperative Extension of Seneca County. For more information, visit senecacountycce.org or call (315) 539-9251 ext. 109.