AURELIUS — When Christina Warter looks back on when her daughter Gia first started showing signs of autism and sensory processing disorder, she admits there were difficult days.
At times, Christina said, it was like Gia had retreated into a cocoon. But thanks to early interventions, therapy and support, Christina continued, her daughter was able to come out of that cocoon to reach her greatest potential as her unique self, like a "beautiful butterfly." That theme of reaching for one's unique potential, like a butterfly in a chrysalis, is obvious in both the décor and philosophy of Christina's new Soul and Mind Evolution Inclusive Sensory Center at Fingerlakes Mall.
"I've really become informed of her needs and in doing so I've realized it's a lifestyle everyone can benefit from," she said.
At SAME, Christina, a classically trained dancer who's also certified in autism movement therapy, offers classes focusing on the connection between the senses and the mind. They're not just for individuals with sensory or other issues, but everyone.
That's where the "SAME" name came from, Christina said, as she wants the center to serve as a "house of inclusivity" where everyone is free to be their authentic selves, whether neurodivergent or neurotypical. Ultimately, she said, they're recognized as being the same.
"It's really for everyone. Every child, every adult — but (it) gives focus to individuals with sensory processing disorder," Christina said. "We're saying, 'Come on in to this world. Explore our world with our senses.'"
Many of the classes are centered around dance and its connection to neuroplasticity, the brain's ability to form new connections inside itself, especially as a way to compensate for injury or dysfunction. Through dance classes that are focused on free expression, fun and support rather than rigid technique, children and adults can improve that mind-body connection, Christina said.
A child who struggles with motor skills, for example, could find that the dance classes, or some of the other more play-focused classes, help build those skills through repetition in an engaging, fun way. All of the classes for children are designed in a way to encourage skills like verbalization, socialization, mind-body awareness and confidence.
SAME's different classes include "Movin' and Groovin' Monarchs," a dance and creative movement session for caregiver and child, as well as "Mommy's Me-Time," just for fun and expressive lyrical adult classes, and more.
"This is calling all the people that dance in their kitchen when no one's around," Christina said of the "Just For Fun" class.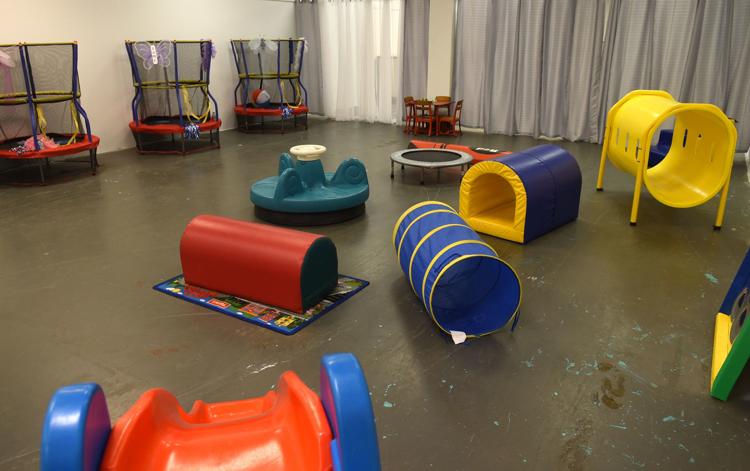 Besides dance, other classes use art and play to wake up the brain in a way that is most appropriate for each individual child. Gia doesn't like to touch certain textures, so in the "Sensory Art and Play" class, for example, she might use a brush while other children use finger paints.
"It's about the process, not the result," Christina said.
Other classes might utilize the playground-like equipment in the space, like tunnels, stairs, slides and netted trampolines.
Dance has been Christina's passion her whole life, she said, but it wasn't until she had Gia that the idea for SAME came to her. When dancing with Gia, in the kitchen, the living room or anywhere throughout the house, Christina realized how it helped them both bond, and how it complemented Gia's therapies and supports.
After finding nothing in the community that offered something similar, Christina was inspired to start offering classes, which she first did with the support of ABC Cayuga's Play Space in Auburn.
Besides helping neurodivergent children, Christina said a huge part of the idea behind SAME was to offer a "home away from home" for them and their families to feel like part of a community where everyone is welcome and differences are celebrated.
"We're about inclusion, not exclusion," Christina said.
Along with Christina's classes and programs, the space is also set up for any therapists and other caregivers to come utilize the equipment in their sessions with children.
Although the center just acquired the space at Fingerlakes Mall in August, Christina is already offering classes there. At the moment, the space is relatively sparse, but she is working to renovate it by adding a ballet floor and padded flooring for the children's activities, as well as painting the walls soothing colors with butterfly designs.
More planned additions include a sensory garden that can be used to engage the sense of touch, an essential oil diffuser to stimulate the sense of smell, and a calming room in the back.
To help with the cost of renovations, Christina has set up a fundraising campaign at gofundme.com/soulandmindevolution. As for classes, which require advance registration, SAME uses a suggested donation-based model, with a recommendation of $8 per class. But she said no one would be turned away.
Be the first to know
Get local news delivered to your inbox!