By the time she first saw it, Kathy McClane had already known Gillian Donaldson for a few years.
Kathy and her husband, Jack, were having dinner at the Genesee Street home of Gillian and her husband, Bob, one night in the early 1970s. As their hosts prepared drinks, the McClanes wandered into the living room. A gleam on the coffee table caught the corner of Kathy's eye. That's when she saw it — an Olympic gold medal, presented as humbly as any other piece of home décor.
Kathy, astonished to be learning that her friend of a few years was an Olympian, asked Gillian about the medal as soon as she entered the room.
During an interview with The Citizen on Friday, Kathy couldn't recall precisely what her friend said in response. But Gillian was as humble as the medal was presented, Kathy said. 
"She was always so unimpressed with herself," she said. "But she impressed me."
Gillian Mary Donaldson, née Sheen, MBE, DDS, who won the medal in fencing at the 1956 Summer Olympic Games in Melbourne, passed away July 5 at the age of 92. A native of London, England, she came to the U.S. to take a course at the Eastman Dental Dispensary in Rochester. There she met Bob, and with him had four children — Bruce, John, Jane and David — they would raise in Auburn.
Bruce told The Citizen he believes his mother's humble character was shaped by two major events she experienced during her childhood in London: the Great Depression and the Battle of Britain. Having to scrape for everything in hard times, and then withstand nightly bombing by Nazi Germany, helped make Gillian "the ultimate idea of British perseverance," Kathy said.
"I think her upbringing taught her to soldier on," she said. "She always said, 'I have to keep going because I'm afraid something might catch me.'"
An active child, Gillian began fencing at school in North Foreland, Kent. She learned from "a demanding instructor," as described in a 2004 feature in The Citizen.
The combat sport just clicked for her, Bruce said. Gillian won the schoolgirls championship in 1945, the junior championship in 1947 and the first of 10 national championships in 1949. She lost every match at the 1952 Olympics in Helsinki, leading her to worry that she would "never be any good," she told The Citizen. But she trained hard for Melbourne four years later. After losing her opening match there, she outmaneuvered her next six opponents. One Olympic history book said she won with "classic technique at the beginning of an era which saw the advance of a new athleticism."
Then, Gillian bested the opponent who beat her to claim England's first gold medal in fencing.
"There are some days when you're totally focused and your reactions are right," she told The Citizen. "You're not thinking about a medal or anything."
Gillian became an instant hero in her medal-starved home country. Known there as "Golden Girl," she used fencing to travel the world. Along with another trip to the Olympics in 1960 in Rome, among other competitions, she flew to Budapest on a single-engine plane in the mid-'50s to give a demonstration there. That made her the first western civilian to go behind the Iron Curtain, Bruce said.
But fencing was an amateur sport, so Gillian continued to pursue a career, in dentistry. She came to Rochester for additional education after earning her degree at University College Hospital in London.
When she fell in love with Bob, they faced a choice over where to live. They spent a year in Rochester, and a year in London. Because Bob was an only child, they decided on Rochester — or, rather, Auburn. That was the home of Bob's first cousin, Thomas Hislop, who owned the department store founded by his father, William. Bob and Thomas were basically raised as siblings, Bruce said.
Though Gillian was leaving her home of London, a place she had "wrapped around her finger" after her athletic triumphs, she took to Auburn quickly, Bruce added.
"She always looked forward, so she made Auburn her home the way that London was her home," he said. "To her, Auburn was like the best part of the English countryside. She really loved the people."
The Donaldsons opened an orthodontics practice in Auburn that would operate for almost four decades. Gillian stayed worldly, starting a practice on the Caribbean island of Montserrat to provide free care to its residents. But Auburn became the new center of her world. She volunteered with the Schweinfurth Art Center, Cayuga Community College, the Auburn YMCA-WEIU and more.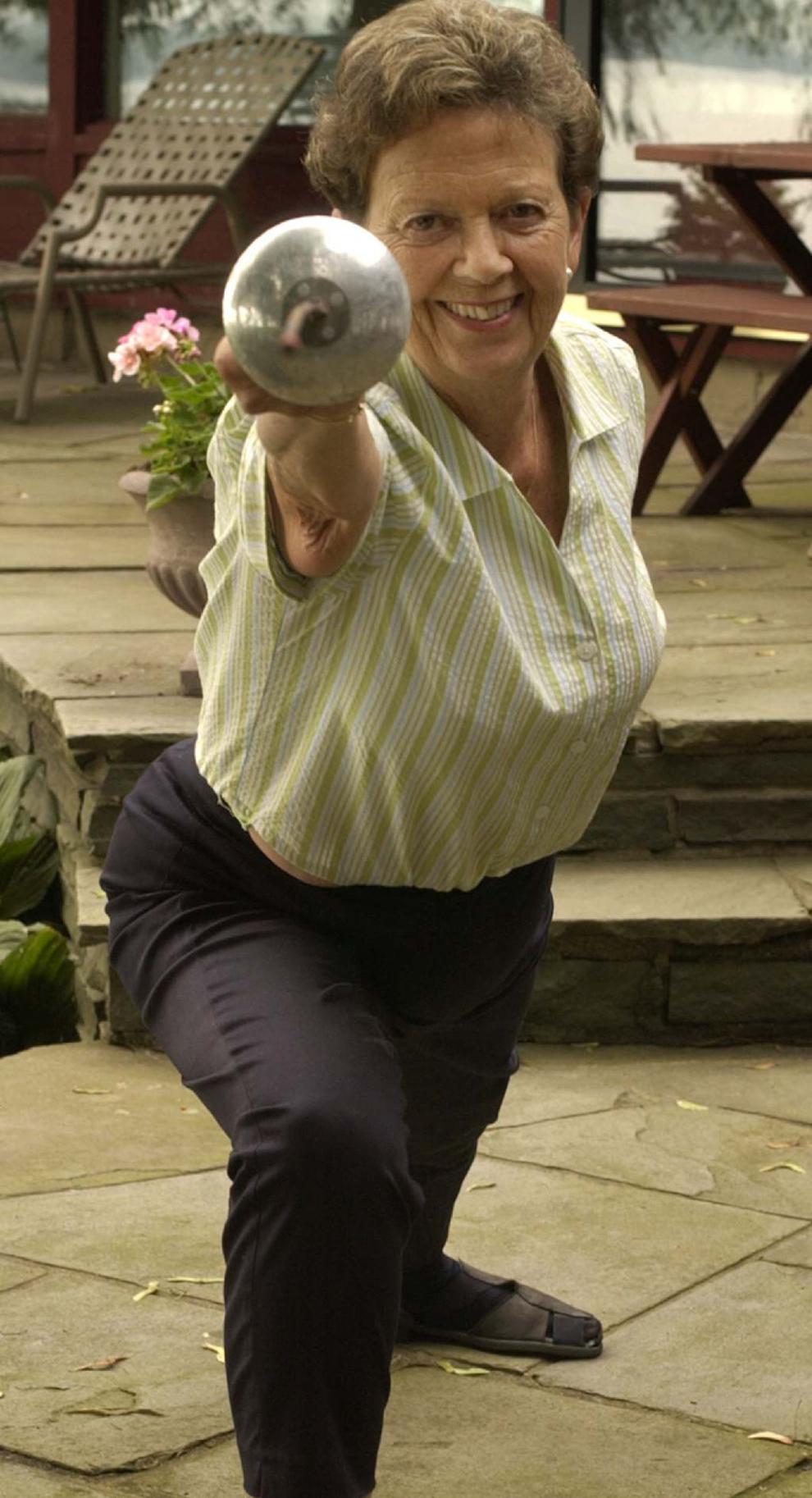 Gillian eventually became a board member and then board president of the local YMCA, CEO Chris Nucerino told The Citizen.
"She loved the Y, and was always very nice when I spoke to her," he said.
Whether it was youth sports at the Y or fencing classes at the college, Gillian believed strongly in being active.
Her daughter, Jane, said sports were a big part of childhood for her and her three siblings. They played tennis, golf, racquetball and more because it benefited them not just physically, their mother told them, but socially and mentally as well. To her last days, she insisted on walking a mile around her home on Martin Point in Owasco, Jane said, even if she wasn't feeling well.
Gillian's energy also mesmerized Kathy, who first met her friend in the maternity ward of Auburn Community Hospital on Jan. 23, 1970. Gillian was preparing to deliver her fourth child, David, and Kathy to deliver her first. "Gill," as Kathy called her, was the first multitasker she ever met. She recalled a trip to Cape Cod, one of many shared by the two families. It was the middle of the day, and they were tired and dusted with sand. Kathy tried to rouse herself for dinner. Then, she remembered, Gillian turned to Bob and said, "I think we can get in a quick nine holes right now."
Gillian was about 20 years older than Kathy. But younger friends weren't uncommon, Bruce said. His mother had the kind of personality that made her relatable to anyone, regardless of their age.
"She was very comfortable in her own skin," he said. "She had a self-confidence born of having seen a lot in life. She was an underdog world champion who didn't need to wear it on her sleeve."
Many friends of Gillian did see her age in one way — the letters she loved to write by hand. Jane said letters meant a lot to her mother growing up, and then traveling the world. So she wrote them often, reaching out to people she didn't know well and expressing her deepest feelings to the people she did. Sometimes Gillian even wrote what she was too humble to say in person.
"She was just the ultimate friend," Kathy said. "She was always there."