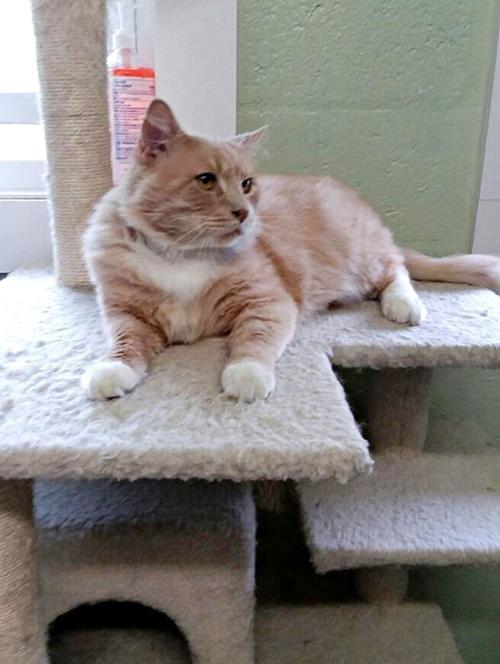 Every Friday, The Citizen features a pet available for adoption from the Finger Lakes SPCA of Central New York. This week, we spotlight Micah.
BREED: Domestic shorthair, buff and white
COMMENTS: Micah and his housemates were abandoned by their owner. They arrived at the shelter in early March after the landlord discovered them alone, cold and hungry. They have all been through the shelter spa treatment! They are now fully vaccinated, FIV/FeLV-tested, treated for fleas and intestinal parasites, and spayed and neutered.
Micah is a very nice young man. He gets along well with the other guys in his condo area and does get to spend time out of his room. He also loves human contact and attention, and he gets his fair share of that. However, he would really love to have it all to himself.
Micah is available for adoption right now. Our adoption process has changed due to COVID-19. If interested in Micah, please go to our website, flspcaofcny.org, locate our adoption application, fill it out and email it to flspca_cny@yahoo.com, fax it to (315) 282-2387 or deliver it to the shelter. Once your application is approved, an appointment will be scheduled for you to visit with this amazing feline!
Q: Who is your best friend?
A: Well, I can honestly say I have many BFFs. They are all the fine felines that were abandoned and came here to our shelter home with me. We spent the longest time trying to figure out how someone could just walk away from us. We aren't angry and we don't hold grudges. Cats aren't like that. But we are sad. Anyway, I have lots of BFFs, so let's move on to the next question, please.
Q: Do you have a bucket list, and if so, what's numero uno?
A: I don't have the typical bucket list, but if I did this is what would be numero uno. And I believe that all of my shelter friends would agree. We know this won't happen anytime soon, but we want the world to get back to some kind of crazy normal, where people aren't sick anymore and if they are, they get better. That people are respectful of each other and that they treat every animal with respect. I don't think that animals know the meaning of "disrespect." I wish humans didn't, either. Thank you for asking.
Q: If you could meet someone famous, who would that be?
A: I don't think this famous person's name is out there yet, but hopefully soon. Actually, I don't know his or her name, either. That would be the person who either develops the vaccine for COVID-19 or finds a cure for it, or both. We know this someone is out there — what are you waiting for, famous person? Just do it!
Q: What has been your worst experience?
A: So, listen to this. In keeping with the times, my shelter person who took my picture wanted to put a mask on me! I tried to convince her that it probably wasn't a good idea, but she persisted. I finally had to get stern with her, then she got the message. So the moral of the story is: You wear your mask and leave me alone! LOL.
Q: Do you have an interesting fact to share?
A: I knew you were going to ask me this question, so I am prepared with several interesting facts! Here goes. Did you know that the heart of a shrimp is located in its head, that a snail can sleep for three years, that the fingerprints of a koala are so indistinguishable from humans that they have, on occasion, been confused at a crime scene, and that elephants are the only animals that cannot jump! I know! Pretty interesting stuff — and all true! My buddy Google says so!
Q: How would you describe yourself?
A: I'm a low-key kind of guy, and I am clearly very handsome. I love my fellow felines and get along very well with them. I would like a home where I can have a room with a view and preferably a window with a bird feeder that I can watch all day. I like my naps and would like several cozy and sunny spots that I can call my own. I am a loyal cat and I will expect loyalty in return since I didn't get it in my previous life. That's me in a nutshell. It's called "perfection."
Q: Do you have any advice for our good Citizen readers?
A: I do! We — that is, my shelter people — are getting ready to open up our low-cost spay-neuter clinics! Yes, they are! They are now booking spots and would love to help our good Citizen readers get their dogs and cats spayed and neutered. They will have to play catch-up since we have not had a clinic in a while, but they will work really hard to get your dog or cat into a clinic. Thank you for being patient and thank you more for wanting to get your dog or cat spayed or neutered. Call (315) 224-8893 for all the info, and to schedule an appointment. Thank you, and many licks and purrs. Love, Micah and friends.
The Finger Lakes SPCA of Central New York is a New York state-registered shelter/rescue, registration No. RR-181. Pursuant to Article 26-A, Section 408 of the Agriculture and Markets Law, the registrant is authorized to operate as a registered pet rescue, in compliance with such law.
Be the first to know
Get local news delivered to your inbox!