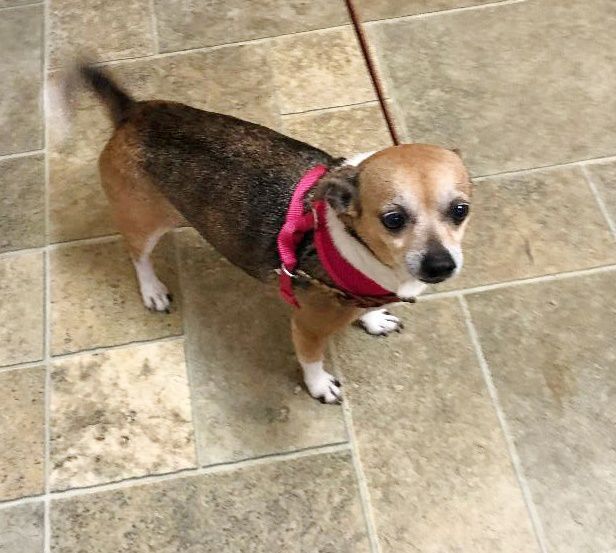 Every Friday, The Citizen features a pet available for adoption from the Finger Lakes SPCA of Central New York. This week, we spotlight Willow.
COMMENTS: Willow came to the shelter just about a week ago. Unfortunately her human passed away and there was no one who was able to take her in. We are more than happy to have Willow with us and we hope that her stay will be as short as possible.
Willow is a senior gal but you would never guess it. She has a lot of energy, loves to run and play in the yard, and loves to go for leash walks. She also likes short "time out" periods and likes to snuggle down into her bed. Willow loves people, she's good with cats and other dogs, and is your all-round awesome pup.
Willow is up-to-date on all vaccinations (rabies, distemper, kennel cough), she is negative for heart worm disease and she is spayed. She will be microchipped before she goes home. Please stop by to check her out!
Q. Who is your best friend?
A.  Well, right now, the pickings are very slim around here. There is this very cute young man in the kennel next to mine. His name is Jake, and like me, he also lost his family. So, because we have a lot in common, I have made him my BFF. I haven't told him yet, so please don't say anything if you happen to talk with him. I want to surprise him.
Q. What is your favorite toy?
A.  I know that I am very cute and little and all kinds of other wonderful things, but listen up! I am a senior girl and at the moment, toys just don't interest me. Don't get me wrong. I'm far from rolling over and playing dead but what does interest me is a warm lap that I can retire on. Do you know of any?
Q. If you could have a job, what would that be?
A. I think I might make an excellent therapy dog. I believe I might have to go to school to learn the basics but I am smart and learn very quickly. Once I graduate I can earn my keep.
Q. What has been your worst experience?
A. Really? Does it get any worse than losing your family — for any reason? I don't think so. Please, good people, we know that stuff happens but do whatever you can to keep your pets with you. But keep it legal. Thanks.
Q.  If you could visit any place in the world where would that be?
A.  I'll bet you thought I would say I want to visit Mexico — right? Well, you are wrong! I would like to visit the state of Texas and specifically El Paso. Why you might ask? Well, there is a minor league baseball team there and it's called the El Paso Chihuahuas. Maybe I could take in a game or two.
Q. If you could meet someone famous, who would that be?
A. Let me tell you about Momo. Momo is a six-pound long-haired chihuahua . In 2010 Momo became an official police dog for the Nara Police Department in Japan. Because of her small size she is able to crawl through tight spaces and dense rubble so she became part of their search-and-rescue battalion. I would love to meet Momo! She must be a very cool dog.
Q. Do you have an interesting fact to share today?
A.  I do and I'll make this short. The name "chihuahua" comes from a Nahuatl word meaning "between two waters." Many historians believe the name is older than the Spanish conquest of Mexico which began in 1519. By the way, Nahuatl was the language of the ancient Aztec people.
Q: Do you have any advice for our Citizen readers?
A.  I do! My shelter people and the good folks at the Cayuga County Health Department are co-hosting a free rabies clinic on from to 3 p.m. Saturday, Oct. 17, right here at my shelter home. Yes! All dogs, cats and ferrets that are at least three months of age are invited. Cats and ferrets must be in carriers — one animal per carrier pul-eeze! Dogs must be leashed and muzzled if necessary. Please — no children. Masks and social distancing are mandatory and will be enforced. NO PRE-REGISTRATION NECESSARY! Questions? Please call the shelter (315) 253-5841. Thank you for protecting your pets and the public!
Much love and many licks, Willow and friends.
The Finger Lakes SPCA of Central New York is a New York state-registered shelter/rescue, registration No. RR-181. Pursuant to Article 26-A, Section 408 of the Agriculture and Markets Law, the registrant is authorized to operate as a registered pet rescue, in compliance with such law.
Be the first to know
Get local news delivered to your inbox!