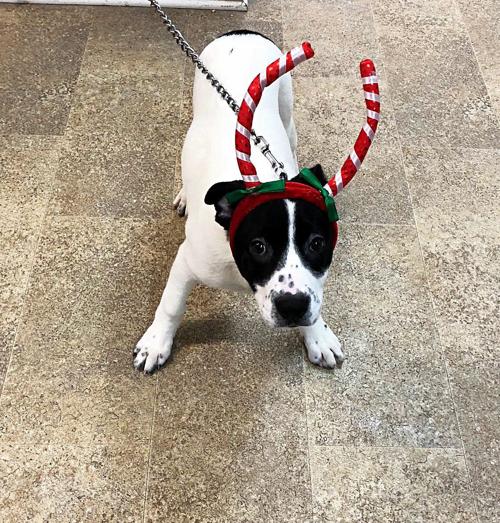 Every Friday, The Citizen features a pet available for adoption from the Finger Lakes SPCA of Central New York.
This week, we spotlight Luna.
Q: Who is your best friend?
A: If you can believe this, I actually had seven BFFs. They were my brothers and sisters, and they were the best BFFs ever. So they have all been adopted and I am looking for a new BFF. There is this really nice dog named Davos whom I am considering approaching with a BFF proposal. I hope it works! He would be an awesome BFF.
Q: Do you have a job at the shelter?
A: I do! It's called being cute. Having to be cute all the time really tires me out. Plus, I don't get paid for it!
Q: Do you have a bucket list and if so, what is number one on that list?
A: Besides the obvious, I really, really want someone to take these ridiculous antlers off of my head. I mean, really?
Q: If you could meet someone famous who would that be?
A: So, we don't hear much about Albert Schweitzer these days, but he would be my choice. He was a great humanitarian and medical missionary, and he loved animals. One of his famous quotes is: "There are two means of refuge from the miseries of life: music and cats." My feline friends would like that.
Q: Do you have an interesting fact to share?
A: I have a couple of interesting facts for you today. Different breeds of dogs have different sizes of litters. Dogs that are older or smaller tend to have small litters, and dogs that are younger or larger have bigger litters. So sit down for this one. The largest litter on record was 24 puppies, born to Tia, a mastiff breed dog. My awesome mom, Bella, thought her eight were difficult! And did you know that Japanese researchers discovered that looking at pictures of cute baby animals helps people focus better? So if you have attention span issues, come by and check me out for a couple of hours!
Q: Do you have any advice for our good Citizen readers?
A: I do! On behalf of my shelter friends and all of the other good dogs, cats and other pets out there, please try to keep things calm and peaceful around the house during the holidays. We are sensitive and really don't do well with chaos, loud noises and a lot of running here and there. This is especially so with puppies like me and kittens, too. If necessary, put us in a quiet room away from the celebrating and gift-opening and partying. Your pets will thank you, and so do we. Thank you and love, Luna and friends.
BREED: Pit Bull Terrier-Dalmatian Mix
AGE: Puppy - Three Months Old
The Finger Lakes SPCA of Central New York is a New York state-registered shelter/rescue, registration No. RR-181. Pursuant to Article 26-A, Section 408 of the Agriculture and Markets Law, the registrant is authorized to operate as a registered pet rescue, in compliance with such law.
Be the first to know
Get local news delivered to your inbox!