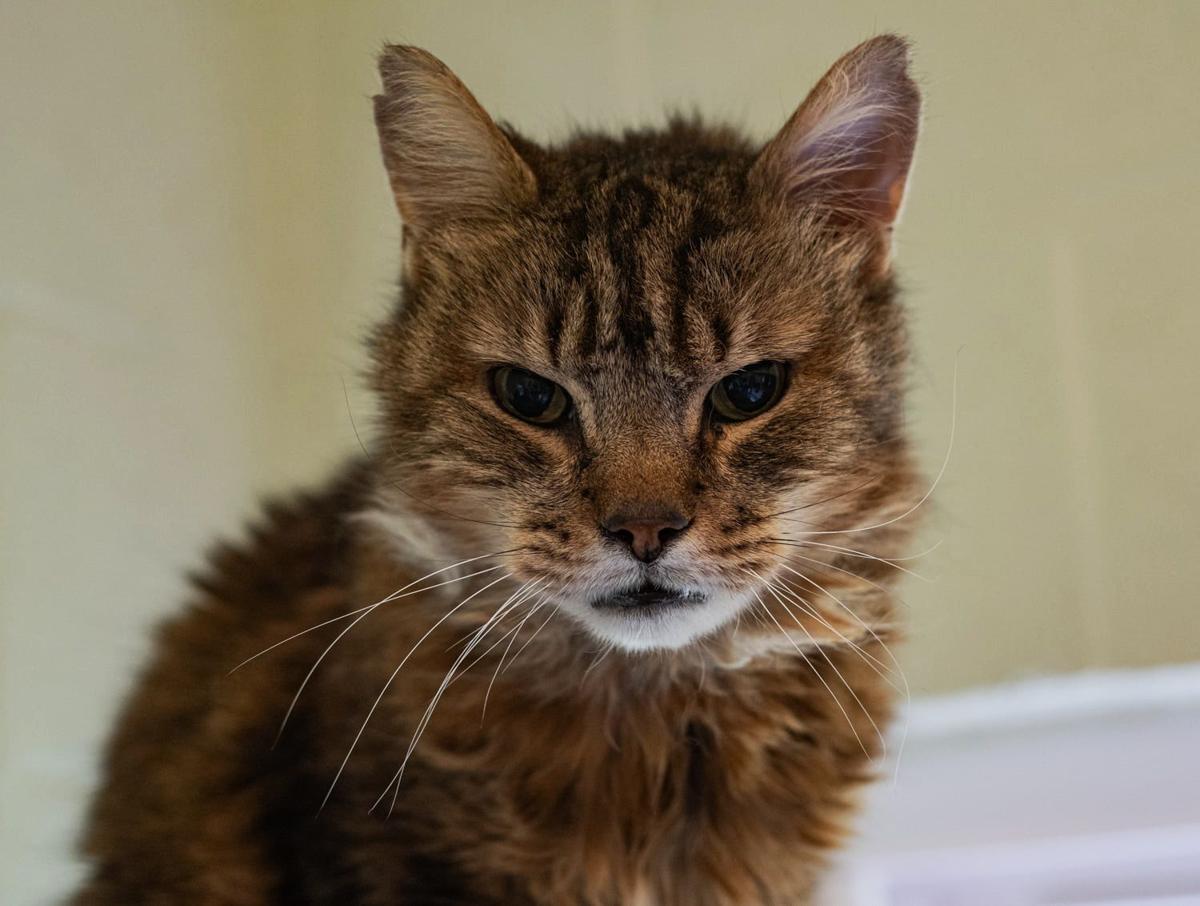 Every Friday, The Citizen features a pet available for adoption from the Finger Lakes SPCA of Central New York. This week, we spotlight Wally.
Wally, our esteemed senior citizen, has been with us for a couple of months. He is the sweetest boy ever and he is so deserving of a wonderful "retirement" home where he can be pampered and loved for the rest of his life.
Wally is 15 years young. He came from a less than desirable situation. We are working on cleaning up his beautiful coat, de-matting his fur that has never been attended to and returning him to handsome cat he once was.
Wally is a very nice cat! He loves visitors and staff and gets along with other cats.
He is neutered, negative for FIV/FeLV and fully vaccinated.
The adoption fee will be waived for the special person who will give Wally a new home and care for him for the rest of life. Please stop by to visit with Wally and give him his second chance.
Q. Who is your best friend?
A. So, you do know that I am a relatively senior guy, right? I am 15 years young which makes me seventy-six in human years. I need to have young in my life so I have chosen Bella. You know Bella, right? You interviewed her last week. Anyway, when I am out and about every morning I stop by Bella's condo and we try to encourage each other to hang in there until our new families show up. I hope we don't have to wait too long.
Q. If you could visit any place in the world where would that be?
A. Frankly, I don't want to visit any place in the world! No, really, no place! Traveling would be somewhat difficult for me. The only place I want to go is to my new home. That would be my best journey. I think my shelter people are looking for me and I'm keeping my paws crossed that the purr-fect family walks in the door soon.
Q. How would you describe yourself?
A. I am definitely a senior citizen, no doubt about that. But, I have tons of life left in me! I play in the office area in the morning and Bruce and I have a great time. While I am a senior guy I still have all of my "faculties" about me. That means that I use my box faithfully, I actually respond to my name and I pay attention when the staff say "Wally, no!" when I jump on the desk. I am also very sweet and friendly, love people and get along with the other fab felines in here. What more could you want?
Q. Is there something special you would like our readers to know about you?
A. I want to share information about all senior pets, if you don't mind. So, listen up. When you adopt a senior pet you are getting a lifetime of experience. Your new pet will look at you like you are a hero — which you are! We are already house trained so you can probably skip that step. I could go on about the benefits of adopting a senior pet but I think you get the message. So what are you waiting for?
Q. If you could have a job, what would that be?
A. I think I might be insulted by that question! I have applied for feline social security and the only job I might be remotely interested in would be hanging out in a sunny window or sitting on my new human's lap. I am absolutely certain there isn't a job description for that.
Q. If you could meet someone famous, who would that be?
A. As long as we are talking about "old" let me tell you about Creme Puff! Creme Puff, a cat who lived in Austin, Texas, was the oldest documented cat to have ever lived. She lived to the ripe old age of 38 years and three days. Her owner attributed her longevity to a diet of dry cat food supplemented with eggs, turkey bacon, broccoli and even coffee with milk. So, besides the fact that I would have liked to have met Creme Puff, I would encourage my new family to follow this diet and hopefully I will have many more good years ahead of me. However, they can skip the broccoli! Ewww!
Q: Do you have any advice for our Citizen readers?
A. I certainly do. This is the first of many pieces of advice that we shelter canines and felines will be giving to our good Citizen readers over the next several months. Please, good people, when you have to run to the store to pick up a six pack, leave your BFF home in the comfort of air conditioning! I can tell you that Fido really doesn't care if he gets to do a five-minute ridealong. A five-minute trip into the store can turn into much longer and if your BFF is sitting in a hot stifling car, his life could be in jeopardy. So unless you don't care about your car windows being broken, please leave your dog (or cat) home while you go pick up your six pack. We all thank you. Love, licks and purrs, Wally and friends.
The Finger Lakes SPCA of Central New York is a New York state-registered shelter/rescue, registration No. RR-181. Pursuant to Article 26-A, Section 408 of the Agriculture and Markets Law, the registrant is authorized to operate as a registered pet rescue, in compliance with such law.