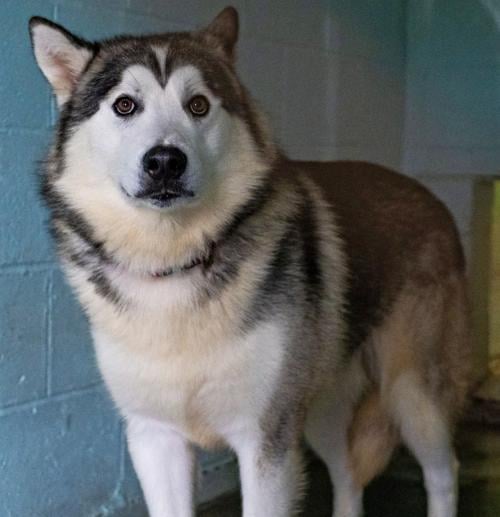 Every Friday, The Citizen features a pet available for adoption from the Finger Lakes SPCA of Central New York. This week, we spotlight Kato.
COMMENTS: Kato is the most magnificent dog ever! He has been with us for a while and he needs to move on — soon! He is a purebred Alaskan malamute and he has the best of the breed in him. He is incredibly handsome, very sweet and affectionate, and very smart — among a ton of other superlatives!
Kato is a big boy and very strong. He is also very enthusiastic and loves to love on you. He might not be an ideal choice for a home with very small children, but older kids and teenagers would be good.
Kato is up to date on all vaccinations (rabies, distemper, kennel cough). He has been tested for heartworm disease, is negative and is on monthly preventives. And he was recently neutered.
There is so much to say about Alaskan malamutes, and all of it can be found online. Please do the research to find out about the breed. If you think he might be the right pup for you, then fill out an application (on our website, flspcaofcny.org) and email it (flspca_cny@yahoo.com), fax it ([315] 282-2387) or bring it to the shelter for review. Once approved, an appointment will be set up for a "meet and greet" with Kato. Here is Kato's interview.
Q. Who is your best friend?
A. Well, I am worried about that little man — Kingsley. You interviewed him a few weeks back and he lives a few condos down from mine. I hear him barking and whining. I think he is lonely and trying to get attention. I want to get the message to him that I'm in his corner and that I have made him my BFF. I hope someone will tell him.
Q. If you could have a job, what would that be?
A. Well, let me give a little background before I answer that question. We malamutes were bred to be working class dogs. We are big and strong and have great endurance. We worked the gold rush with our humans and carried huge loads over long distances. Given all of that, I think I'll sit this one out and have a good time playing with my new people.
Q. Last week we asked Jill what cats think of humans. Can you tell us what dogs think of humans:
A. Yes, I can do that. We canines love you humans! The big brains at Emory University scanned the brains of specially trained dogs. These researchers then observed the reactions of the dogs' noses because so much of the world is experienced through our nostrils. They then measured the dogs' brains when the dogs smelled their owners, and found that the scent of an owner activated what they called the "reward center" in our brain. That means that just the scent of our owners makes a dog feel unbelievably happy. That's a long-winded and roundabout way of telling you that we love our people!
Q. If you could visit any place in the world where would that be?
A. Last week my feline friend Jill told you she wants to go to Antarctica. I am so done with this heat, so I want to go with Jill.
Q. How would you describe yourself?
A. For starters, I am drop-dead handsome! I am also an affectionate guy and I like to cuddle. And, true to my breed, I will be completely devoted to my new human. But my new human has to assert him/herself as the leader of our pack. I'm a pretty smart guy and I learn quickly. I might enjoy a basic obedience class so that I can show off what a quick study I am. Overall, I am the best dog.
Q. Do you have an interesting fact to share today?
A. I do! Did you know that most dogs have paws that smell like corn chips? Well, this is true. This is a phenomenon called "frito feet." This happens because of built-up sweat and bacteria on the paws. So, have I ruined your taste for corn chips? LOL!
Q: Do you have any advice for our Citizen readers?
A. I do! My shelter people are hosting a free rabies clinic from 1 to 3 p.m. Saturday, Aug. 8. You must — repeat, must — preregister your pets. Email my people at flspca_cny@yahoo.com with your name/address/phone number and your pet's name, species, sex, age, weight and color. If all info is not provided, you will not be registered for the clinic. Also, you will not receive a specific appointment. Preregistration ends on Aug. 6. Just show up at the SPCA and a volunteer will assist you. If you need more info, please call my people at (315) 253-5841. Thank you and much love, Kato and friends.
The Finger Lakes SPCA of Central New York is a New York state-registered shelter/rescue, registration No. RR-181. Pursuant to Article 26-A, Section 408 of the Agriculture and Markets Law, the registrant is authorized to operate as a registered pet rescue, in compliance with such law.
Be the first to know
Get local news delivered to your inbox!