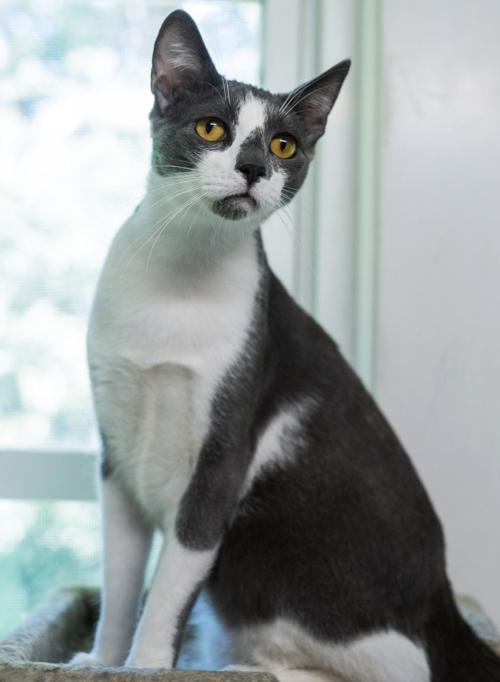 Every Friday, The Citizen features a pet available for adoption from the Finger Lakes SPCA of Central New York. This week, we spotlight Bentley.
BREED: Domestic shorthair
COMMENTS: Bentley came to the shelter, along with several housemates, after they had been abandoned by their owner. We were happy to help Bentley and his buddies, but they really do need to move on to bigger and better things.
Everyone who meets Bentley comments on what a handsome and amazing boy he is. He is extraordinarily friendly! He is great with his condo-mates and is very people-friendly. Bentley would make an awesome companion for a lonely cat or a lonely human.
Bentley is up-to-date on all vaccinations (rabies, distemper, feline bordetella). He has been tested for FIV/FeLV and is negative. He is neutered. He is good to go! Please come to the shelter to make Bentley's acquaintance and be prepared to be impressed! He's waiting for you.
Q. Who is your best friend?
A. My BFF is Mason! He lives in the condo directly across from mine and we communicate routinely about feline happenings here in our room. One of our favorite topics of conversation is who is using too much catnip! We both have good vantage points — our condos are high — so we get to see everything that's going on.
Q. If you could visit any place in the world where would that be?
A. You know, with all of the unfortunate things that are going on in our world today, I think I want to stay right here in my hometown, Auburn. While we felines don't get to read the paper or watch the news, we do hear about fires, hurricanes and all kinds of other unfortunate things. So I'm not much into travel these days. However, maybe a quick trip to McDonald's would be OK. LOL!
Q. How would you describe yourself?
A. Clearly, I am extraordinarily handsome. I have a cool nose. Besides my obvious physical attributes, I am amazing in other ways. I am a very friendly cat and I enjoy the company of other cats. I get along very well with the variety of feline personalities in my room. And finally, I love, love people! I love my shelter people, I love the volunteers and I love the visitors that come into my room to check us out. In order to have more information on me, you need to come in to visit. Do it now!
Q. If you could have a job, what would that be?
A. I have thought about that! There are two possible paths I could take. I could be a cat food model! I mean, check out that pose and that face. I could probably sell you the Brooklyn Bridge, right? Then, because I have somewhat of a connection to cars (as in Bentleys) I could be a used car sales cat. Please notice that I didn't say salesman. But, in all honesty, I really don't want a job. Why do you persist in asking this question?
Q. Do you have an interesting fact to share today?
A. Well, it depends on what you consider interesting. I could tell you about the record for the loudest purr by a domestic cat, e.g., a cat like me. The record for the loudest purr is currently held by Merlin, a black and white cat who lives in Torquay, England. Merlin's purr is 67.8 decibels, and for context, that is nearly the same volume as a shower! Most of us felines purr at around 25 decibels. That's all I have for today. I hope you found it interesting.
Q: Do you have any advice for our Citizen readers?
A. I do! There will be a chicken BBQ fundraiser for our shelter tomorrow, Sept. 19, from noon until sold out! The BBQ will be held at 8892 S. Seneca St. in Weedsport — Bomber's 5 Minute Lunch. My shelter friends will also be selling tickets for an awesome 65-inch Samsung Smart TV raffle. We animals have had a tough time, too, during this COVID-19 crisis, so thank you for going and helping me and my shelter friends. Love, licks and many purrs, Bentley and friends.
The Finger Lakes SPCA of Central New York is a New York state-registered shelter/rescue, registration No. RR-181. Pursuant to Article 26-A, Section 408 of the Agriculture and Markets Law, the registrant is authorized to operate as a registered pet rescue, in compliance with such law.
Be the first to know
Get local news delivered to your inbox!