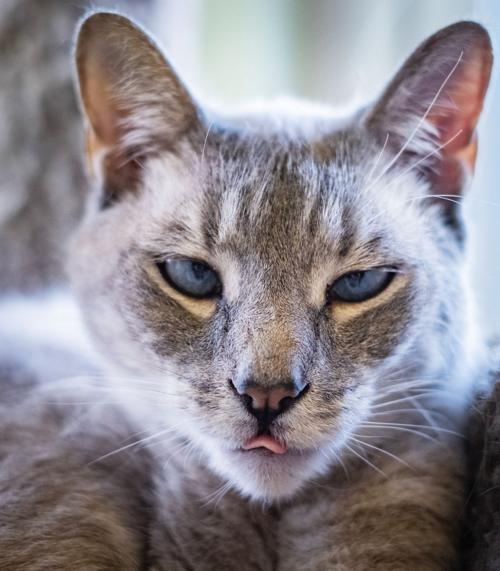 Every Friday, The Citizen features a pet available for adoption from the Finger Lakes SPCA of Central New York. This week, we spotlight Simon.
AGE: Guessing 2-3 years of age
COMMENTS: Simon and a number of his housemates came to the shelter when his human ran into some tough times. Stuff happens — we were happy to help.
Simon is a very nice cat! He is friendly, gets along very well with the other guys and loves people. He spends his time outside of his condo with the other "out" cats. He is also very handsome! His picture doesn't do him justice.
Simon is negative for FIV/FeLV, fully vaccinated and neutered. He really wants his own home again. Please help him out the door.
Q. Who is your best friend?
A. That would be Mirra! Mirra was my BFF before we came here; she still is. She is a Siamese girl and very beautiful. While I love Mirra and want to keep her here to be my BFF, I hope she finds her new home soon. But, even better, maybe we can be adopted together and be BFFs for life! BTW, in Thailand, Siamese cats are called the "wichien-matt," which is roughly translated to "moon diamond." This name fits my Mirra perfectly.
Q. Do you have any special news for us today?
A. Can I talk with you about dogs? I want to tell you and our good Citizen readers about the wonderful canines that are living here in my shelter. For the longest time there were no dogs, which was a good thing, I guess. But all of a sudden, we have a full house and these awesome pooches are looking for homes. If our good Citizen readers are looking to add a spectacular canine to their family, please check out our wonderful dogs. OK, let's talk about cats again!
Q. If you could travel anywhere in the world, where would that be?
A. That's a no-brainer! I would love to visit the country of my heritage, which would be Siam, now known as Thailand! One of my shelter people has been there several times and tells me that it is well worth the effort to get there. My bags are packed!
Q. If you could have a job what would that be?
A. I believe I would make an excellent emotional support cat! One of the things that is necessary is that the support cat must love to cuddle. That's my numero uno activity — or non-activity. Depends on how you look at cuddling! I know I would have to go through some testing and basic training, but I'm sure I would pass with flying colors. I would work for a dab of catnip.
Q. If you could meet someone famous who would that be?
A. Have you ever heard of Shun Gon, a Chinese Siamese cat? Shun Gon plays the drums and the piano using chopsticks and he appears in the Disney movie "The Aristocats"! OK, OK! I know Shun Gon isn't real, but if he was I would really like to meet him!
Q. Do you have an interesting fact to share?
A. I do! As is clear from my picture, my eyes are a little crossed! Well, there is a reason for that. According to one legend, a group of Siamese cats was tasked with guarding a golden, royal goblet. While performing their duties, the cats stared at the goblet with such intensity that their eyes crossed. For the most part, breeders have bred this trait out of us, but every once in a while one of us pops up — and I'm it! I'm the real deal!
Q. Do you have any advice for our Citizen readers?
A. I do! You know, my shelter people weren't able to have any fundraisers or other activities last year due to the pandemic. We understand, and we hope that the worst is behind all of our humans! But, the good news is that my people are planning some fun things for this year! Yes! A yard sale is planned for May 22 and our magnificent Hogs for Dogs motorcycle ride is planned for July 25. More details coming. And, of course, our first free rabies clinic of the year will be held on May 8. Thank you for reading, much love and many licks and purrs, Simon and friends.
"It's just amazing how people have opened up their homes to these animals."
The Finger Lakes SPCA of Central New York is a New York state-registered shelter/rescue, registration No. RR-181. Pursuant to Article 26-A, Section 408 of the Agriculture and Markets Law, the registrant is authorized to operate as a registered pet rescue, in compliance with such law.