Growing up in Auburn, Mike Skowron knew his father served in the Pacific Theatre of World War II.
But that was as much as he knew.
Mike said his father, Theodore, only mentioned his service twice — both times as they watched the '70s documentary series "The World at War." When the series would show the Pacific Theatre, Mike said, Theodore would make "a few derogatory remarks."
Theodore died Sept. 14, 1992. Mike would continue knowing little about the wartime chapter in his father's life — until February.
That's when Mike, now 60, was contacted by Brent Spencer, of Irvine, California.
A few years ago, Spencer began chatting up James Scotella and other World War II veterans who live in the same Carlsbad mobile home park as Spencer's mother-in-law. Eventually, their stories numbered so many that Spencer, a software tester for Lexmark, began thinking about building a website to preserve the elderly men's tales for posterity.
Then Scotella gave Spencer an item that inspired him to make honortheveterans.com happen: a Japanese flag that had been signed by 68 members of the 28th Marine Regiment.
Wary of booby traps, Scotella carefully plucked the flag from the uniform of a dead Japanese soldier at the Battle of Iwo Jima. He collected the signatures during R&R at the Royal Hawaiian Hotel on Oahu days after the battle ended.
And one of those signatures was "Theodore Skowron, 86 Perrine St., Auburn, N.Y."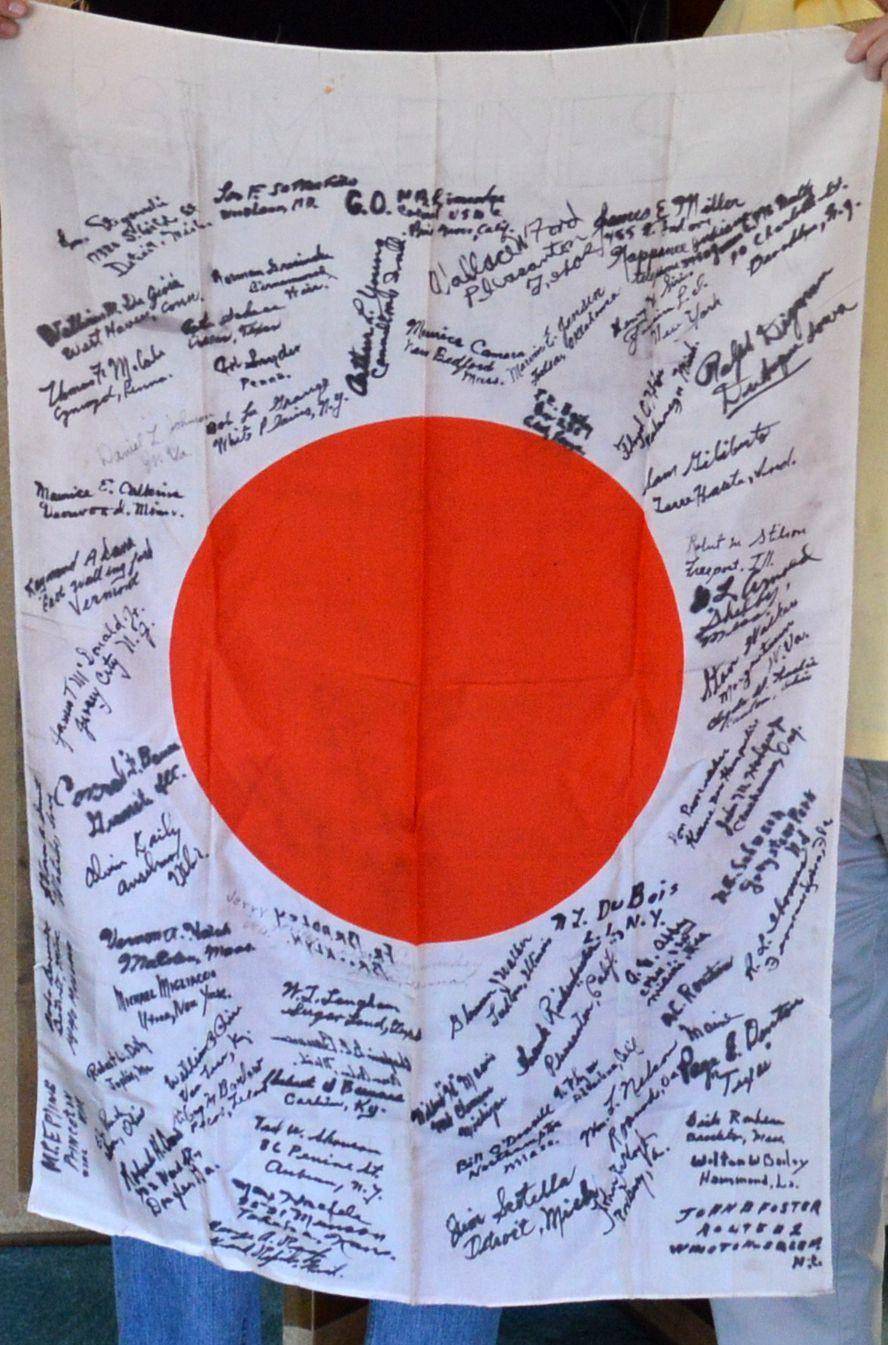 Soon after Spencer took possession of the flag from Scotella, he set up a spreadsheet and got to work tracing each of the signatures to their writers, or their next of kin.
"I saw all those signatures and thought, 'I have to do more than just take it, roll it up and put it in a tube,'" he said. "I knew that if my relative had signed the flag, I'd want to have a photo of it."
Spencer had some of the 28th roster from another project he'd worked on involving footage of Iwo Jima, and used the National Archives to fill in the rest. He was able to identify all but one of the 68 signers.
When he reached out to the 28th's families with the results of his research, Spencer was met with the same wide-eyed reaction he'd get when he contacted Mike Skowron in February. Theodore, Spencer said, wasn't the only Marine on Iwo Jima who told his loved ones little about his service.
In Mike's case, the sight of his father's signature on that flag moved him to learn more.
He'd find out Theodore, then 19, was part of the eighth wave to enter the island after the battle began on Feb. 19, 1945. Mike also learned his father laid radio lines on the Japanese mainland, and that his rank tended to go up and down.
"He must have been quite a heller," Mike joked. "Not a troublemaker, but he pushed the rules a little bit."
Scotella was also part of that eighth wave of the 28th Marines at Iwo Jima, which arrived 35 minutes after the first wave hit the beach, he said. He worked in the message center, encoding and decoding communications alongside the Navajo code talkers.
Now 91, Scotella recalls a feeling of vulnerability on the eight-square-mile island, where Japanese snipers used 11 miles of tunnels to kill U.S. forces on ground they thought secure. More than 6,800 U.S. soldiers were killed and more than 19,200 were wounded in the 36 days of fighting.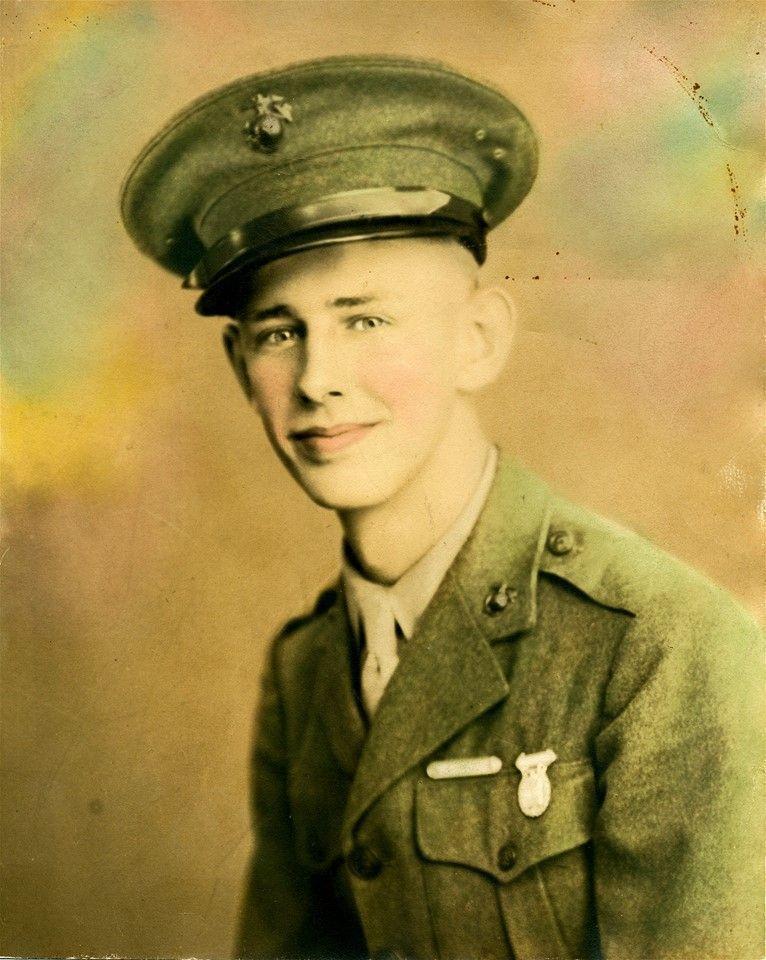 "The deaths there were unimaginable — to lose that many men on that small an island," Scotella said. "I was fortunate. It seems like I was always in the right place at the right time."
Scotella said he doesn't recognize Theodore Skowron's name, though there were so many names linked to that bloody late chapter of World War II.
One thing Scotella does remember from Iwo Jima, and has recalled for CBS News, is the iconic raising of the U.S. flag after the battle ended. As one flag was raised and then replaced with a bigger flag from the Navy — photographer Joe Rosenthal lying in wait to snap the immortal shot — the morale of the 28th Marines rose, Scotella said.
Mike was watching a YouTube video of Scotella when he came to one more conclusion about his father's military service.
"That's when I pieced it together," Mike said. "'Oh my god, my Dad must have been right there when they raised the flag.'"
Scotella praised Spencer for the work that has shed light on the lives of those 67 World War II veterans for their dozens of descendents.
And for the 68th — a "Bobo Bennett" of Detroit — that work continues.
"We haven't given up on that one, either," Scotella said.