Four years after breaking ground, the Auburn Permaculture Park continues to grow.
Today, the quarter-acre edible food forest at Lepak Memorial Park on Garrow Street features 40 fruit and nut trees, 80 berry bushes and hundreds of perennial vegetables, herbs and flowers with nutritional and/or medicinal properties. Unlike a community garden, it produces a modest amount of food perpetually, not one large bounty annually. And it's free and open to the public.
Erin Humphrey, who founded the park with fellow community volunteer Peter Cramer, said Thursday that the park is itself taking new form as time passes.
"I'd like it to keep evolving over time," she said. "I hope that it's never 'finished.'"
But evolving the park takes work — work that continues this summer. First, the park will host a Spring Planting Day Saturday, May 18, when volunteers will help plant dozens of new berry bushes and hundreds of new perennial herbs and flowers. After planting 14 fruit trees in 2015, volunteers hope to complete the park's smaller, understory plantings this year, Humphrey said.
That way, all the mulched beds at the park will be filled with useful plants and protected from weeds. It follows the philosophy of forest gardening, which mimics natural woodland ecosystems and requires little maintenance, Humphrey said. So the park aspires to be self-watering, self-weeding, self-mulching and self-fertilizing — on top of yielding fresh fruits, nuts and vegetables.
Humphrey, Cramer and the core group of about six volunteers who manage the park also hope to install signage there this summer so visitors will know which plants are which. As part of the nonprofit Auburn Beautification Commission, the park has a small budget, Humphrey said, but volunteer assistance in graphic design and printing would significantly help make the signage happen.
After all, the park is also an educational space. It's been visited by youth from the Booker T. Washington Community Center and Genesee and Seward elementary schools, and the park is just as instructive for adults, Humphrey said. If they see a park in Auburn can grow hazelnuts, or cherries, or walking onions, she continued, they might be inspired to plant their own at home.
Humphrey eventually wants to host planting workshops as well, and provide a genetic bank of edible perennial plants.
But if all someone gets out of the park is a bunch of free fruit, Humphrey is fine with that, too.
"Some people say, 'What if someone comes and eats all the peaches?' I say that's the point of the park," she said.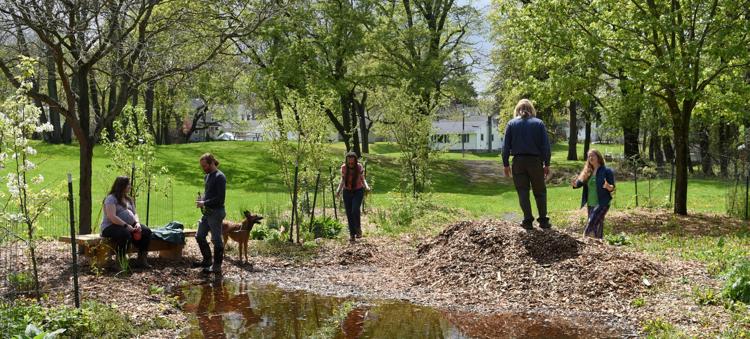 Bringing more children to the park to teach them about permaculture is another goal of Humphrey's. To that end, she and other volunteers are working with the city to design a living willow play space at the park. The pliant tree could be used to create a living structure, like a dome, where people could sit and enjoy the natural scenery, she said.
"It could be a destination for people seeking a natural oasis in the city, to come there and relax and be surrounded by beautiful plants and flowers," she said.
Additionally, Humphrey said, willow has "excellent" retention properties, so it can help keep soil from flowing to Owasco Lake, where excess nutrients contribute to harmful algal blooms.
As summer approaches, the Auburn Permaculture Park and the city parks department will also host a movie night Monday, July 29, with food trucks and tours. Before that, though, the park's core group of volunteers hopes to recruit some weekly help with weeding, harvesting and even sampling which fruits are in season, Humphrey said.
"We hope that as the group grows, the park will also continue to grow in what it offers to the community," she said.