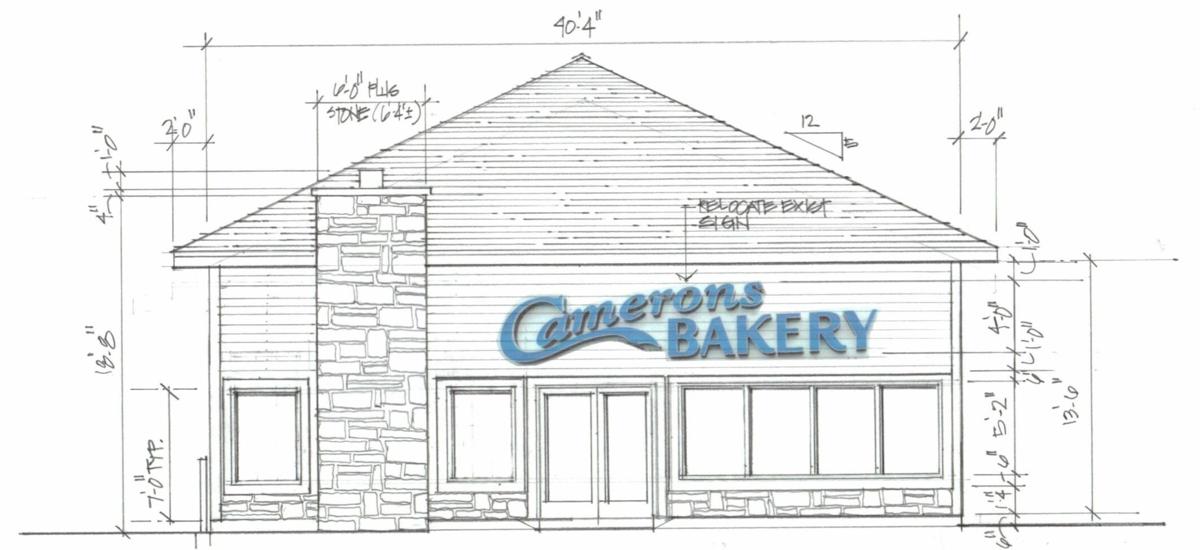 Camerons Bakery in Auburn will soon replace its building with one that's bigger, better and — most importantly to its owners — fresher.
The family-owned business will demolish its current building and construct a new one on the same Grant Avenue property next year, owners Tony and Adriana Briseno told The Citizen on Wednesday. The new building will allow the siblings and their staff of 22 to increase production and add items to their menu, and customers will benefit from a new drive-thru and more seating and parking.
The Brisenos said the project will cost about $1.4 million. A Small Business Association loan will help them finance the project, and they've also been guided by the Cayuga Economic Development Agency and Auburn Industrial Development Authority. The siblings don't anticipate Camerons being closed more than six weeks to retail customers, and wholesale customers will see little to no interruption.
Tony said he's been planning the project since he and Adriana began taking over Camerons from their parents, Antonio Briseno and Sharon Tassone. They bought the business in 1979 from its namesake family, who opened it in the 1950s. The siblings have been learning their way around a kitchen "since we were babies," Adriana said, and formally bought the bakery three years ago. 
Since then, she continued, Camerons has more than doubled its business. 
"We've grown out of our space," said Adriana, who specializes in cake decoration. "My brother puts out an amazing line of products and we keep wanting to add things, but we keep running out of room."
The building also wasn't intended to be a bakery, the siblings said, so its kitchen layout is far from ideal. Mixers are jammed in a corner, there's no room for a dishwasher and it gets uncomfortably hot.
But the new Camerons, with an additional 500 square feet of space and a better air conditioning system, will be more of an open canvas. The Brisenos will be able to make more doughnuts, cakes and other staples, and add more breakfast and lunch items. The former will include burritos and cold brew and iced coffees, and the latter will include soups, salads and sandwiches. 
Customers will also have more ways to purchase and enjoy Camerons food. Some of them have suggested adding a drive-thru over the years, Adriana said. And with the recent popularity of Simple Roast, Starbucks and other coffee businesses along Grant Avenue, the move made sense even before the COVID-19 pandemic introduced the need for social distancing.
Those who step inside the new bakery will feel more at home, Adriana continued. There will be a soft seating area with a fireplace, and another one with tables and chairs. Together, they'll seat up to 25 people — about 25 more than Camerons seats now. The stone chimney will also be part of the new building's façade, which the siblings described as more residential-looking than their current one. 
"It'll be vastly different. We want to create something comfortable," Adriana said.
The project, which received site plan approval from the Auburn Planning Board Nov. 3, will begin with construction behind the current building in the winter or spring. After crews have completed as much of that work as possible, demolition will take place. Tony said the parking lot for the new building will be located where the old one stands now, and will have up to triple the capacity of the current lot.
The siblings said it's important to them to minimize the interruption to their business as much as they can. After the pandemic began, they greatly increased the amount of bread they make due to the scarcity of it at grocery stores, and they're grateful that the community supported them at such a precarious time. They see the new Camerons as a way of giving back.
"We want to give Auburn something fresh," Adriana said. "We're grateful to be where we are."
Be the first to know
Get local news delivered to your inbox!