For most pro wrestlers, the ultimate prize is a world championship.
Mark Jindrak, of Throop, won his first in June.
But even as Jindrak performs for arenas of screaming thousands, his gold belt wrapped around his 6-foot-6, 265-pound frame, he has his eyes on another prize: coming back home.
Jindrak, 40, is champion of promotion CMLL in Mexico, where he's wrestled since 2006. As Italian character Marco Corleone, Jindrak has achieved more success there, both in and out of the ring, than he did in American promotions WCW and WWE. Since his release from the latter and arrival in Mexico, Jindrak has not only won CMLL's top championship, he's leveraged his crossover appeal into TV roles and magazine covers. Still, after two decades of wrestling — and the aches and pains that have come with them — Jindrak is ready to retire to the area where his athletic career started.
"I've missed Auburn," he said over the phone Dec. 20. Jindrak spoke from a car headed home from New York City, accompanied by his sister, Stephanie, his wife, Miroslava Jindrak-Luna, and their 14-month-old son, Jeronimo Jindrak. It was Jindrak's first return to the area since 2007, when his mother, Roberta, passed away. He returned to Mexico in time to defend his championship Friday.
Growing up in Throop in the '80s and '90s, Jindrak said, he took frequent trips to Auburn that he remembers fondly. He and his brother, Mike, would play the arcade games that used to be at the Genesee Street Dunkin' Donuts as their great-grandfather watched. He'd go to Wegmans and Hunter Dinerant. And he and Mike would tunnel through the snow on days off from school.
Even as a child, Stephanie said, Jindrak set a strong example. His little sister underwent several kidney surgeries as an infant, and loved Cabbage Patch Kids. So when she was 4 and her brother was 6, she recalled, he wrote to the coveted dolls' manufacturer, Coleco, and asked for one for Stephanie. The company sent it to her, she said, free of charge.
"That's my superstar Mark story," she said. "Nothing shocks me with that guy. He could call me tomorrow and tell me he's running for president and I'd believe it."
As he grew, Jindrak found success on the basketball court. He played for St. Francis in the local CYO league before joining Port Byron's varsity team. A 6-foot-5 center, Jindrak was the leading scorer in the southern division of the Onondaga High School League his senior year. He next played two seasons for the Division II team at Keuka College, and earned a degree in marketing there.
Toward the end of the 1990s, Jindrak found himself in a whole new athletic arena: the Power Plant training facility of World Championship Wrestling in Atlanta. Under the tutelage of "Mr. Wonderful" Paul Orndorff, Jindrak quickly graduated to the promotion's TV shows in the summer of 2000. That September, he won the WCW World Tag Team Championship with fellow rookie Sean O'Haire.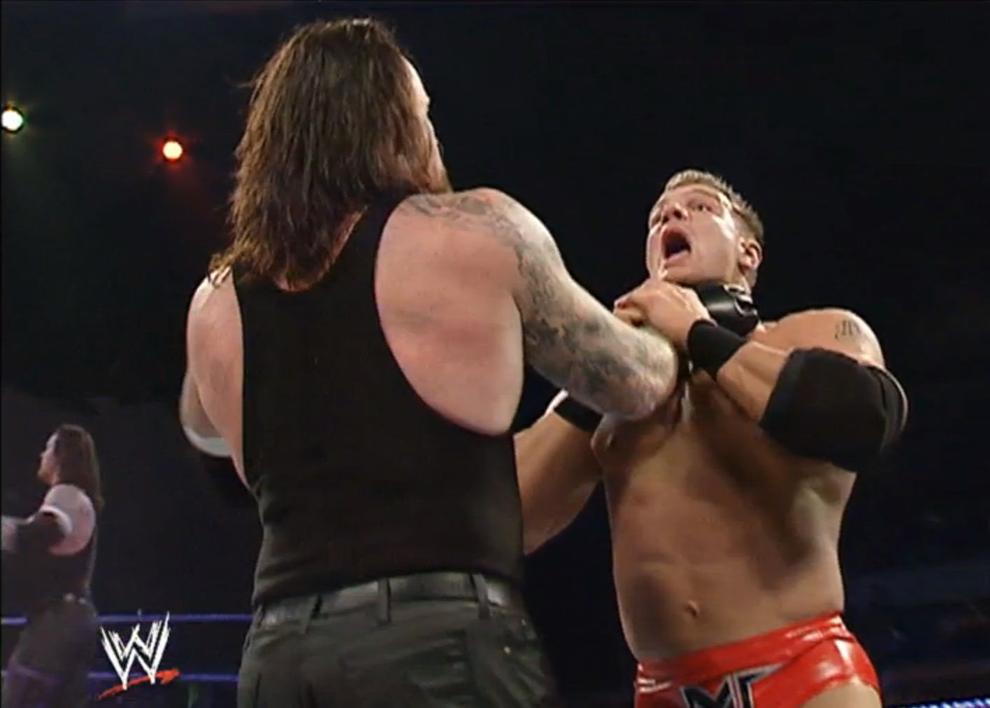 Jindrak made the move to World Wrestling Entertainment in 2001, when owner Vince McMahon purchased WCW. Though Jindrak didn't win any championships in WWE, he shared its ring with legends like The Undertaker and Eddie Guerrero, and even pinned the late "Latino Heat" once. However, Jindrak's prospects in the world's biggest wrestling promotion were hurt by his immaturity, he said. He believes that's because the money was new to him: His father, Mark, worked for the New York State Thruway, so although his family didn't miss meals, "it wasn't luxurious."
"I had a mediocre five years in WWE," Jindrak said. "I'm proud of getting there and being on the main roster. ... There's stuff I'll remember. But when it's all said and done, it was just mediocre."
WWE released Jindrak, along with 22 other talents, in July 2005. He then wrestled in Japan until late 2006, when friend Johnny "The Bull" Stamboli needed a partner at a Consejo Mundial de Lucha Libre show. There was one catch: Stamboli's team was the FBI — Full-Blooded Italians — so Jindrak needed an Italian makeover. With a nod to "The Godfather," CMLL gave him one: Marco Corleone.
Jindrak quickly took to wrestling in Mexico. Founded in 1933, CMLL is the oldest promotion in the world and features the kind of week-to-week storylines and rivalries that drew Jindrak to wrestling. So its fans are more appreciative of his raw athleticism, he said, such as his 42-inch vertical leap. On the contrary, he continued, WWE fans thought "I'm a meathead who does steroids." 
The American has also found favor among Mexico's female fans. Presented by CMLL as a sex symbol, Marco Corleone can "do a hip swivel and make the girls go absolutely bonkers," Jindrak said.
With his physical stature, Jindrak has been able to follow in the footsteps of Mexican stars like El Santo, Blue Demon and Konnan by achieving mainstream success. He's been photographed for the cover of Mexico's equivalent of Us Weekly, he said, and interviewed for its "Good Morning America." Though Jindrak came to the country with limited Spanish, he's now at a "very functional" level.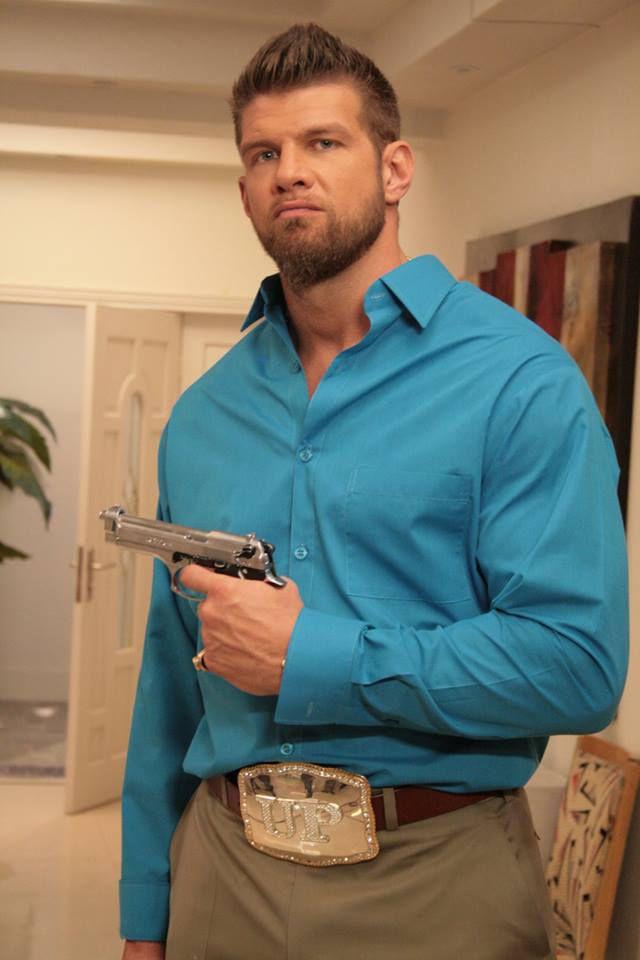 "If I was lost, I'd take my shirt off or say something cute, and they ate it up," he said with a laugh.
One of Jindrak's more popular non-wrestling roles has been the Russian drug trafficker Ury Petrovsky on telenovela (soap opera) "Porque el Amor Manda." With his distinct accent, he's even coined a catchphrase: "Te voy hacer picadillo," which Jindrak translated as "I'm going to make chopped meat of you." Recently, viewers of the show recited the line as they asked for photos with him at a mall in Atlanta, where he was visiting family. Jindrak said he was recognized more that day than during his entire WWE career.
Stephanie, who still lives in Auburn, said that she's met several people from Mexico familiar with her brother.
"They say, 'He's beautiful and we love him,'" she said. "The ladies love him and the men respect him because he has a strong respect for wrestling."
Now the first American to wear the CMLL World Heavyweight Championship, Jindrak may be at the height of his stardom in Mexico. But he's nonetheless ready to retire in two or three years, he said.
Some minor knee and shoulder problems aside, Jindrak's body feels good, he said. But he doesn't want to change that by pushing himself past his limit. It's easy to do on CMLL's schedule, which sees Jindrak wrestle three to four times a week all over the country, including shows every Friday in the 16,500-seat "cathedral of lucha libre," Arena México.
For now, Jindrak is savoring the opportunity to travel the country with his wife and young son. Every wrestling trip is a family vacation, he said. But he's ready to trade Mexico City's notorious traffic for the scenic roads of Cayuga County, where he looks forward to teaching, coaching or even opening a Mexican restaurant.
"I'm craving a small-town life with some charm," he said. "And that's Auburn."