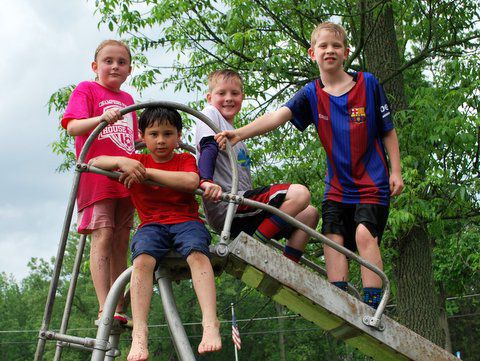 An appetite for achievement is built into human nature. Men and women do not seek a life of easy luxury, but a life's work deserving the application of their God-given gifts.
Robotic goals such as preparing for "the 20th century global economy" and "college and career readiness" are not befitting of the complexities of a human being. Of course, we want children to obtain a career they are passionate about while making a respectable living wage. However, these goals only begin to fulfill the expectations we have for our children. We want more.
Human beings are willful, physical, political, social, curious, rational, humorous, justice-seeking, pleasure-seeking, etc. We search for truth, love, beauty and goodness. To obtain this, we use language. Language is imitated, taught and ordered. It delivers us from ignorance and frees us with knowledge. The purpose of education is to think beyond yourself. Where there is why, there is how. We want children to learn the art of learning so they will be able to learn any subject when it becomes necessary or desirable.
How do we ensure that during the approximately 1,000 hours of our child's schooling each year, knowledge is gained and ignorance is lost, beauty is recognized and virtue is practiced? Parents entrust schools to care for their children. This is an immeasurable responsibility. We believe the key ingredients to success are (1) Good books, (2) The best teachers and (3) Willing and well-behaved children.
Good books tell timeless stories. A good story paints a similar and distinct picture, with a unique canvas in each mind. They speak truth using artful, clear and concise language. They do not come with a political agenda, but instead spur discussions of virtue and vice. Good books are not someone's interpretations or opinions of a written work, but the original text. Good books are becoming harder and harder to find on school bookshelves and are being replaced with silly and mediocre works. Communication with teachers and peers is being replaced with screens of information. Screens are not only hurting our children's eyes, necks, hands and wrists, but also their imagination and sense of wonder. Conversation is an important, formative part of intellectual development.
The best teachers love children and love learning; they read the good books and have had the best classical training. They have studied prose, not how to do projects. They are so much more than guides; they instruct, inspire and elevate. They bring the language of algebra, the writings of Frederick Douglass and Shakespeare, and the ideas of Isaac Newton alive in a classroom. The best teachers make learning contagious. Numerous people can follow a lesson plan, but only the best can encourage a child to get lost in literature or find satisfaction in solutions resulting in a joyful student. Teachers are grateful for time off, vacations and retirement, but this is not their reason for teaching. They omit politics and propaganda and saturate their rooms with truth. The best teachers find standards and objectives in greatness. They realize that parents are the primary educators of their children and that the school is meant to support the family in the educational journey of the child.
Willing and well-behaved children can be found where good books and the best teachers are located. They can be found where the distractions of the superficial and material world are sparse. Wearing uniforms levels the playing field and raises the bar of self-respect. The model of the virtuous man is discovered and revered in the good books. The witness of virtuous behavior is found in the best teachers. Achievement is celebrated. There is equality of birth, but not equality of result. Merit matters. Individual identity, character, scholarship and humanity matter. The school culture is built on the foundation of moral virtue learned through practice and developed habit.
Over the years, many new and innovative educational reforms may have sounded good in theory. Many teachers have had good intentions. So, we ask ourselves: Are our schools producing kinder, more knowledgeable, more ethical, more responsible citizens? Will the prodigiousness of "the greatest generation" ever be repeated?
Jennifer T. Furnia is principal at John Paul II Academy in Auburn. For more information, or to schedule a visit, visit jp2la.org, call (315) 252-4393, email furniajp2@gmail.com or write to John Paul II Academy, P.O. Box 1318, 1110 Corporate Drive, Auburn, NY 13021.