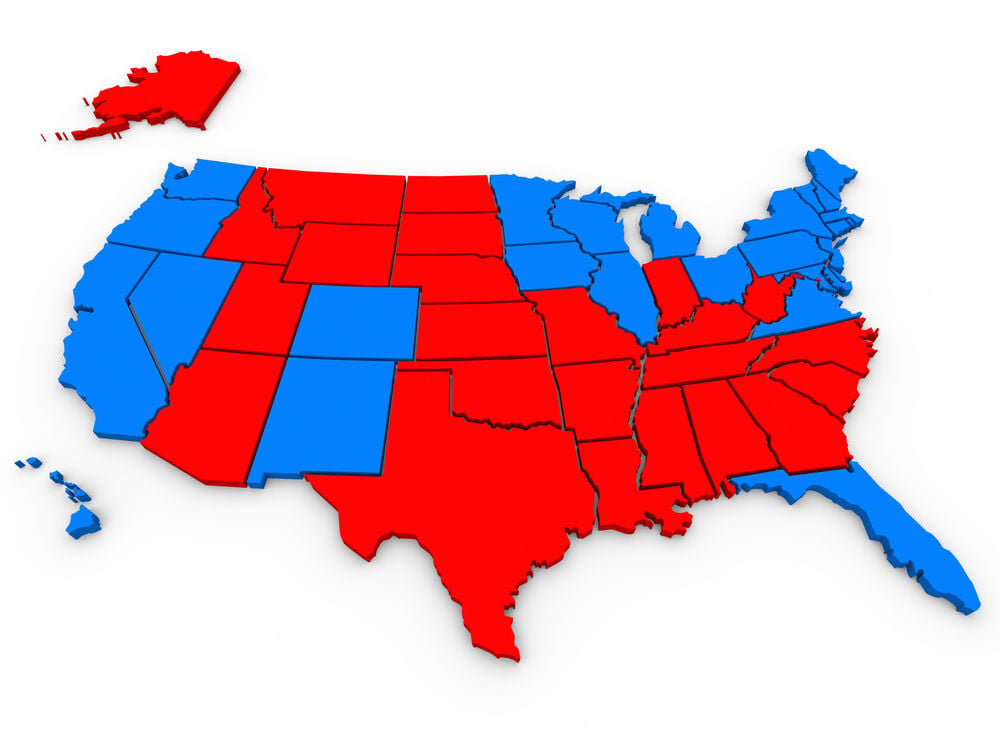 Recently there has been an explosion in research concerning the psychological differences between people holding different political orientations. Some research suggests possible differences in the ways we perceive the world and deal with emotions.
While it is always a mistake to overgeneralize — to say, for instance, that all liberals are pretty much alike, as are all conservatives — there are some personality factors that might predispose a person one way or the other.
Studies suggest that conservatives are better at tasks requiring organized thinking and an ability to stay focused, while liberals do better when a problem requires a novel approach or unusual solution. Liberals are better at creating new structural organizations and conservatives are better at functioning effectively within them once they are established.
Liberals and conservatives often prefer different kinds of music and art, with conservatives liking familiar music and literal art whereas liberals often enjoy abstract art and experimental music.
Differences may even extend to dog breeds preferred, with conservatives liking breeds that have a reputation for loyalty, obedience and territoriality, while liberals often choose breeds that have an independent streak and warm up easily to strangers.
For each of us, moral and ethical judgments lie at the heart of our political commitments. All of us are committed, in our own way, to what we believe to be the right things to believe and to do. So psychologists have been intently studying the underlying reasons why people arrive at such divergent points of view on crucial issues such as social justice, capital punishment, economic distribution, immigration and environmental issues.
Social psychologists have discovered what they call a five-item matrix of moral criteria that all of us use to make ethical judgments. But, and here is the key, conservatives and liberals tend to emphasize different criteria from the list.
The first one on the list is "harm/care." It is bad to harm people and good to care for them. Although we all believe in this one, liberals tend to emphasize it a little more than conservatives. Second is "fairness/reciprocity." It is good to be fair with others and find solutions that benefit both parties. Again, all of us agree on this one, although liberals tend to give it somewhat more weight.
These test results suggest that differences in making moral judgments show up in the relative weight given to the remaining three criteria. "In-group loyalty" is seen as an important virtue by conservatives. Devotion to family, country and religious affiliation are seen as dominant values. Liberals also express these allegiances, but see them as less central and may even be critical of what they consider to be too much "tribal loyalty" and not enough empathy for outsiders. "Respect for authority" is generally more important for conservatives than liberals. This difference may be seen in differing attitudes toward protests or civil disobedience. Finally, we all value "purity and sanctity," but conservatives tend to see these virtues as more central and important than liberals do.
When asked to describe themselves, conservatives tend to use words such as "honor," "loyalty" and "religious faith," whereas liberals pride themselves on being compassionate and optimistic.
Perhaps the most important difference that shows up repeatedly in the research is that liberals tend to find novelty, change and uncertainty attractive, or at least interesting, while conservatives are more comfortable with stability and predictability. This overriding preference may be at the heart of the moral priority differences described above.
We need to be careful not to overgeneralize. From life experience, we understand that it would be false to suggest that all liberals are alike and all conservatives are alike. Instead, the point of this research is that it might help us to understand that while we all strive to be moral and ethical, we come to different conclusions because we may have different moral priorities. These insights might help us better understand the other side.
These tentative differences in preference point to the mutually beneficial balance provided by the participation of both conservatives and liberals in the political process. As social psychologist Jonathan Haidt suggests, we need both kinds of thinking. Liberals tend to raise voices that push in the direction of change, innovation and progress, while conservatives remind us that order and stability are difficult to achieve and easily lost if change is too rapid or not carefully measured.
Clearly we can learn from each other and provide a balance for each other if we do more talking to each other and less shouting and name-calling.
Dr. Victor Garlock holds a Ph.D. in psychology and is the author of "Your Genius Within: Sleep, Dream Interpretation & Hypnosis." He was a professor of psychology at Cayuga Community College for over 30 years. He currently is offering individual hypnosis sessions as well as personal counseling at The Center, a holistic health center and spa located in Auburn. For more information, call (315) 704-0319 or visit thecenter4wellness.com.
Be the first to know
Get local news delivered to your inbox!